I didn't start using a baby monitor until my third daughter was born. Looking back, I'm not sure how I managed without it. Maybe we had a smaller house, or maybe it was quieter back then with only one baby. We still have a small place, but I rely heavily on the baby monitor when Pearl is sleeping. I've been having fun this month testing out the Philips Avent Digital Video Baby Monitor
. I'm excited to tell you why, out of the three monitors I've used with my last two girls, this is my absolute favourite.
This review is brought to you by PTPA and Philips Avent; all opinions expressed are my own. This post contains affiliate links; as an Amazon Associate, I earn from qualifying purchases.
#1: Watching the Baby
Yep. I like watching my baby. She's so cute. Especially when she's sleeping.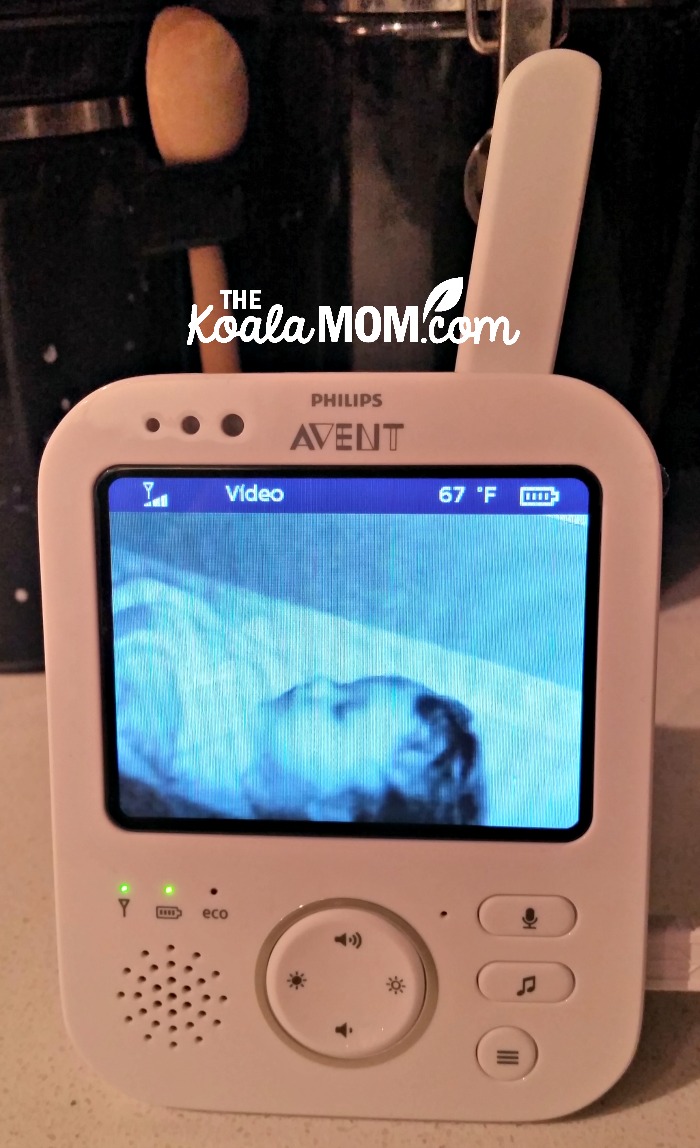 It's also nice to be able to check on her during nap time, without risking waking her up by sneaking into her room. She often talks or murmurs in her sleep. Her older sisters love to get her when they hear her waking up… except that often, she's not waking up. She's just turning over—until they burst through the door, eager to play. With the video monitor, we can see if she's just talking in her sleep or actually awake and ready to go.
The girls have also had fun seeing just how she sleeps. The other day, we were colouring at the table together while watching Pearl on the monitor. She was sleeping with her arms under her tummy and her bum in the air—as many of my girls have. Jade (age 3) thought that was hilarious!
Early in January, we went through the flu. Pearl only had a light case, but on the day she was sick, she napped for 3 hours (much longer than her usual 2). Because she was sick, and sleeping longer than normal, I kept checking the video monitor to make sure she was okay and hadn't thrown up. I wanted her to get a good nap, as that would help her feel better, but I also worried about her a bit because I knew she was sick.
None of my girls have slept through the night before one year old. In fact, Jade didn't start sleeping through the night until a few months before Pearl was born. (I treasured those few months of all-night sleep, knowing it would soon end!) I can't do sleep training, so watching Pearl on the monitor has been comforting. Seeing her roll over and go back to sleep assures me that she does know how to do this. Sooner or later, she'll start doing it more often (as the others did eventually).
#2: Comforting Night Light
The baby unit of the Philips Avent Digital Video Baby Monitor comes with a small night light. When I first turned it on, it didn't seem very bright—just a small orange glow from below the camera.
In the middle of the night, however, it's perfect. It's not such a bright night light that it keeps Pearl (or Jade, who shares her room), awake, yet it's bright enough for me to see her in the middle of the night when she wants to eat—or has simply lost her soother.
#3: Soothing Lullabies
I first discovered the magic of white noise when Pearl was just a few weeks old. Since then, I've used various white noise devices, from apps on my phone or tablet to stuffed animals. I really like the fact that Philips Avent Digital Video Baby Monitor has this feature built in. Since the monitor is always in her room, I don't have to go searching for my tablet or her stuffy.
Using the parent unit, I can pick one of five soothing lullabies and adjust the volume. The lullabies turn themselves off after a certain amount of time… I'm not sure how long, as I don't really notice when it fades out. Pearl doesn't either; the lullaby plays long enough to lull her into deep sleep and then it's gone.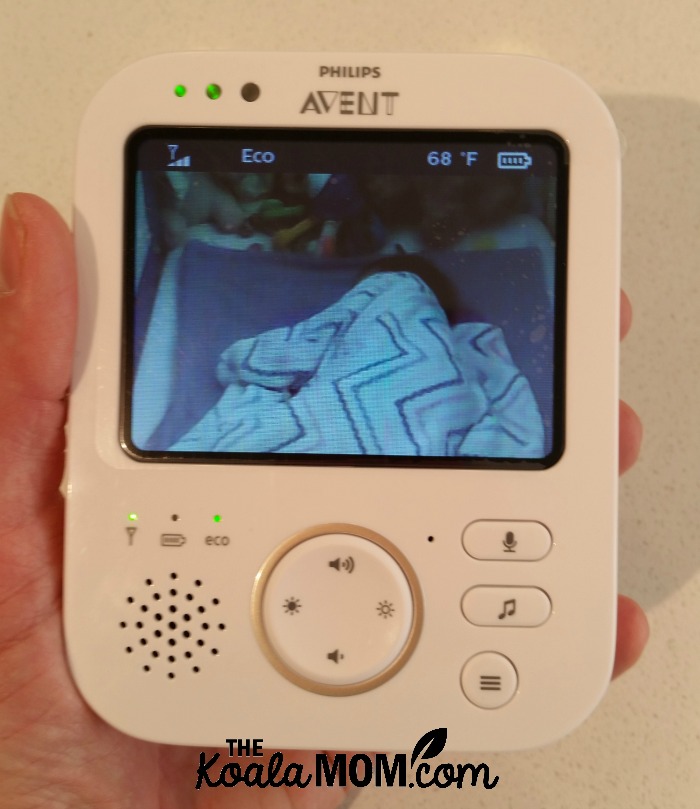 #4 Conveniently Small Size
Maybe it's just me, but when I heard "video monitor," I thought it would be bigger. The parent unit does have a video screen, but it's not much larger than my cell phone—or other baby monitors I've used. For the size, it does a lot. I can control the lullabies, video, audio, and other settings from the parent unit, as well as check the temperature in Pearl's room.
Using the parent unit, it's also easy to adjust the baby unit. Pearl rolls around in her bed quite a bit, often rolling out of sight of the monitor. No problem! I can refocus the camera on her from any other room in the house.
#5 USB Charging Cable
In this age of devices, we have a zillion charging cables. Thankfully, most of our devices are Samsung, so they all take the same charging cable. I have a charging station at the computer, in the kitchen, on my desk. And because the Philips Avent Digital Video Baby Monitor uses the same USB charging cable, I can plug it in anywhere around the house too.
It also has an eco mode to save power. If I'm not around one of my charging stations, it has a 10-hour battery life.
Final Thoughts on the Philips Avent Digital Video Baby Monitor
One thing I didn't like about this monitor… the lack of instruction manual. There's a lengthy warranty flyer and a longer safety warnings list. The manual was a thin booklet with coloured pictures that didn't help much with most of my questions. I figured out how to use it just by playing with it. Maybe I'm the only person who still likes reading so much (or prefers paper to websites), but I would have liked a few more instructions.
Otherwise, I'm more than happy with the Philips Avent Digital Video Baby Monitor. I tend to use the video monitor during the day, when Pearl is napping. At night, I switch it to audio mode (and turn up the volume). I like the fact that the monitor is all-in-one with the night light and white noise built right in.
You can find the Philips Avent Digital Video Baby Monitor at your favourite baby store or at Amazon.