All four of my girls are currently in car seats. The older two are in booster seats and the younger two are in standard car seats. This often creates hassles for us. If we want to fly back to Alberta to visit family, I have to haul all four car seats along with us. If one of our girls wants to carpool with another family, they need to move their car seat. So many times I've wished my girls were just a bit bigger—or that car seats were just a bit smaller. The Mifold booster seat is one answer to that problem!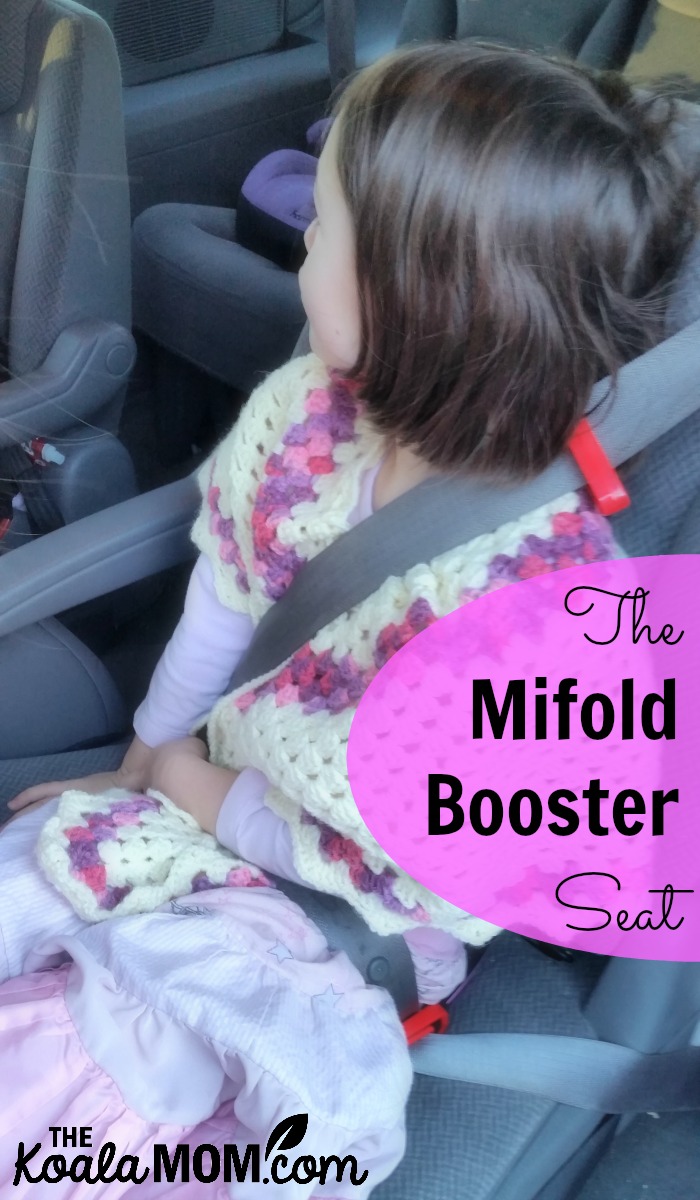 The Mifold booster seat is a portable, safe booster seat that is less than half the size of my girls' current booster seats. Folding to the size of a paperback book, the Mifold can fit easily into the glove box of your car or your child's backpack. This makes it perfect for carpooling, travel, or just fitting three kids onto a seat instead of two. (In the picture above, you'd barely know Lily is using a booster seat!)
When being used, the Mifold unfolds into a flat foam surface that sits directly on the vehicle seat. While regular booster seats lift the child up to the same position as an adult, the Mifold brings the seat belt down to the child. The clips on the Mifold keep the seat belt on your child's shoulder and off their face and neck. It also sits on the bones of your child's hips, keeping the seat belt off their tender stomach.
Important features of the Mifold booster seat include:
easy-clean foam padding technology for extra comfort (I've mentioned before how important it is to be able to clean car seats!)
temperature regulation for hot days
install takes 30-seconds (or less!)
metal chassis is made with aircraft grade aluminum (the booster seat is heavier than it looks!)
super tough plastic polymer for impact resistance
The Mifold is available in 6 gorgeous colours for your child to pick from (my girls love the pink!)
for children 40 to 100 lbs and 40″ to 57″
The Mifold offers a hassle-free, simple and innovative way to keep children safe and comfortable while in their booster stage. It's time to ditch the old fashioned booster seats and look into getting a Mifold! Here you can see just how small it is on a vehicle seat: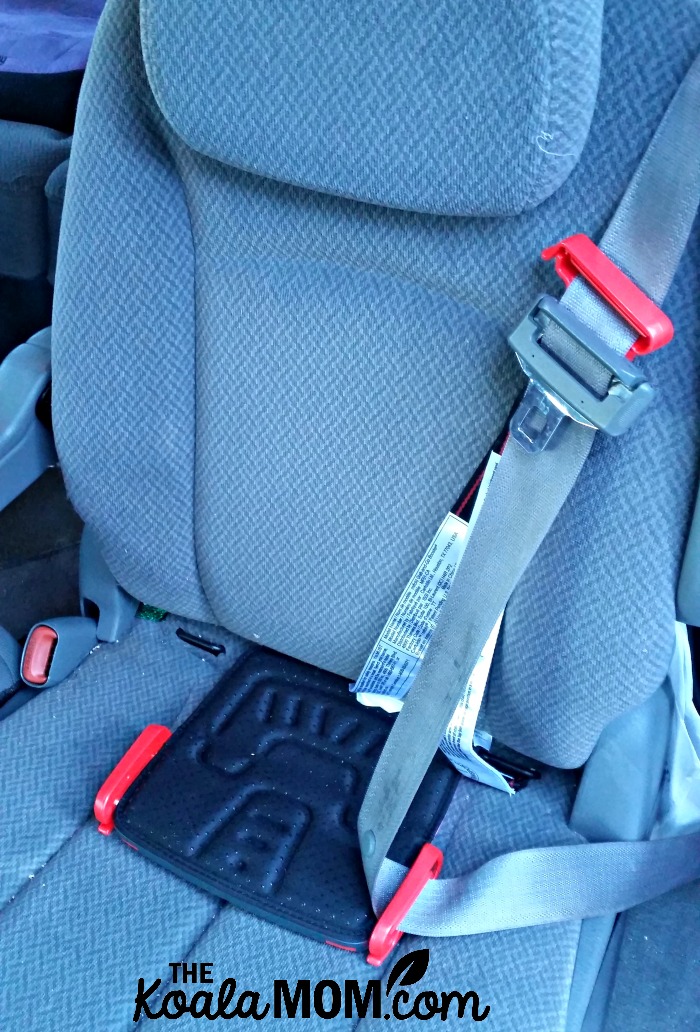 What we thought of the Mifold booster seat
We were so excited to try the Mifold booster seat out. Both Sunshine and Lily gave it a test on different trips. While it's easy to install the Mifold (simply unfold and place on the seat), we found it harder to get the girls buckled. In their regular booster seats, they can buckle themselves. With the Mifold, I had to help them get the seat belt into the clips and then help them unbuckle. I'm sure as we use the Mifold more, we'll get better at this, but it was a bit frustrating to start with.
I can think of so many ways that we could use this booster seat. I could store it in our van for those times when Sunshine wants a friend to ride with us. My friend Anna, who doesn't have a vehicle, could use a couple of these for her older girls, instead of the bigger, bulkier booster seats. If we fly with the girls, I'll pack this booster seat instead of their bigger ones (and not have to worry about how the airline is treating our car seats).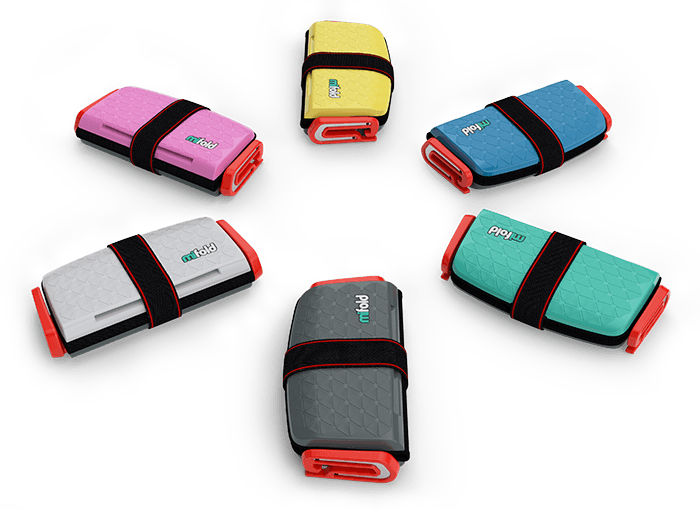 How would you use the Mifold booster seat?
For more information about this great new booster seat, drop by their website. There are videos and diagrams there to demonstrate how the Mifold booster seats works. You can also find Mifold on Facebook.
The Mifold booster seat is available at Canadian Tire or via the website in Canada.
I received a Mifold booster seat for the purposes of this review; all opinions expressed are my own.