Jen Frost is a Catholic mom blogger whom I met through a Facebook group. Her DIY and sewing skills blow me away. She designs quilt patterns, Catholic fabrics, sewing patterns such as Jesse trees and saint dolls, and more!  If you also enjoy fabric crafts, keep reading and check out Faith and Fabric. (Plus scroll to the bottom for a great deal on two of Jen's Advent patterns!)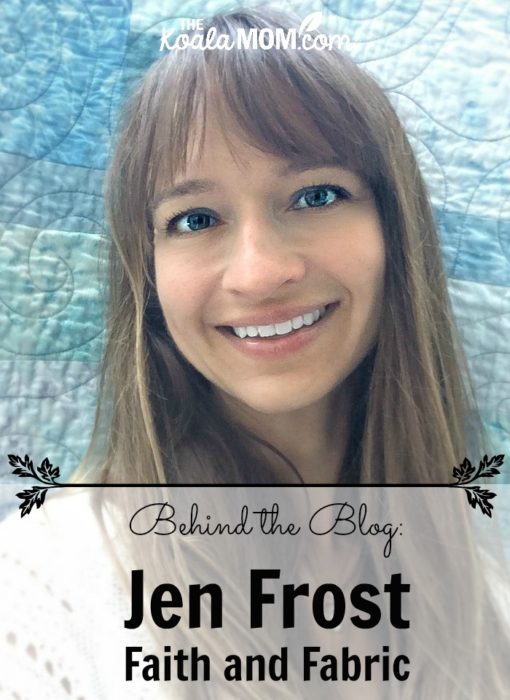 TKM: First, tell us a bit about Jen Frost.
Jen: Hi! I'm Jen Frost from Faith and Fabric. I'm a former project manager turned creator, and the genuinely happy wife and mom to two amazing people. I live in San Diego in a home my husband and I built (he's a general contractor), and volunteer at my son's preschool and our church.
TKM: When and why did you start blogging?
Jen: I started blogging in 2013 after I left work to stay home with my son. I was a former HR-IT project manager, so I spent a lot of time at a computer! I missed it, and creating/configuring a site was a way for me to channel some of that missed work energy into something productive.

I've always been creative, so as my son started to get a bit older it was a natural flow to do faith-centered projects with him. I started sharing some of the projects we did, and the site grew from there—especially when the Activities for Catholic Families post went a bit viral!
TKM: How did you come up with your blog name?
Jen: Faith and Fabric is a combination of the two things I love most! …besides coffee and getting sweaty at the gym, but that would have made for a really long name. I love fabric!
I design Christian quilt patterns, faith-inspired family activities like Our Family's Jesse Tree, and busy hands felt books like Miracles of Jesus. I also enjoy celebrating the liturgical year with general hands-on activities. So, combining my love of fabric with the celebration of our faith led to the creation of Faith and Fabric!

TKM: Do you have a blog schedule or do you post when you feel like it?
Jen: I blog when I feel like I have something worthwhile to share. My blog does not have a lot of personal sharing on it—in fact, it has next to none. I'm a very private person, and don't share details or photos of our family on my site.
Instead, the blog is focused on activities (and sewing)—so, when a new activity is released, or a new sewing pattern like the Advent Wreaths quilt is ready, a post is written and published.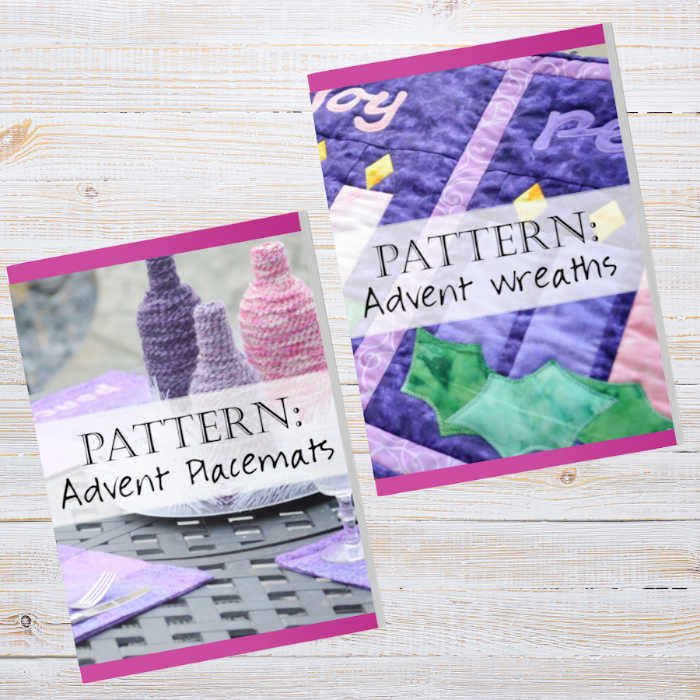 TKM: What is your favourite part of blogging? Your least favourite part?
Jen: My favorite part is the outlet it provides. Technology is always changing, and I really enjoy keeping up with all the changes. I'm a nerd like that. My least favorite part is keeping up with social media. Is that bad to say? It can get exhausting to manage all the comments, likes, shares, and whatnot that come with writing posts *and* those you follow. It's so easy to get sucked in and miss the "real" world that's happening all around you.
TKM: What advice would you offer other bloggers?
Jen: Be different. Don't worry about what others are doing. Find something you love and share it. When I started, I was really worried that I had too narrow a focus (Catholic fabric lovers!). It turns out there are more people than I thought who share this passion, and we're now on a journey together.
Know you're going to evolve, and let the change happen. My quilting moved from just quilting into smaller handmade items like the rosary pillow, as well as metal stamping—which couldn't be more different from sewing!

Grow, take breaks when you need, and remember that the blog will always be there when you're ready to get back to it.
TKM: What is your favourite social media platform and why?
Jen Frost: I really like Facebook! The comments that go back and forth really give you a chance to get to know people on a deeper level. Instagram is super fun, too, to share images and photos of your work.
Check out Jen's super cute Sew-a-Saint dolls — a great gift idea for a child learning to sew!