For my first two summers during university, I worked for my dad's company. They had a program where they hired employees' university-attending children. It paid well and meant I could live at home and carpool with Dad. I worked in the Training department, part of a small team, and was able to implement my office and typing skills on the job. At the end of my first summer, my team gave me a piece of corporate apparel: a big blue duffel bag with the company logo on it.
In my third summer, when I headed to Australia on a working holiday visa, I packed that bag. It was the biggest bag I owned. To me, "backpacking" was what I did in the Rocky Mountains, when I carted my food and tent and sleeping bag on my back. I didn't realize what a backpacker was until I was in Australia, trying to carry my huge, heavy duffel bag between bus and hostel and train. I considered ditching it and buying a proper backpack, but the duffel bag had too much sentimental value. It made the rounds of Australia with me and came back to Canada again, full of Aussie gifts.
Corporate gifts like that are a great way to foster company pride and build corporate identity. These days, it's possible to put a company logo on nearly anything, from pens to jackets to bags to USB drives and more.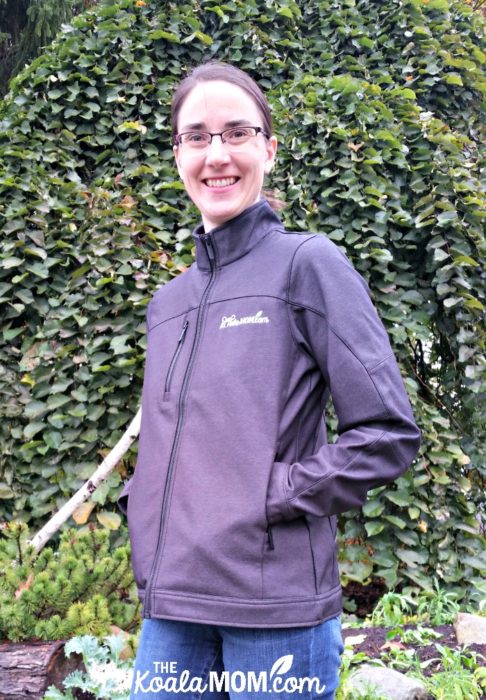 Over the last few months, I've been working with Bravo Apparel, a local custom apparel company. I've featured some of their sports wear and private school attire. Bravo Apparel also does corporate apparel, from uniforms for professionals like nurses and security guards to more casual items like jackets and bags. This month, they embroidered my logo on a ladies' Stormtech rain jacket.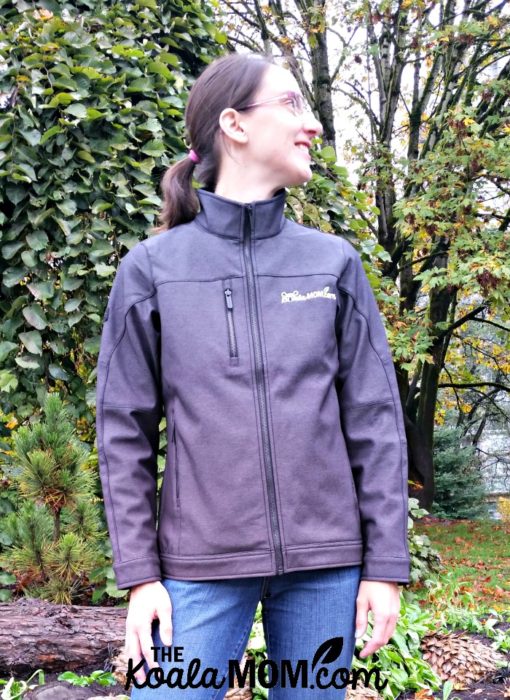 The jacket is charcoal grey, so Bravo changed the colours in my logo slightly to make it show up on the jacket. It features waterproof technology and a fleece lining, making it warm enough for Vancouver's rainy, damp winters. The jacket also has three zippered pockets, perfect for my phone and keys when I'm out. My logo appears on the left side, just underneath the yoke.
Bravo Apparel prides themselves on quality materials and great customer service. I've certainly seen this in all the apparel that I've tried for my own little "blog business." They have some great information on their website about choosing the right corporate apparel, such as their Guidelines for High Quality Custom Uniforms. They also have a great article on Why Branded Apparel is Important for Business, with links to some great tools to help you design your custom uniform.
I love the way that corporate apparel like this is a subtle way of advertising. Just by heading out in my rain jacket, I'm spreading the word about my blog (or company). Most of the people I see may not notice my logo, but a fellow mom may remember it and look it up later. For a larger company like my dad's, seeing the company logo on another person's jacket fosters a sense of camaraderie and belonging. I still think of my dad and my summers with his company when I see that logo.
If you're thinking of ordering some corporate apparel, I recommend checking out Bravo Apparel. They are great to work with and offer a variety of different products, including eco-friendly options like bamboo.