Victoria's history is written in her streets and landmarks, from Mount Tolmie to Begbie Street. Living there, I knew that many of the names were based on historical figures. Other than reading the occasional historical plaque, I never took the time to find out more. Then I picked up The Chief Factor's Daughter by Vanessa Winn this summer. This novel is a fascinating glimpse into the people behind the names around Victoria.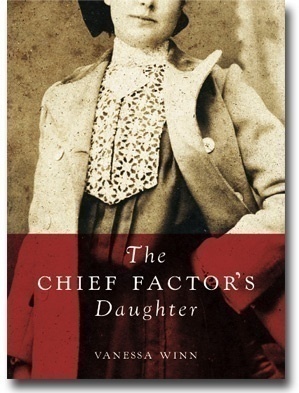 Margaret is the fourth daughter of Chief Factor John Work. As the story begins, she's the oldest daughter at home—and at age 23, almost an old maid. She helps her older sisters take care of their children, tutors her younger siblings, and tries to navigate the social dynamics of a fur trade town on the edge of change.
As more British settlers arrive in the colony, Margaret is increasingly aware of her Native heritage. The comings and goings of the Boundary Commission and Navy officers offer distractions and dances to fort society, but Margaret has come to realize that they have no intention of settling in the colony—or taking a non-British wife back to England. The 1958 Gold Rush brings a swell of equally unsuitable suitors to town.
Through Margaret, we meet all the leading families in Victoria: Dr. Tolmie, Dr. Helmcken, the Langfords, the Finlaysons, and others. With her, we travel the muddy, dusty roads from her home at Hillside to the growing town of Victoria, or row from the harbour around to Esquimalt for social gatherings. We see the walls of the fort come down, a new church go up, and ships come and go.
Each chapter begins with a historical quote from journals or letters by one of the Work's associates. These provide an interesting and often humorous perspective on the events narrated by Margaret. Winn includes an epilogue, which details what happens to the main players after the novels ends.
The Chief Factor's Daughter reminded me of a Jane Austen novel. Like many of Austen's heroines, Margaret is navigating the murky waters of courtship and marriage. She and her sister Mary made me think of Lizzie and Jane in Pride and Prejudice, complete with a younger sister (Kate) to keep in check. All three girls are unique, complete characters, beautifully brought alive by Winn's in-depth research and lyric writing.
Readers familiar with Victoria, BC, will find The Chief Factor's Daughter to be a fascinating glimpse at the city's early days. If you've never been to Victoria, don't worry—the story stands on its own as a historical romance. The Chief Factor's Daughter is an engaging, readable story about a thoroughly likeable heroine in an interesting historical era.
Vanessa Winn has a B.A. in English from the University of Victoria. She was born in England but now makes her home in Victoria, BC, with her two daughters. She writes nonfiction and poetry as well as fiction. The Chief Factor's Daughter is her first novel. When she's not writing, she enjoys music and dancing and currently teaches Argentine tango. To find out more about her, drop by her website.