As we started our school year last week, I thought about the tools we use. While books and supplies like pencils and rulers are important, there are a few other things that help us study. Here, I'm sharing my favourite homeschool tools for your classroom.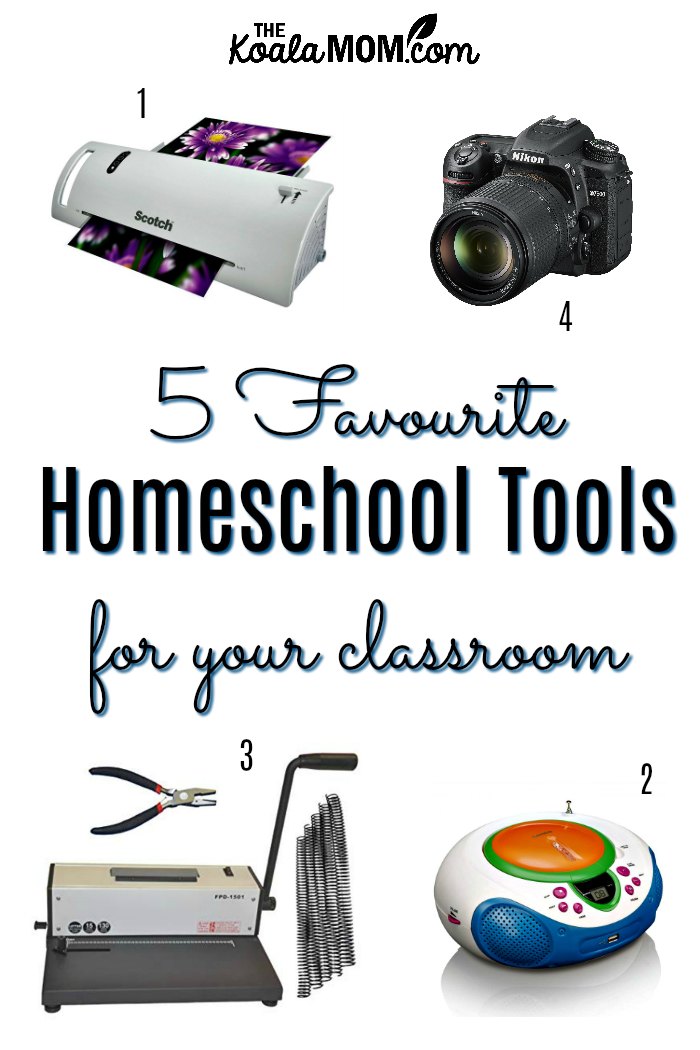 This post contains affiliate links; as an Amazon Associate, I earn from qualifying purchases.
#1: Laminator
I spent my long weekend cutting out and laminating timeline flashcards for our history program. I bought our laminator last year and, while I only use it a couple times a year, I'm so glad I got it. It really comes in handy!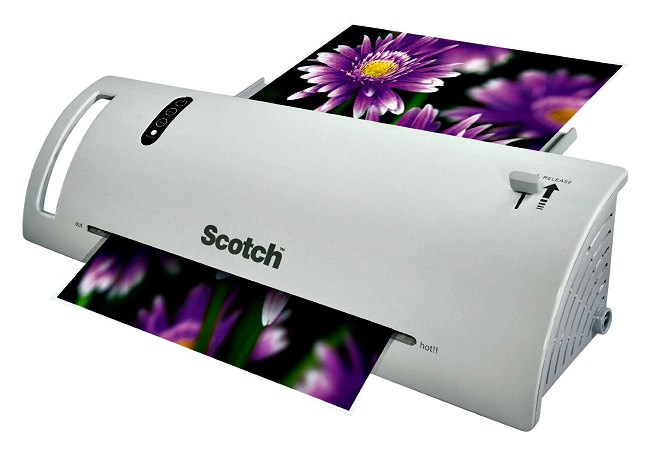 Thanks to the laminator, some of our homeschooling resources are going to last longer. Even if Pearl accidentally gets her hands on a flashcard, or the girls start a fight over who's reading a booklet, the laminating should protect them!
It also comes in handy for craft projects, like our Guardian Angels Prayer Cards or Reusable Calendars.
#2: CD Player
We use audio books not just for long road trips but also for school. While I enjoy reading a loud to the girls, there are times when I need to work with the other child or take care of the baby. Then I can pop in an audio book for the girls to listen to and presto! they've got history or literature done for the day.
Most of the time, we listen to audio books in the van. That way, even if we have a day where we're out, I can still check off some history or other learning.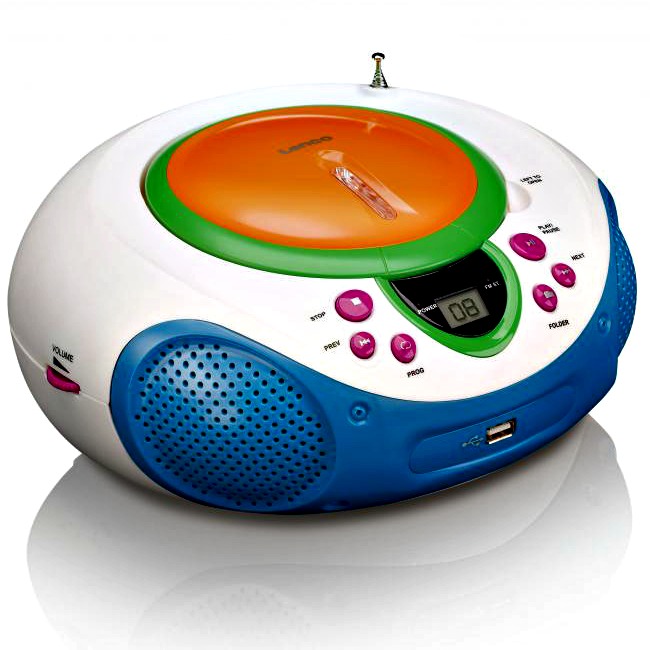 This year, we've been using our CD player at home more often as Sunshine enjoys listening to stories and music. I recommend getting a simple, kid-friendly CD player so the kids can use it themselves. We rarely use my stereo because I don't want the kids to break it. If the CD is portable, you can also move it to different rooms as necessary.
Putting on some music and having a dance party is a great way to do some phys ed (especially on rainy days). With both girls in music lessons now, our CD player encourages music appreciation and help them hear the songs they're trying to learn.
#3: Coil Binder
I haven't a coil binder yet, but it's on my wish list. Now that we're printing more of our activities from various websites, I find myself doing a lot of coil binding. I usually run down to our local office supply store to get them to do it, but at $10 per book and the time it takes to go in and out of the store, I'm want my own coil binder. It's also handy for my own yearly planners, plus other resources I print.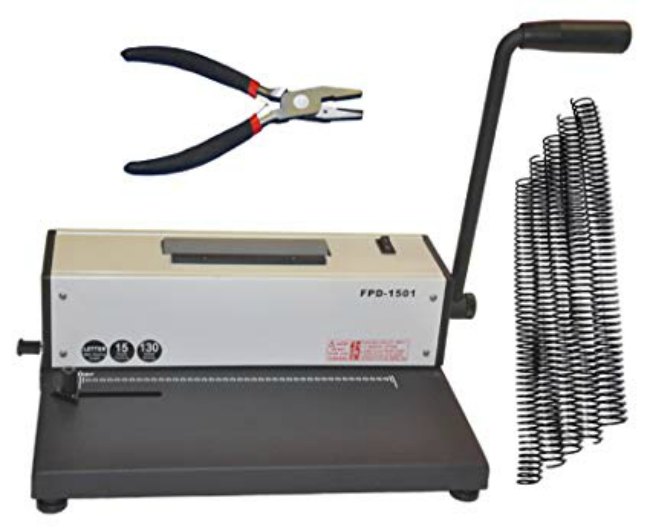 #4: Camera
A camera (whether it's a click-and-shoot, DSLR, or your phone) is a great way to record your homeschooling. I have a folder labeled "Homeschooling" on my computer, into which all these pictures go. It's then easy to send these pictures to our homeschool teacher or to review them at the end of the year to see what we've learned.
Take the camera on field trips to capture what the kids are learning. Take pictures of their art projects or science experiments. Take pictures of their workbooks or them sitting at the table working. At the end of the year, you can have fun putting together a homeschool yearbook with all your photos!
#5: White or Black Board
We've had a few different white boards and black boards over our homeschooling years. It's a handy way to work math problems or demonstrate spelling words. If you're working with more than one child, it's a great way for both of them to see what you're diagramming.
If you're homeschooling with a toddler, the white board can help keep him or her busy while you're working with the older kids.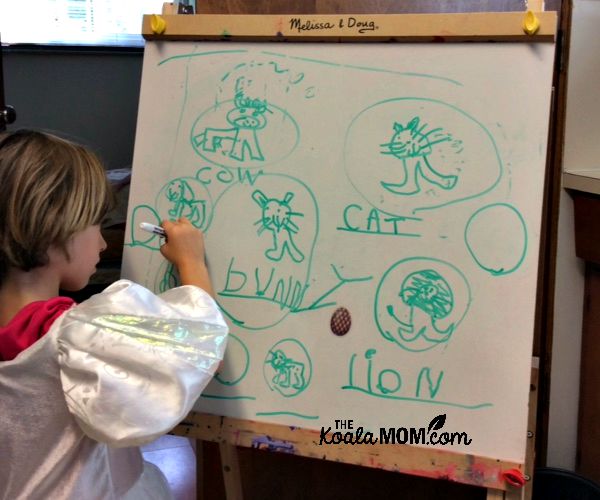 A white board or black board is also handy for homeschooling preschool. It's fun to practice letters and numbers on a white board with a fancy marker. Plus, if you have a little perfectionist who gets upset at backward letters or wrong numbers, you can always just wipe it away and start again! Pearl likes it when I wrote the alphabet on our white board so she can trace it with a different colour of marker.
Bonus: Paper Cutter
Somehow, we do a lot of cutting out for schoolwork. I have a simple scrapbook paper cutter that I pull out on a weekly basis. I have used it for cutting out flashcards, making cards to write to relatives, and other projects.
Last year, Sunshine and Lily each had a school notebook into which all their schoolwork went. The paper cutter came in handy for trimming pages to be glued into their  notebooks.
I'd suggest getting a slightly larger paper cutter, as mine (only 8 1/2″ long) is sometimes too small for our projects.
What are your favourite homeschool tools?