After our first night of camping at Rocky Mountain House National Historic Site this summer, we were eager to explore. The girls were up around 8 am as usual (not with the sun, as I was worried they might be!). We tiptoed through the dew on the grass to get breakfast. By 9 am, they were ready to head up to the Visitor Centre, which didn't open until 10 am.
I tidied up our camping area and tried to boil coffee. Lily attempted to chop more wood for our fire while Sunshine and Jade played in and around the tipi.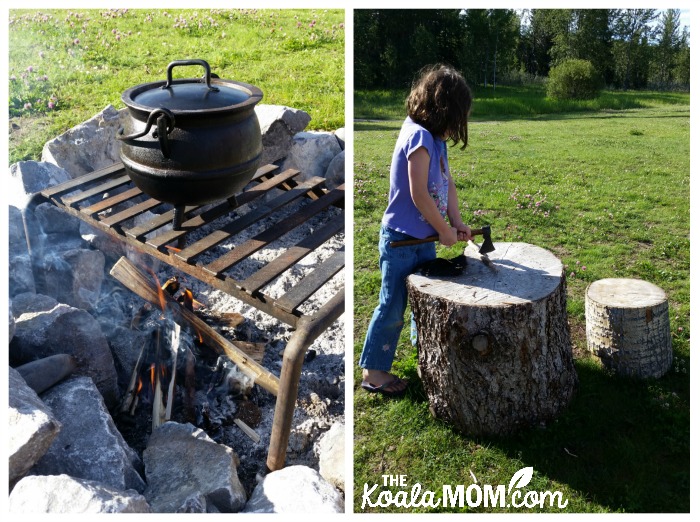 Touring Rocky Mountain House National Historic Site
By 9:30, I figured we could start walking. I put Pearl in the Juno and we set off down the paved trail towards the Visitor Centre. The girls ran excitedly ahead of me. We admired the flowers blooming along the trail and enjoyed the sound of birds and wind in the trees. Two squirrels chased each other across the path.
At the top of the hill, we reached the remains of the old North West Company Fort. While I read the signs, the girls slid in and out of the holes. They each chose a hole to be their "home" and proceeded to visit each other and make up stories. I pointed out the stones marking where the fireplaces had been and tried to explain the fort to them. Then I pulled them out of the holes with the promise of more fun stuff further down the trail.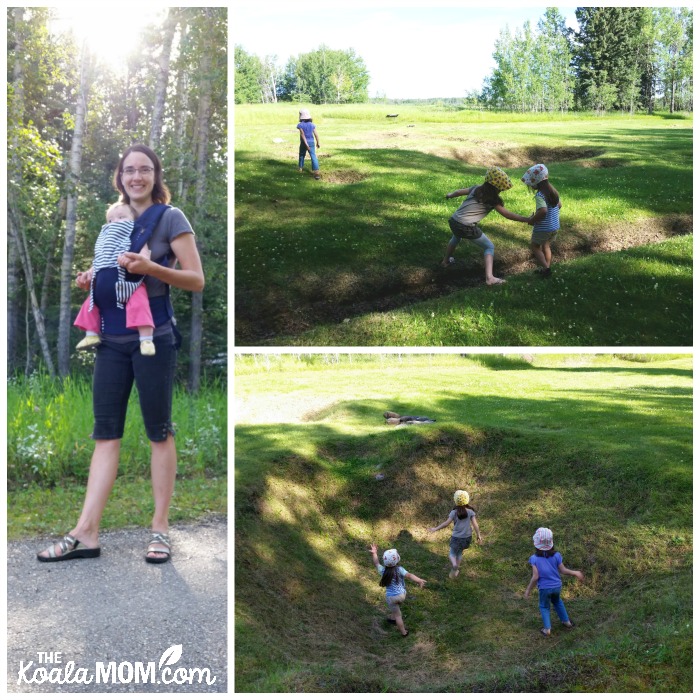 Next stop down the trail was a couple of tipis (which were less exciting since we have one all to ourselves) and then the play fort. Here, the girls were soon in a fight over the "rope swing," which proved to be the most exciting feature. They could also climb the bastion, pretend to cook at one of the two fireplaces, or play house in the little rooms.
The Metis Camp at Rocky Mountain House National Historic Site
From there, we went past the visitor centre to the Metis camp. I decided that, since it was likely to be a hot day, we'd do the outside activities first. The girls loved exploring the Metis camp. There were animal furs for them to pet and sit on, which also gave them a good idea how big a bear or cougar is.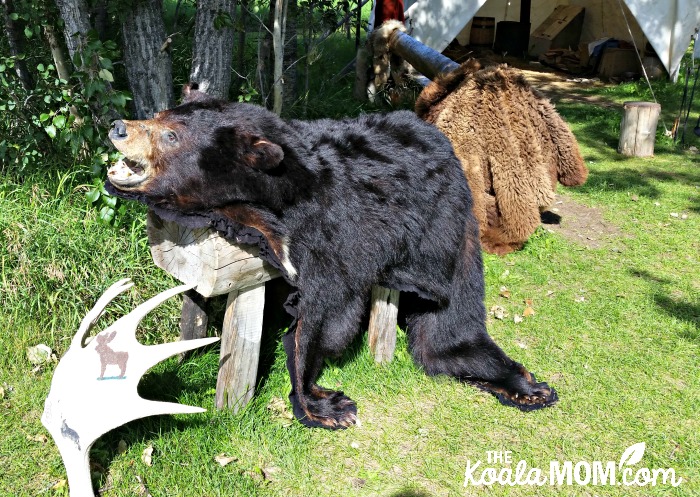 One of the things I loved at Rocky Mountain House National Historic Site was how kid-friendly everything was. When the girls first began playing with the skins, I told them to stop, assuming it would be fragile. The Metis staff woman there said it was okay, that they could play with anything. And she meant it! If your kids are into hands-on fun and learning, this is the place for them.
The canvas tents there were set up to show how a Metis trapper would have lived. Lily picked up a pair of spoons and was soon busy making music. There was a bed, complete with a child's doll, clothing, pots, pans, and more. I admired the beadwork on a tiny moccasin that would have fit Pearl.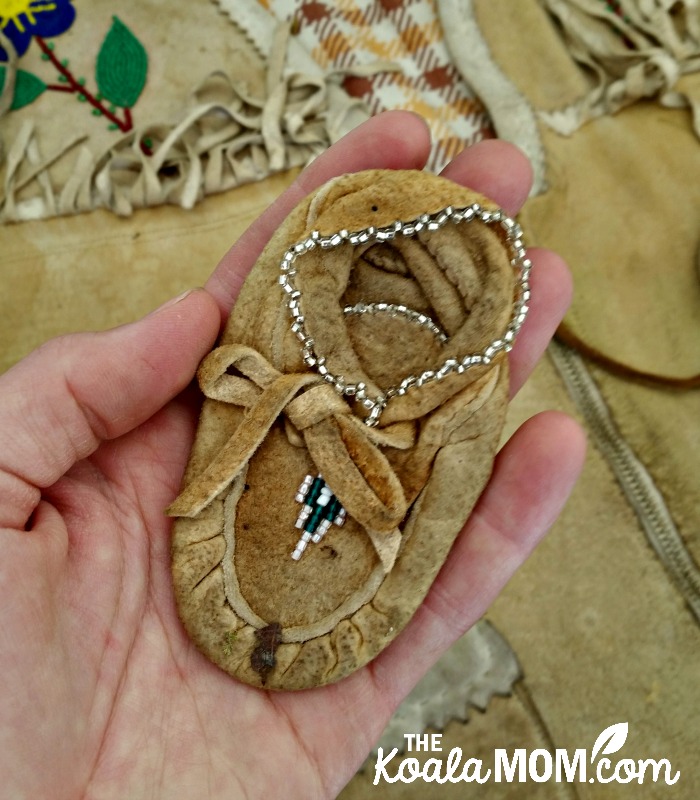 The Metis woman was busy baking bannock over the fire. She had two bannock in frying pans on the fire and was chopping fruit to make more. The girls watched and chattered with her about that. She also said she'd be making coffee later. After my failed attempts at boiling coffee over a fire myself, that sounded good! We promised we'd come back for coffee and bannock.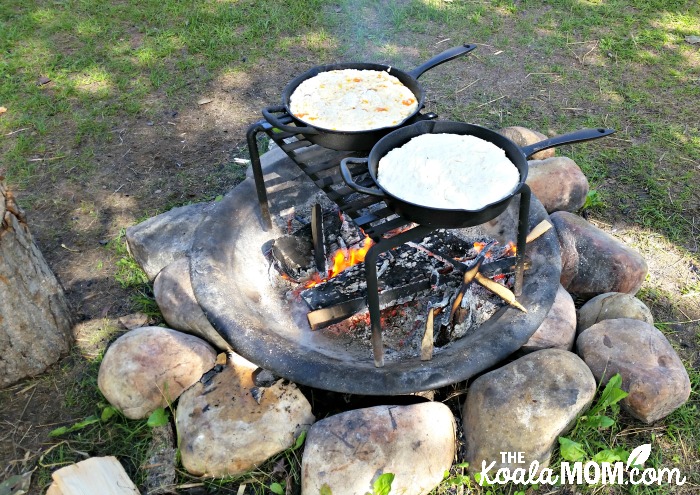 Hiking the Trails at Rocky Mountain House National Historic Site
The girls explored a Red River cart and a York boat. Then they said they were hungry. So we took the trail back along the river to our camp. It meandered through the cool, shady trees. Signs along the road told us about the local flora and fauna, so I tried to learn some new plants. We saw another squirrel, who played peek-a-boo around a tree with us.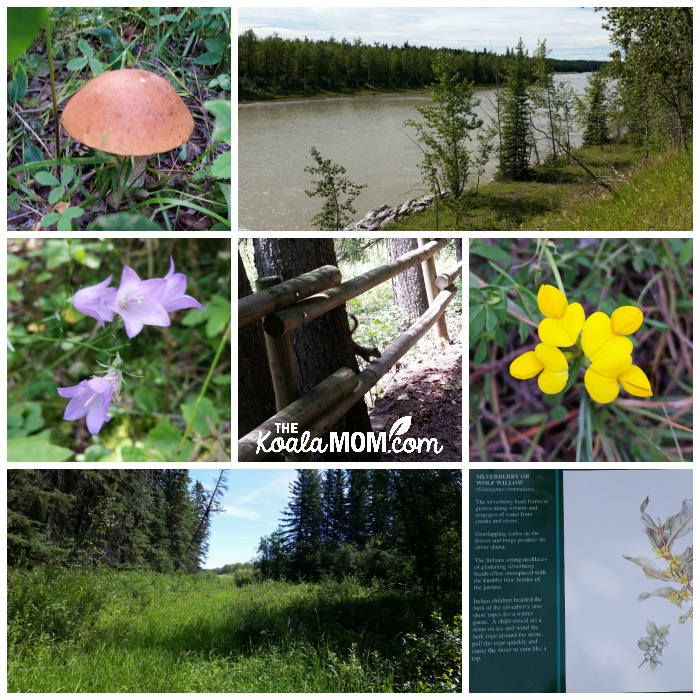 As we walked, I realized what a treasure this day was turning out to be. We had nowhere particular to be at any time—no deadlines, no time lines. In our busy lives, it's not often that we get to just "be." While our trip to Alberta was meant to be vacation, it was also a very busy time of trying to see as many friends and family as we could.
I'd debated even going out to Rocky Mountain House, as it felt selfish. Shouldn't I be seeing people in the few days I had back in Alberta? Yet just spending that day hanging out with the girls, doing whatever we felt like doing, was beautiful and relazing. I'm so glad we did it (and so are they!).
The Rocky Mountain House National Historic Site Visitor Centre
After our lunch back at the tipi, the girls didn't want to hike the trail to the fort again. So we did the lazy thing and drove around via the road (though I thought it might've been faster just to walk). I wished I had my jogging stroller with me, as that would have made it a bit easier to walk the trail. It's paved, but I didn't think it would be very easy to push my umbrella stroller up.
The museum was quiet when we got there after lunch. Lily and Jade were soon busy trying to dress themselves up as Metis girls, while Sunshine explored a display about David Thompson's life.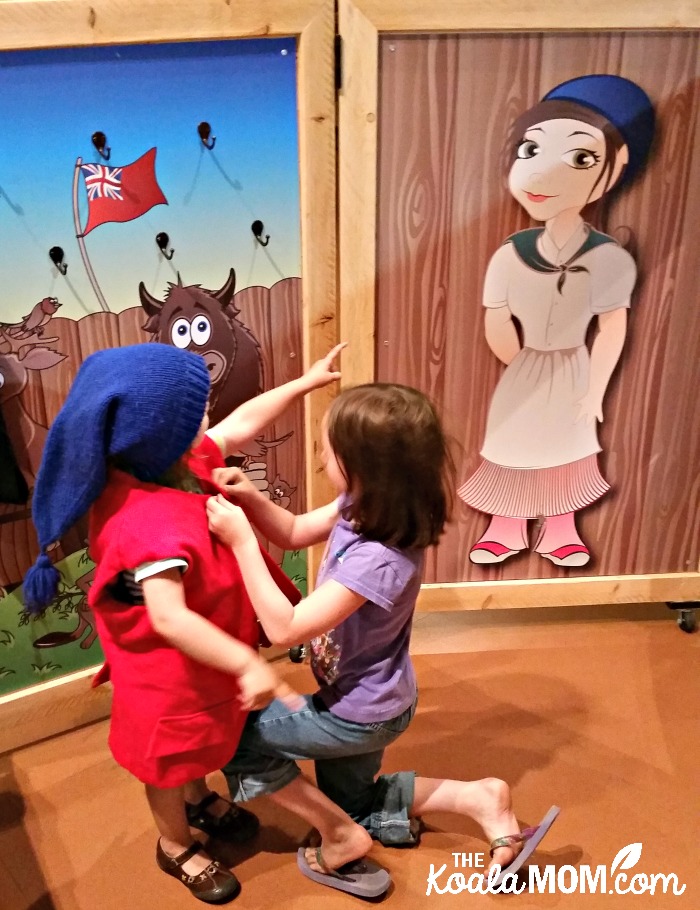 Then Lily tried to build a log fort while Jade attempted to do a magnetic puzzle of a bison. It showed how all the parts of the bison were used by First Nations people.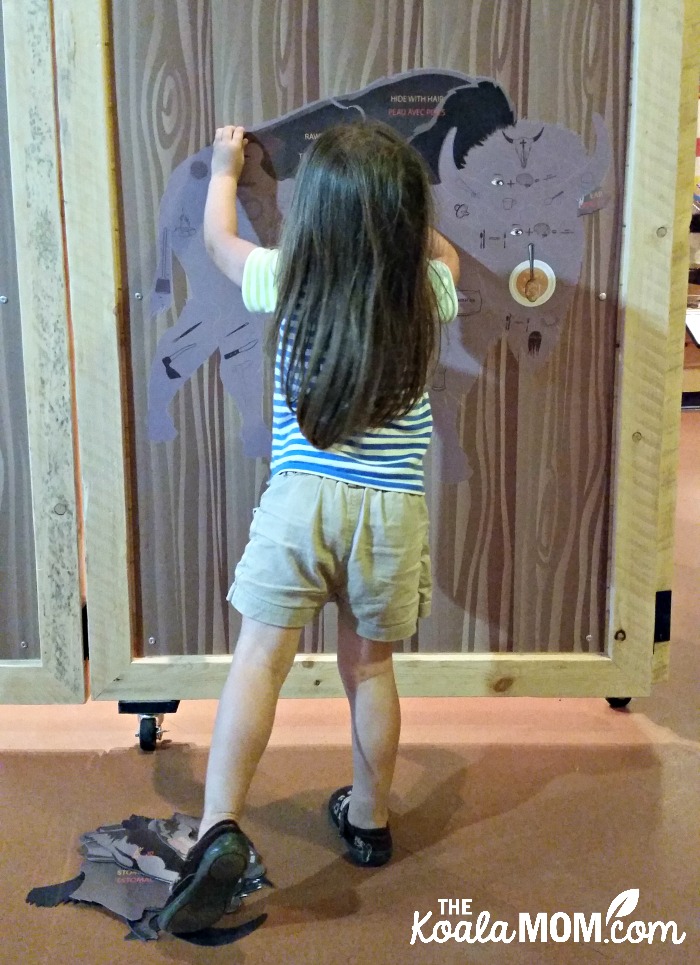 There were matching games, maps, pictures, and displays—plenty of things to engage visitors of all ages. (Did I mention I loved the hands-on learning for the kids?)
The David Thompson Puppet Show
They were having so much fun in the museum that I was almost reluctant to pull them away. However, at 2 pm, there was a puppet show about David and Charlotte Thompson at the play fort. So we headed over there a bit early to get good seats. We needn't have worried; there was only one other group there. (RMH must be Alberta's undiscovered gem!)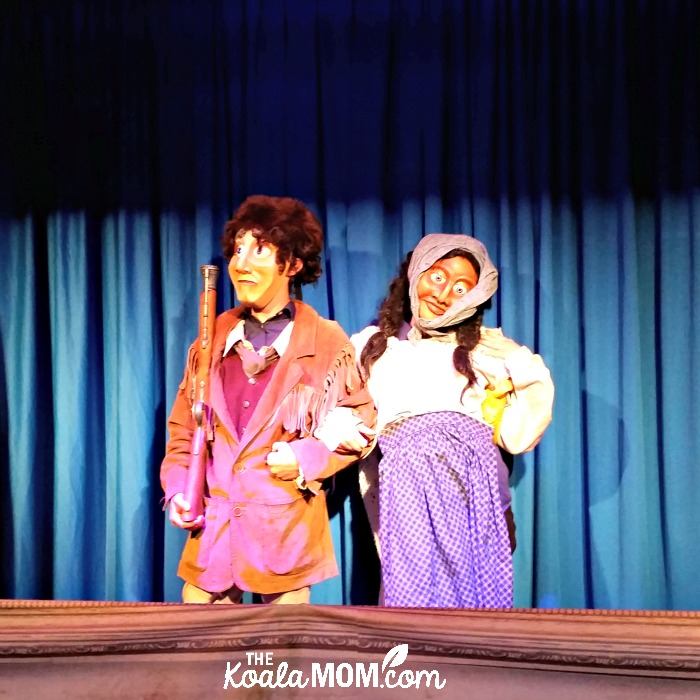 The girls loved the puppet show. Even Pearl was paying attention! Sunshine soon learned the chorus to the theme song and began singing along with the music. (They still sing the song occasionally.) The puppet show focused on David's early life and work, ending when he and Charlotte left the west in 1812.
Baking Bannock like a Metis
After the puppet show, we went back to the Metis camp for bannock and coffee. Then we headed back to our tipi, where the girls were delighted to find we'd been left a present. It was a kit to make our very own bannock! I started the fire again and we mixed up the bannock. Unfortunately, I put it too close to the fire the first time and burnt one side.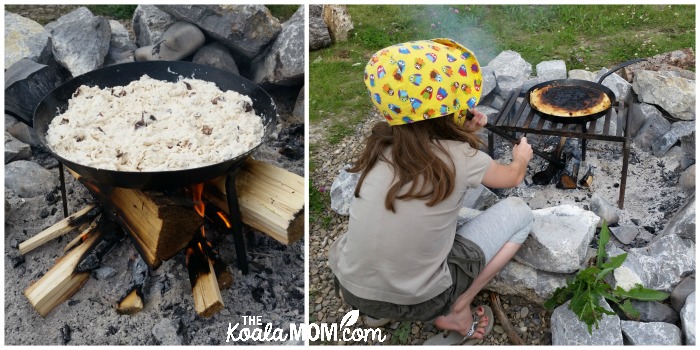 We spent the rest of the evening relaxing around our tipi. I tried to keep Pearl from eating the clover (and whatever else she could get in her mouth). The girls ran around, telling stories as they played in the tall grass on either side of our campground. Another group arrived to camp in the third tipi for a night. They expressed their surprise at a mom camping alone with four girls, but camping in a tipi at Rocky Mountain House is so easy!
Our Second Night in a Tipi
That night we were all tired from our explorations. I started bedtime at 7 pm; Pearl and Jade fell asleep almost immediately, but Sunshine and Lily wiggled and squirmed. I could've slept when Pearl and Jade did, but every time I was almost asleep, one of the other girls needed something.
Then a thunder storm began. Just when I was about to see if Sunshine (the last one still awake) wanted to go out and watch the lightning with me, it began to rain. I'd put my sleeping mat in the middle of the tipi, to stay beside Pearl who was at the end of Jade's mat. That meant I got rained on, so I got up to rearrange our sleeping mats. The rain was over in ten minutes and we didn't get very wet, but then Pearl woke up and took a while to get back to sleep.
Leaving Rocky Mountain House National Historic Site
The next morning, we had a quick breakfast, packed up our campsite, turned in our key, and hit the road back to town. The girls kept asking me if we could do this again next year. I lost count of how many times Lily said, "This is the BEST day EVER!" while we were there. They thoroughly loved it and so did I.
Wanna see all the fun we had? Check out my YouTube video:
Visiting Rocky Mountain House National Historic Site
Kid-Friendly: YES! This place gets two thumbs up for being one of the most kid-friendly, historic sites I've ever visited. The girls loved exploring history in so many fun ways. There was lots to do both inside and outside the Visitor Centre. All the staff were friendly and knowledgeable and kids were encouraged to touch, play and explore.
Baby-friendly: Yes. The Visitor Centre is all one level, with room for strollers to navigate. The trails around the site are also stroller friendly, though I'd recommend a jogging stroller. I used my baby carrier for most of our hiking. There was a baby change table in the washrooms.
Fees: Very affordable! A family can get in for less than $10. Annual passes are also a very good deal (less than $150 for a family) and get you into multiple national parks and historic sites. Plus if you buy an annual pass in 2016, it's valid for TWO years!
I received a complimentary two-night stay at Rocky Mountain House National Historic Site and a Parks Canada Discovery Pass for the purposes of this review; all opinions expressed are my own.