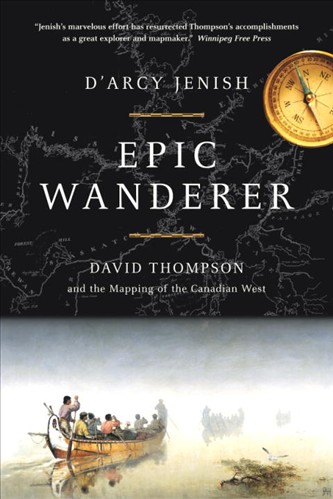 In my hunt for information on Charlotte Small, I've been reading biographies of her husband David Thompson (since there aren't any on Charlotte). I just finished Epic Wanderer: David Thompson and the Mapping of the Canadian West by D'Arcy Jenish. This biography brings David Thompson alive, showing readers an intelligent, determined young trader who thirsted for new discoveries.
While many biographers focus on David Thompson's main achievements—surveying and mapping the Columbia River west of the Rockies—Jenish attempts to tell the whole story, from David's school years in London, England to his death in Montreal, Canada.
David Thompson's Education and Early Years with the HBC
David was a good student at a boys' school in London when the Hudson's Bay Company came looking for recruits. Thompson signed up and crossed the ocean to Canada, but throughout his time with the HBC, he wanted to learn more and to have opportunities to apply his skills.
A broken leg gave him the chance to learn surveying from Philip Turnor, but that same broken leg kept him from accompanying Turnor on a surveying expedition. Finally, realizing that the HBC was more interested in trade than exploration, Thompson handed in his resignation and joined the North West Company.
David Thompson's Explorations for the NWC
The NWC was interested in finding a way over the Rocky Mountains to carry trade west. Distance was their biggest problem, for the further they had to haul goods and furs, the less money they made. After sending Thompson briefly to trade furs at Fort George, they gave him the job he'd been waiting for: to find a way through the mountains.
David was looking for a big river, one that would flow from the Rockies to the ocean and carry canoes loaded with trade goods and furs. While he was briefly transferred to other posts to trade, he spent years at Rocky Mountain House and Kootenay House, trying to push the trade west and find that river.
Finally, at the same time that John Jacob Astor established a post at the mouth of the Columbia, Thompson traveled from the headwaters of the Columbia to the ocean. It was 1812 and he had completed his huge task.
Retirement in Montreal, Canada
He then told the NWC of his intention to retire and took his family to Montreal, where he started working on his maps. Yet "retirement" was not easy for Thompson. He worked as a surveyor for the Canadian government, determining where the Canada-US border should be, and tackled other jobs as he could find them. The bankruptcy of the NWC and other poor financial decisions hurt him, forcing him and Charlotte to live with their children in their last years.
Charlotte Small Thompson
Jenish mentions David's Thompson's wife Charlotte Small frequently. He seems to think she traveled less with Thompson than other historians do. This may be because Thompson himself rarely mentions his wife in his journals. Readers are left wondering whether she is with him or waiting for him at a trading house.
Jenish suggests the Thompsons' marriage was a love match. He hypothesizes that Thompson saw Charlotte in a brief stop at Isle a la Crosse the year before they were married, then returned the next year to court her. In their old age, they were constant companions, with Jenish romantically saying they continued to watch the stars together.
Conclusions about Epic Wanderer
Jenish provides information on other historical events that affected the Thompsons, like the competition between the HBC and NWC and the War of 1812. He uses quotes from Thompson's own writing, and notes where information is lacking because Thompson for some reason failed to write in his journals. The book also includes maps, but I found these so tiny and detailed that they were useless.
In general, Jenish provides a readable overview of David Thompson's life with Epic Wanderer.  He tries to delve into David Thompson's motivations and feelings, and in doing so, brings the explorer alive for the modern reader.
For more information about David Thompson, check out the Dictionary of Canadian Biography or HBC Heritage. For more information about D'Arcy Jenish, drop by his website.