There are times when running a household with four small kids can be an overwhelming task. Dishes need to be washed. Food needs to be cooked. And the laundry never ends. I'm always trying to find better ways of doing things. This week, I thought I'd share five things that work for me—my five favourite household management hacks.
#1: Use a Household Planner
I've been using a blog planner for years and finally decided to start using one for my household as well. I'm so excited to be using the Catholic Through the Year planner to organize myself for the next year.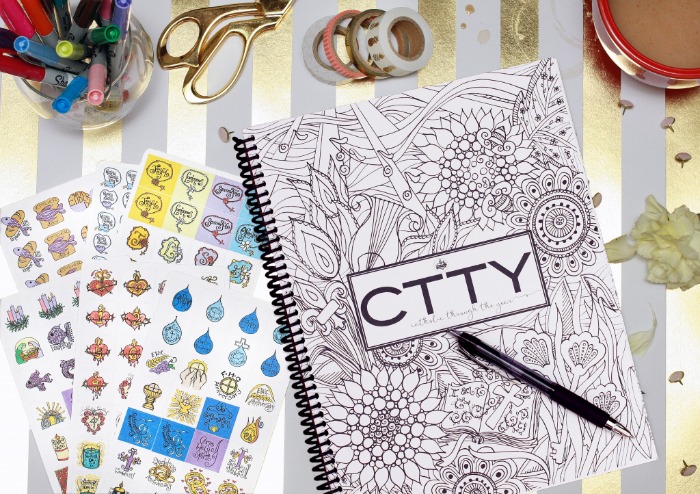 One of the things I loved about this planner was how I was able to customize it to my needs. I simply downloaded the files, then browsed through them and printed the pages I need. You can print it in colour or black and white; I did the latter to save ink. Then I took the pages to Staples to have them coil bound, but you could also put the pages in a binder.
The Catholic Through the Year planner runs from July 2016 to June 2017. It has pages for meal planning, prayers, notes, to-do lists, birthdays and anniversaries, and more. There's also a page of household tips and a list of bi-annual cleaning tasks. Plus the artwork on the cover is gorgeous—I really want to colour it!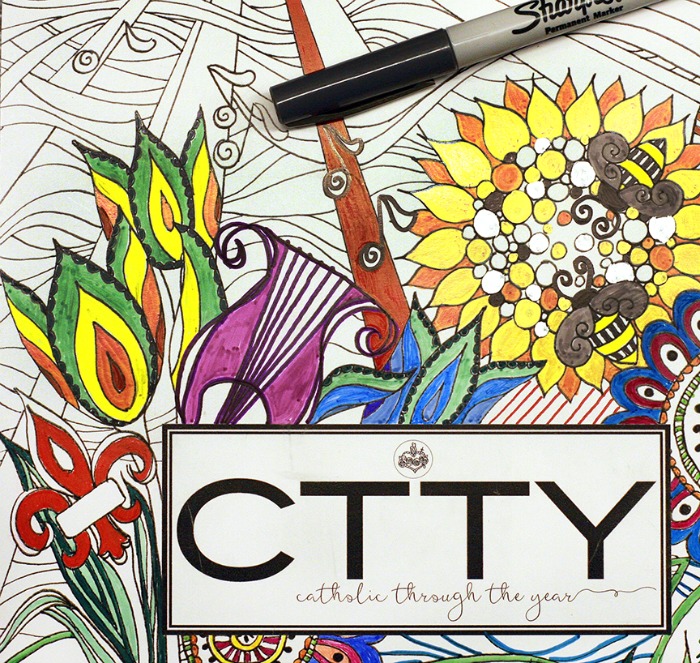 If you don't have a printer or don't want to print it yourself, the Catholic Through the Year planner can also be ordered as a hardcopy. Then you can get stickers to go with it too! There's also a Catholic Through the Year homeschool planner and blogging planner. So whatever you do as a mom, the Catholic Through the Year planner has got you covered!
#2: Keep a Grocery List
I keep a notepad on the side of my fridge as a grocery list. When I run out of something, it goes on the list. My hubby also knows about the list, so if he uses up something or wants me to buy something, he puts it on the list. When I'm ready to go grocery shopping, I just have to grab the list and go. Usually I also do a quick glance through the fridge and cupboards to see if there's anything else I should add to the list, but that way, I know I won't forget something that we ran out of last week but don't use very often.
#3: Use a Calendar
I have a calendar on the wall in the kitchen and everything we do goes on that calendar. Mom's night? on the calendar. Kids classes? on the calendar. Hubby's meeting? on the calendar. This helps me keep everyone coordinated, especially when our schedules are busy. At a glance, I can see what we're doing and if I need to chat with my husband about how we're getting the kids where they need to go or whether we need a sitter. Now that Sunshine can read, she also likes to look at the calendar and see what we're doing for the day.
Other friends of mine keep their calendars in their phone or use Outlook or Google Calendar. The Catholic Through the Year planner also has a calendar in it (which includes saint days and the Church calendar). Figure out what works for you. I find the wall calendar handy as everyone can see it and use it. As one husband I know jokes, however, the wife is usually the social coordinator so you might be the only one who needs the calendar.
#4: Don't Sort Laundry
I don't sort my laundry. Ever. We have two laundry bins: one for my hubby and I in our room, and one for the girls in their room. When the laundry bin gets full, I dump it into the laundry machine (I have a lovely big Maytag machine with no central agitator) and turn it on (cold, of course). When the machine beeps, I toss all the laundry into the dryer. If an item of clothing won't survive that, then it doesn't belong in our house. Yes, I've put many shirts that say "tumble dry low" into my dryer and most have survived.
The only time I've had a problem with this system was when one of the girls left a crayon in their pocket, which stained one of my husband's shirts and one of my undergarments. (He got the stain out of his shirt.) That's why I keep the kids' laundry separate from the adult laundry. Other than that, I don't have time to pick through the laundry.
#5: Start Supper in the Morning
I find that the evening runs a lot smoother if I start supper in the morning. If I don't do this, then I'm more likely to resort to frozen pizzas at 5 pm.
If I have a meal plan (see #1), then I can glance at it in the morning and pull meat out of the freezer and do any other required prep.
If I don't have a meal plan, then I look in the freezer and pull out some meat and think about what to do with it.
If our evening is going to be busy, then I pull out the crock pot and throw something into it. This works great on the days when Sunshine has her violin lesson at 5:30 or when we'll be out for the afternoon.
What are your favourite household management hacks?