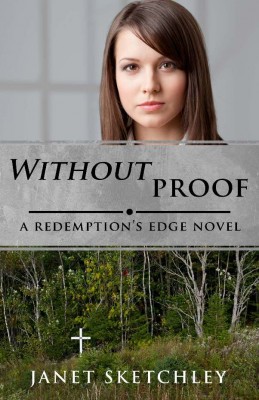 "Asking questions could cost your life."
In Janet Sketchley's novel Without Proof, that's what Amy Silver finds out when someone begins raising questions about her fiance's airplane crash two years ago. The crash killed him and left her with a limp and a bad hip after several rounds of surgery. Now, Amy is putting her life back together, working for artist Michael Stratton in his art gallery in Nova Scotia and hoping for a second chance at romance. Until the questions start.
What if the crash was caused by sabotage? What if her fiance's death wasn't an accident, but murder? Amy wants answers, but no one wants her to ask the questions—not the person sending anonymous, threatening text messages, not her fiance's flight club buddies, not even Michael. And as Michael continues to stand in the way of Amy's questions and her attempts to move beyond her fiance's death, she begins to question his mental sanity—and why he seems to want to tie her to the past.
Without Proof, the third and final book in Janet Sketchley's Redemption's Edge series, has a slightly slower pace than the first two books. There isn't a serial rapist on the run or a drug lord after his money. I enjoyed the character development as the suspense ramps up towards the middle of the novel. This novel also had more characters than Janet's previous two novels, and I enjoyed trying to guess which characters were really who they seemed to be—and who Amy could trust. (I'm glad I was right about Michael!)
I also thought it was neat the way that Janet tied all three novels together. Amy Silver is Harry Silver's cousin. Early in the novel, she runs into Harry's sister Carol (from Secrets & Lies) at one of Michael's art galleries (nice little sequel about what Carol does after that novel ends!). Later, Ruth and Tony from Heaven's Prey show up at Aunt Bay's church to give a talk about forgiveness, which is a turning point in Amy's life.
If you like clean romantic suspense with some faith thrown in, I heartily recommend Janet's novels. All three novels would make a great gift for the fiction-lover on your Christmas list.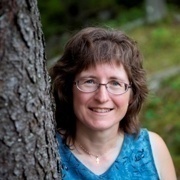 Janet Sketchley is a Canadian author with a passion for fiction. She has over 50 varieties of tea in her house, has ridden an elephant, and is really good at untangling yarn and Slinkies. Janet is a long-time member of ICWF and was the fiction columnist for their newsletter FellowScript. She and her husband have two grown sons. Drop by her website to read the free prologues to both Secrets and Lies and Heaven's Prey (not found in either novel) and find out more about the characters in Without Proof.
I received this ebook for review courtesy of the author; all opinions expressed are my own. This post contains affiliate links; as an Amazon Associate, I earn from qualifying purchases.