Years ago, I won a copy of Mary DeMuth's novel Daisy Chain from a giveaway hosted by another of my favourite authors, Carla Stewart. I devoured that novel and bought the sequel, A Slow Burn, as soon as it appeared at Chapters. Then I had to wait for Mary to write book number three… and in the meantime, I got busy with a lot of other really good books to review.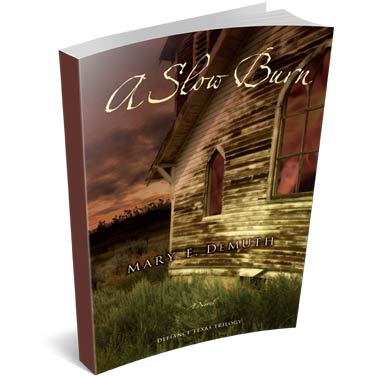 This Christmas, I finally used some Chapters gift cards to finish off a few trilogies on my bookshelf. Then I had to find time to reread Daisy Chain and A Slow Burn, because they are both so good they were definitely worth the reread. Daisy Chain is told from the point-of-view of Daisy's best friend, Jed, the pastor's kid who discovers she's missing—and then discovers her body.
This post contains affiliate links; as an Amazon associate, I earn from qualifying purchases.
A Slow Burn plot summary
A Slow Burn switches to the point of view of Emory, Daisy's mother, as she grapples with the news of her daughter's death—and memories of her own relationship with her mother. Emory is well-aware of her reputation in Defiance as a neglectful single mom. Her landlord is breathing down her throat for back rent and her boss is threatening to hire someone more reliable for his restaurant. Only the little white pills from the local drug-dealer Angus seem to give Emory any peace.
While Emory struggles with her addictions and grief, Hixon watches and waits. The local handyman also regarded as a prophet, he feels like God has told him to marry Emory. The problem is that she won't let anyone love her. Hixon replaces her locks after a break-in, fixes her uneven sidewalk, and tries to protect her from herself. Yet as Emory keeps pushing him away, he begins to doubt the message from God.
My thoughts on A Slow Burn
Over and over again in this novel, I wanted to weep for Emory. I wanted to scream at her to say "yes" to Hixon and God's love and "no" to Angus and the painful memories of her mother. Mary paints a heartbreaking picture of a woman locked in a cycle of abuse and addiction, and how it takes a resurrection experience to bring healing.
While Emory's story is not a "happy" one, there were still many beautiful moments in A Slow Burn. I love the way that small-town Defiance, Texas comes alive on the pages of this trilogy, with all its unique, quirky characters. Hixon isn't the only one who lives out God's love. There's Big Earl, the restaurant-owner who keeps giving Emory second chances. There's Officer Spellman, trying so hard to find Daisy's killer and keep Emory safe, who also finds ways to show kindness beyond his duty. And there's Jed's mother Ouisie, who reaches out in friendship, even as she deals with her own struggles.
Now I'm halfway into Life in Defiance, eager to find out the end of the story…
More about Mary DeMuth
Mary DeMuth loves to write and speak about the redemptive work of God. She and her husband Patrick served for several years as missionaries in France; now they and their three children live in Texas. She's the author of the Defiance, Texas trilogy as well as several nonfiction books, including Everything: What You Give and What You Gain to Become Like Jesus. She has a variety of free resources on writing and sexual abuse on her website. You can also find her on social media.
I bought this book because I liked the first book so much; all opinions expressed are my own. This post contains affiliate links; as an Amazon Associate, I earn from qualifying purchases.