Fourteen-year-old Jed Pepper has appointed himself Protector of the Innocent. So when his best friend Daisy goes missing one summer evening, it's Jed's fault. He should have walked her home that night.
Now it's up to him to find out what happened to Daisy, but clues are hard to find. He has Daisy's diary and missing shoe, but as the summer passes, hope wanes. Did Daisy just go to find her long-lost father, or is something more sinister going on in small-town Defiance, Texas?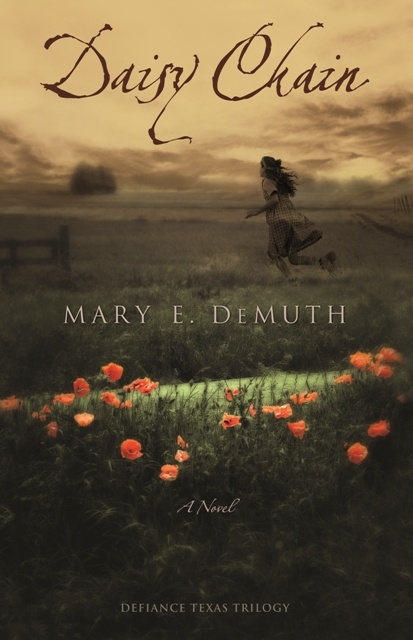 Daisy Chain is Mary Demuth's second novel, and one that grabbed me from a few chapters in and held me until the end. Jed Pepper's voice is real and heart-wrenching as he deals not only with the pain of losing a best friend, but also with the trials of becoming a man and the confusion of a father's abuse. Mary stays solidly in Jed's point of view throughout the novel, showing us everything through Jed's eyes as he struggles to understand what is going on around him.
Over the course of this strange summer, as Jed searches for Daisy and lives in his memories of the girl who knew him better than anyone else, he makes new friends. Muriel is the cancer-stricken Catholic woman who no longer cares what society thinks, but does what she knows is right. Hixon is the black "prophet" who appears just when he's needed and says God told him to. Miss Emory is Daisy's mother, a grief-stricken single-mom dealing with guilt for her mistakes and lifestyle.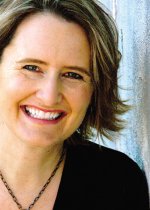 As Carla Stewart (who sent the book to me when I won the contest for it on her blog), says, "It's difficult to read at times with raw emotions laid open on every page, but that's also what is so gripping about it. Each chapter draws you into the next as you hope life will turn out better for Jed. Glimpses of beauty and kindness woven into the tragedies gives the book many layers and a tender side."
Mary's novel is back on my bookshelf, but it's begging me to pick it up and read it again sometime soon. Like Harper Lee's To Kill a Mockingbird, it's the kind of novel that sticks with you and won't let go. And while Mary ends it neatly, she leaves a few loose ends that promise the next book in the series will be just as good.