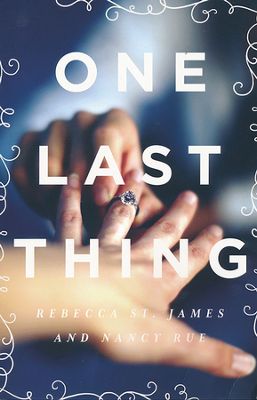 Rebecca St. James and Nancy Rue have done it again. They've written a page-turning novel with fantastic characters and some good plot twists that centers around a big issue in today's society. I read huge chunks of One Last Thing at a time and found myself thinking about Tara and her struggles even when I wasn't reading.
Tara Faulkner has been planning her wedding to Seth Grissom for years. Now that the big event is only weeks away, she is bursting with excitement. Until she stumbles onto him watching porn. Seth swears he's giving it up, going to change… but Tara's fantasy world has come crashing down on her. After finding proof that he's still doing it, Tara calls off the wedding—and then must deal with the anger and questions that her family and friends throw at her while she tries to protect Seth.
As she deals with the death of her dream, Tara takes a job at a local coffee shop just to stay busy. There, she makes some unexpected friends who help her work through her struggles. But everytime Tara thinks things are going to be okay, more information is revealed that sends her world spinning out of control again.
I love the way Rebecca and Nancy can spin a story that pulls you into the main character's pain and yet also provides a lot to think about. The back cover copy leaves Seth's addiction a secret (though I had a hunch that would be the "other side of Seth" that Tara finds out about before the wedding). Tara faces various reactions to Seth's addiction from her family and friends. The novel also brings up related issues like childhood sexual abuse and a certain type of dancing.
In one part of the story, Tara begins attending a nearby church called St. John's. The church isn't given a denomination (I'd guess Anglican, but it could be Catholic) but it's very different than the churches that her family has usually attended. When her grandma learns about this, Tara tries to explain why this church attracts her:
"It's liturgical," I said. "But… it's like things got so dark I couldn't even pray, and having the prayers already written… that kept me going. And the sacredness of it, when it seemed like nothing was sacred anymore. And the communion, which… I don't know, I just couldn't seem to get enough of hearing and tasting Jesus."
I absolutely loved that description of a "liturgical" church, because that was much of what attracted me to the Catholic Church as well.
While One Last Thing explores a dark topic, there were a lot of lighter moments. The novel is set in New Orleans and I loved the descriptions of various places around the city and the glimpse into this city's culture. While there were a lot of characters in this novel, each was unique and interesting and it was fun to watch them interact together. I particularly liked Tara's relationships with her family (she has an awesome family) and with the friends whom she lovingly calls "The Watch."
Rebecca St. James is a Grammy-award-winning Christian singer and songwriter.  She is also the author of nine books and an actress who played the leading role in the film Sarah's Choice and was the voice of Hope in VeggieTales' Easter Carol.  Rebecca is the artist spokesperson for Compassion International and, since her role in Sarah's Choice, has been an outspoken voice in the work of crisis pregnancy.  You can find out more about her books, music, and movies on her website.
Nancy Rue is the best-selling author of more than 100 books.  She has taught English and theatre and currently travels North America speaking and teaching at various events.  She and her husband Jim have one daughter who is married and has her own daughter.  I had the chance to interview Nancy last year before she spoke at the Inscribe Chrstian Writer's Fall Conference in Alberta.  You can find out more about her books and speaking events on her website.
Together, they have also written the novelization of Sarah's Choice and The Merciful Scar.
I received this book for review from BookLook Bloggers; all opinions expressed are my own. This post contains affiliate links; as an Amazon Associate, I earn from qualifying purchases.