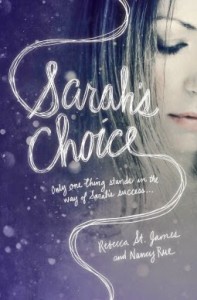 After reading The Merciful Scar last year, I knew I'd read anything Nancy Rue and Rebecca St. James wrote together. They are a powerhouse writing team and their newest book, Sarah's Choice, didn't disappoint me. While I personally identified with the protagonist's struggles in The Merciful Scar more than in Sarah's Choice, I applaud the authors for tackling tough topics in both novels. I like fiction that isn't afraid to make us think through the story.
Sarah's bills are piling up and her landlord is after her to pay last month's rent, but if she can just get the big promotion at work, then she'll be all right. Getting a stomach flu isn't helping her put her game face on for the interviews with the big boss, but one of her co-workers is coaching her on what to do and her boyfriend Matt is ready to take her out to celebrate the good news. Then come the news Sarah doesn't expect: she's pregnant.
Sarah's world spins out of control as she tries to grapple with this new reality. Her co-worker tells her she can't have this baby and the promotion; Matt isn't sure what to do, so Sarah pushes him away; and her mother, of course, throws God at her. Pulled in every direction by the people around her, all Sarah can see is the bills piling up on her desk. Yet in her dreams, she sees another life… a life with the little girl growing in her womb.
Like Francine Rivers' novel Atonement Child, this novel takes us into the life of a young woman facing an unexpected pregnancy. This clearly isn't the best time for Sarah to be having a baby. Once again, I found myself sympathizing with someone whom I didn't expect to. I know what's facing Sarah if she has that baby and clearly it would be easiest to simply "undo" the mistake. Yet that also isn't the easiest choice, as Sarah's emotional struggles demonstrate.
I liked the way this novel also shows Matt's struggle. He's a happy-go-lucky guy, always ready to jump on the next opportunity thrown his way, but not really settling into any sort of steady job. Abortion isn't just about the woman, no matter what the pro-choice movement says about it, and so I appreciated reading Matt's side of the story as he also grapples with Sarah's unexpected news and his part of the problem—or the solution.
Rebecca St. James is a Grammy-award-winning Christian singer and songwriter.  She is also the author of nine books and an actress who played the leading role in the film Sarah's Choice and was the voice of Hope in VeggieTales' Easter Carol.  Rebecca is the artist spokesperson for Compassion International and, since her role in Sarah's Choice, has been an outspoken voice in the work of crisis pregnancy.  You can find out more about her books, music, and movies on her website.
Nancy Rue is the best-selling author of more than 100 books.  She has taught English and theatre and currently travels North America speaking and teaching at various events.  She and her husband Jim have one daughter who is married and has her own daughter.  I had the chance to interview Nancy last year before she spoke at the Inscribe Chrstian Writer's Fall Conference in Alberta.  You can find out more about her books and speaking events on her website.
I received this book for review from BookLook Bloggers; all opinions expressed are my own. This post contains affiliate links; as an Amazon Associate, I earn from qualifying purchases.