The problem with reading a series of books is that you want to read the entire series. I love getting to know the characters in a novel—especially a good novel, when they seem like real people and it's hard to say goodbye. Especially if there's another book in the series and you don't have to say goodbye. Which is how I feel about Susan May Warren's Christiansen family novels. Set in the little town of Deep Haven in Minnesota, these books follow the different members of the Christiansen family.
I received this book for review courtesy of a publicity company; all opinions expressed are my own. This post contains affiliate links; as an Amazon Associate, I earn from qualifying purchases.
Always on my Mind plot summary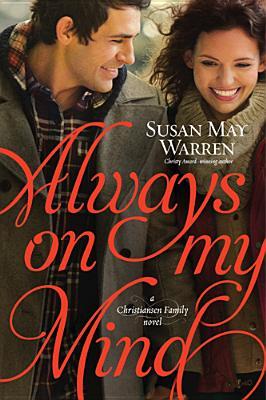 Always On My Mind is the story of Casper, the middle child. Overshadowed by his older and younger brothers, he possesses the gift of knowing how to love—of wanting to help those around him. However, he's caused a rift in his family that he doesn't know how to fix, so he's on the run, treasure hunting in Roatan. However, memories of the woman he's running from keep intruding into his thoughts. And when he hears that she's in trouble, he books a flight home again.
Only to find out that Raina is pregnant with another man's child. In hurt and anger, he retreats to Deep Haven, helping his brother Darek run the resort. However, it seems even Casper's attempts to fix things there have failed, as pipes he insulated freeze, causing costly repairs in one cabin. Casper finds a job with a friend of his and begins volunteering at the local historical society—hunting for treasure once again.
After giving her baby up for adoption, Raina also retreats—to her house-sit for her aunt in Deep Haven. She takes a job at a local antique shop and soon runs in Casper. They form a tentative friendship as Raina begins dating her boss's son… a man Casper knows has a shady reputation. As Casper struggles with his feelings for Raina and her desire to move on, he and Raina also find themselves drawn into a local mystery and the prospect of a lost treasure.
My thoughts on Always on my Mind
I really found myself drawn to Raina in this novel. Like Darek's wife Ivy from Take a Chance on Me, Raina is an orphan who was raised in foster care and struggles with feeling worthy of love. Her decision to give her daughter up for adoption is heart-wrenching, and Warren shows how a mother's choice affects more than just her and her child.
I also appreciated Warren's portrayal of an abusive relationship in this novel. In the afterword, she says, "I came upon this story idea after hearing about a woman who had inadvertently walked into an abusive relationship. She didn't exactly know how she got there—just that one day she opened her eyes to the truth. But she'd told herself so many lies that tracing her path toward this abuser seemed almost natural. She accepted abuse because of her inability to believe she was worthy of anything else."
With likeable characters who face tough struggles, Always on My Mind is a fast-paced yet thought-provoking story. I enjoyed catching glimpses of Eden and Jace as well as Darekn and Ivy. And with the cliffhanger at the end of the novel, I can't wait to find out the rest of Amelia's story.

More about Susan May Warren
Susan May Warren is the best-selling author of more than forty novels, including Take a Chance on Me and It Had to Be You.  She and her husband have four children and served as missionaries in Russia for eight years.  They now live in Minnesota and enjoy hiking and canoeing.  Susan also runs an online writing community.  For exciting updates on her new releases, previous books, and more, visit her website.
"I wanted to write a story about a man who couldn't escape the pull of love God had for the broken, the lost—a yet depict of agony of seeing them run away into destruction. Just as God must feel when we push Him away and stubbornly head into darkness. … Jesus, like Casper, is a treasure hunter who has come to seek and save the lost. I love the fact that He believes we are worth the search." ~ Susan May Warren