Jade turned four last weekend! After watching her sisters' parties for the last year, she was very excited about her own birthday party. Since her favourite TV show is currently Paw Patrol, I decided we'd throw a Paw Patrol birthday party for her. Here's how I pulled it together. (Hint: Nickelodeon makes it easy for parents!)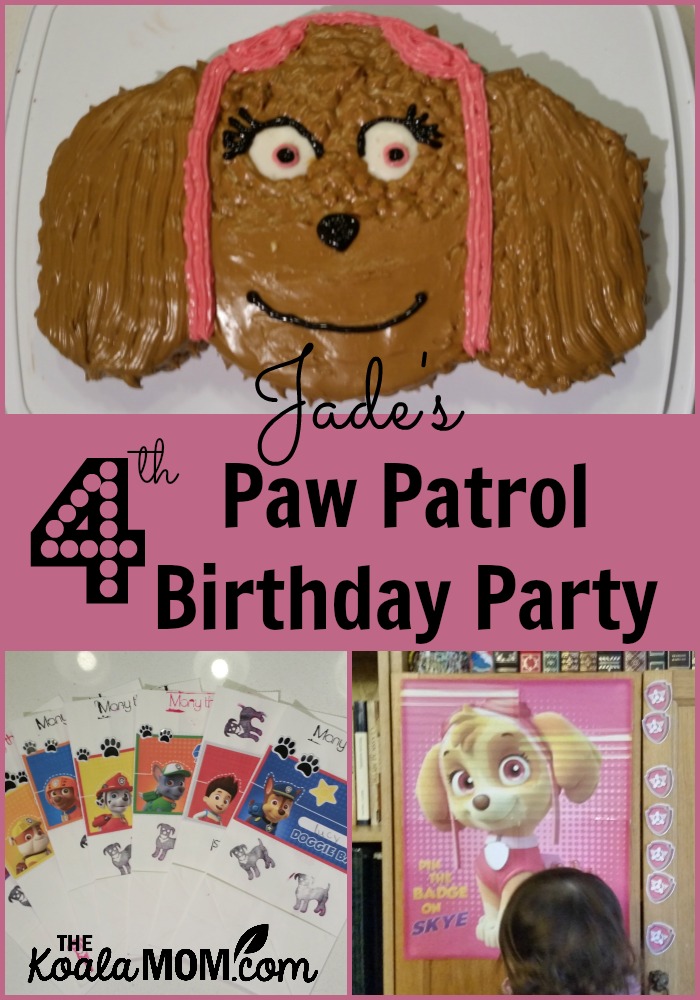 The Party Invitations
We only invited two families to Jade's party (for a total of 7 guests…). I threw together an invitation on Picmonkey to deliver to her friends. I printed them on some leftover 4×6 photo paper and delivered them by hand.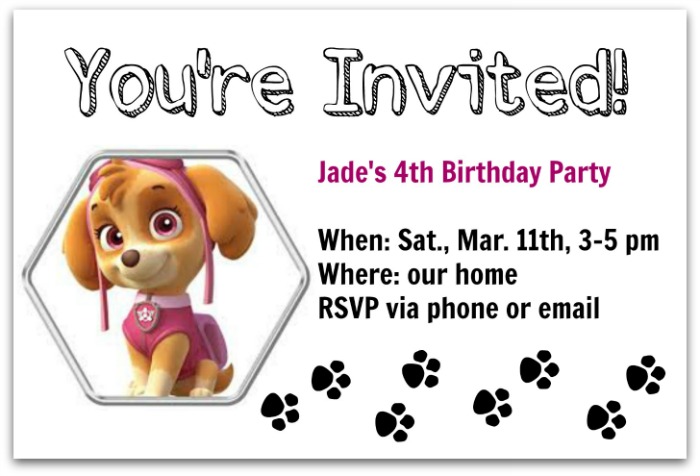 You can also get themed Everest or Skye party invitations on the Nickelodeon website.
The Goody Bags
Goody bags are what I forgot to do at Sunshine's party, so I made sure to put them together for Jade's party! I used white paper bags and added the printable goody bag tags from the Nickelodeon website. Then Jade decorated the bags with a few stickers and stamps for her friends. Lily printed each guests' name on the bag.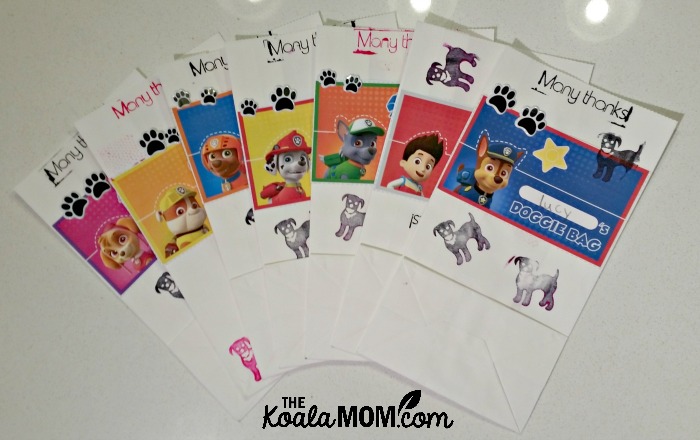 Paw Patrol Birthday Party Activities
We spent Saturday morning before the party preparing for the activities. It was pretty easy to come up with ideas for a Paw Patrol birthday party!
We started by having each of the kids rescue a Beanie Boo. My girls are huge fans of Beanie Boos and every Paw Patrol episode involves some sort of rescue. I got each birthday guest a mini Beanie Boo. Just before the party started, my husband hid the tiny puppies and kitties around our house. Then we told the kids they had to go "rescue" an animal, just like the Paw Patrol pups.
When each girl had found a Beanie Boo, she brought her new pet back to the table to create a badge for it. I'd cut out a selection of badges from coloured card stock. Each child glued their badge together, then decorated it with markers, glitter glue and stickers. We used embroidery thread to make the badges into a necklace.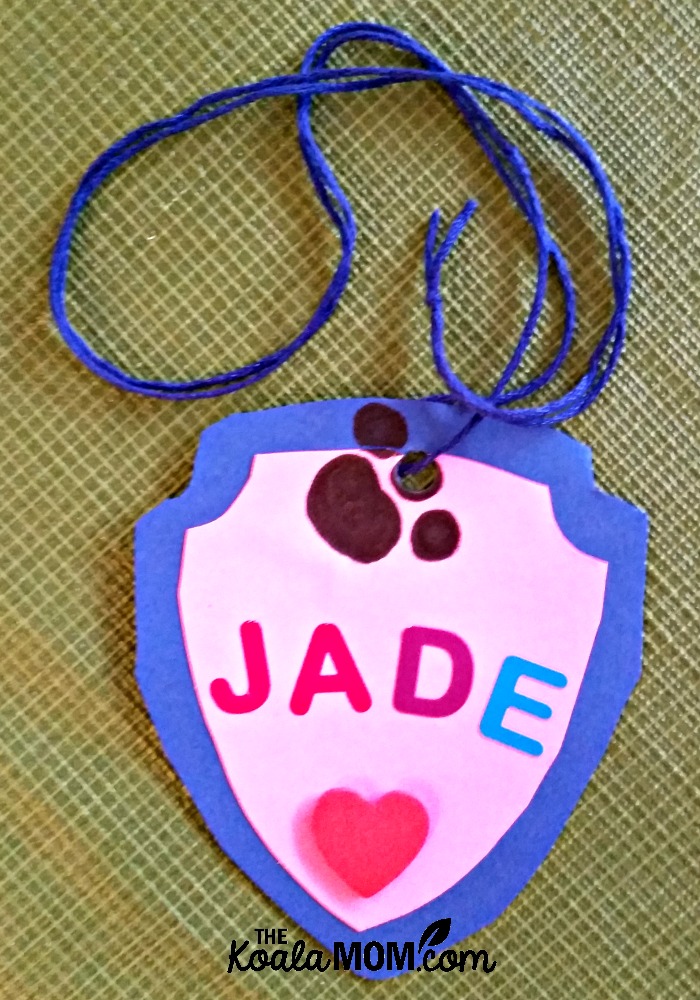 Before the party started, I organized all the craft supplies next to the table. While the kids searched for their Beanie Boos, I quickly moved the craft to the table so that they could come back to create. I've learned to have everything ready quickly at parties, so that the kids aren't hanging around wondering what to do next.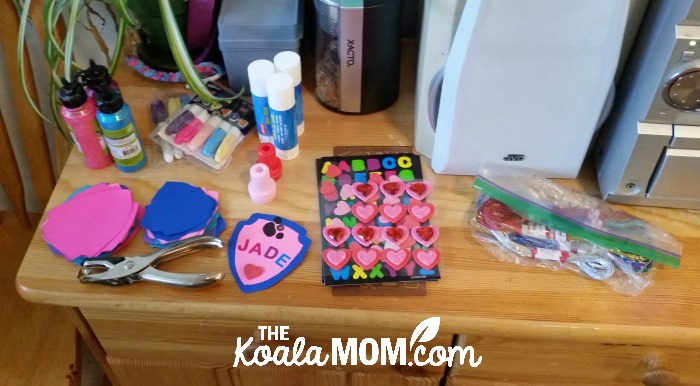 While they made their crafts, I set the goody bags where the craft supplies had been. When they finished making their badges, they put their Beanie Boo and badge in their goody bag. Then they were ready to run off to the next activity…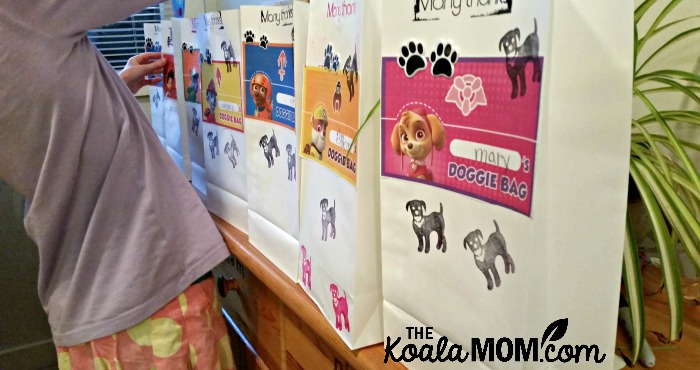 Pin the Badge on Skye! This has been a staple, in various forms, for many of our birthday parties. Somehow the kids never tire of it! I printed the Skye poster and badges, cut them out and glued them together, and stuck them up in our living room. I used sticky tack on the back of the badges. I wrote each girls' name on the badge.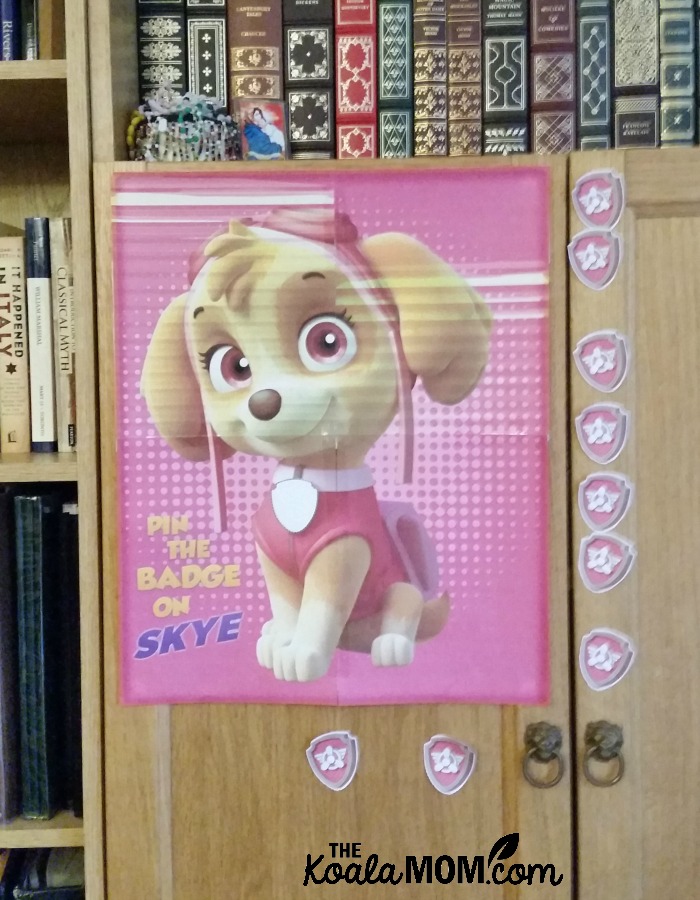 I also used Jade's VTech easel to help keep the kids busy during the birthday party. I'd found some Paw Patrol sidewalk chalk at the dollar store. It was raining here in Vancouver on the day of her party (of course!) so we couldn't use it outside. Instead, I turned the easel around to the chalkboard side and lined up the chalk puppies. The girls could draw pictures when they weren't crafting or pinning badges on Skye.

A Paw Patrol Birthday Cake
As I was thinking about Jade's party, I came up with a great idea for her birthday cake. In the past, I've asked a friend to make a cake or bought cupcakes. I'm good at baking cakes, but decorating is not my strong point. However, for Jade's party I decided to make a Skye birthday cake.
Jade wanted a blueberry cake, so I found a recipe and baked a round and a square cake. Then I put the round cake on my cake server. I traced each of my cake pans on paper, and sketched ears on the paper. Then I cut out the paper ears and used that template to cut ears from the square cake. Here's the pieces lined up: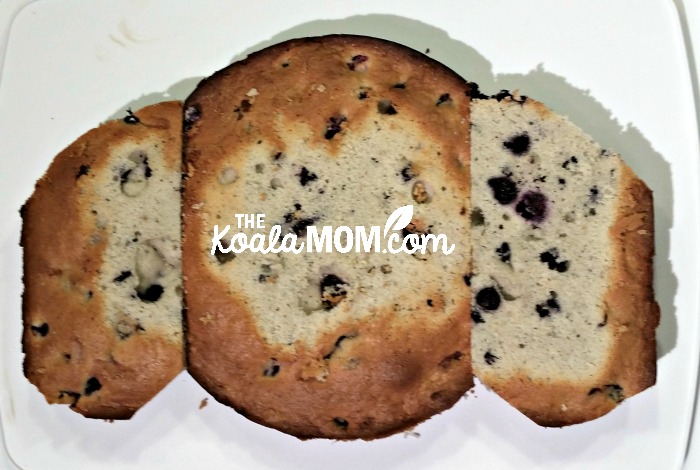 Next, I mixed up the icing. I used a round cookie cutter to help me make white circles for Skye's eyes. Then I kept a bit of icing out to colour pink, and coloured the rest brown. I iced the entire cake light brown. Then I used the pink to add Skye's goggles at the top of her head and a black icing tube to add Skye's eyes and nose and mouth.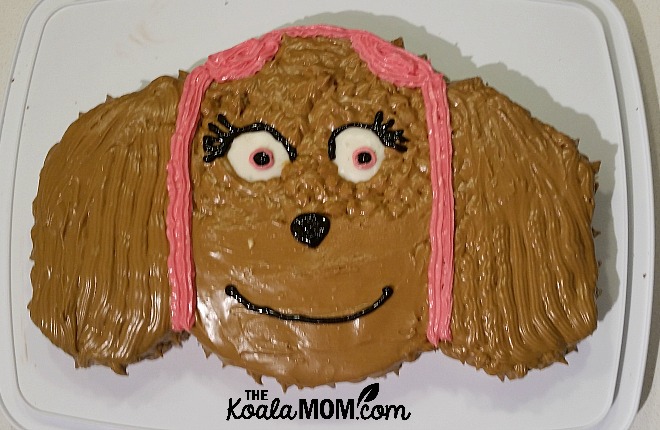 The girls were quite impressed. We ate Skye's ears at the birthday party and then finished the rest afterward. I had the thought, after making the cake, that I should have made peanut butter icing—it would have been the right colour!
We also served "pupcorn" and "chew toys" (red licorice), as well as fruit and veggies for the kids. I used my crock pot to make hot dogs, only to find out that most of the kids didn't like hot dogs.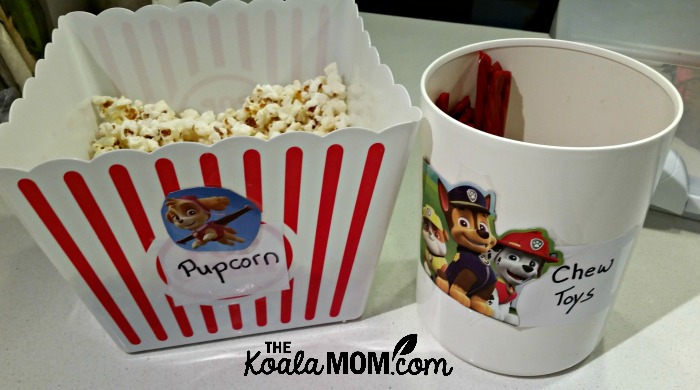 And that was Jade's 4th Paw Patrol birthday party! We had tons of fun, plus it was easy to find Paw Patrol party supplies at our local stores and on the Nickelodeon website. I hope these Paw Patrol birthday party ideas inspire you!
This post is not sponsored; I'm simply sharing the Paw Patrol birthday party ideas I found.