My girls love music. From a young age, we've kept them busy on long and short drives by playing their favourite CDs in the truck. I'm always on the lookout for good music and new music, because when they find a favourite CD, they tend to put it on repeat until we've all got it memorized (and can sing it in our sleep). I also have a beef about the fact that all the kids' CDs tend to play the same ol' same ol' songs. So I was very excited to plug in Shy Kid Blues by the music duo Hullabaloo.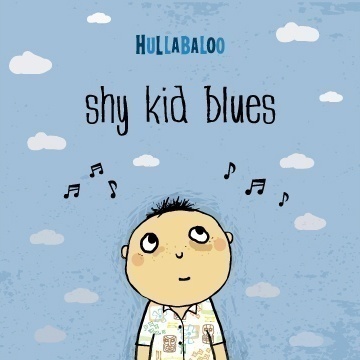 Shy Kid Blues is the musical autobiography of Steve and Brendan, the artists behind Hullabaloo. Steve was a very shy kid who became friends with the outgoing Brendan in Kindergarten. They started a rock n roll band together in Grade 6, which is when they discovered that outgoing guys can be shy too—singing terrified Brendan. In their quest for a singer for their band, they learned more about themselves and being shy. Now, they tell their story to encourage other shy kids.
As the CD started playing, I waited. The girls were silence while the narrator began the story. They were silent through the first song, then the second song. And I knew they liked it. If they didn't like it, then they'd ask me for Joseph or Frozen. When the CD ended, they wanted to hear it again. And again. When I tried to put in a different CD, Sunshine said, "I want the story of the two boys. Steve and Brendan."
Steve Denyes explains, "In an era when kids seem to have an overabundance of 'screen time,' we really wanted this to be a project where the audio would inspire them to create a picture in their minds rather than have one pop up on a screen.  In recording the monologues, we were inspired by classic radio shows like Prairie Home Companion and more modern versions like This American Life and Radio Lab, where stories are told in conjunction with sound effects that spark the imagination."
I was thoroughly impressed by this CD. I loved the sound effects in the monologues. I usually don't like CDs that have too much narrative in between the singing, but I enjoyed the back-and-forth in this CD. The first song is my least favourite song on the CD, but I was hooked with the second song. My favourites are "Best Friends Forever" (which mentions some iconic friendships like Tigger and Pooh or Curious George and the man in the yellow hat) and "Like a Bird Must Feel" (about their first time on stage). The songs have a variety of styles, as well, from the blues to rock n roll to even a bit of country.
Before forming Hullabaloo, Steve Denyes was an elementary music school teacher while Brendan Kremer was a drummer in a rock n roll band. They started Hullabaloo for Brendan's twin daughters' first birthday party, when they played a few songs. In the ten years since then, they've played over 2,000 shows, released ten albums, and traveled all around the U.S. Steve plays the guitar, sings, and writes goofy songs (including all the tracks on Shy Kid Blues), while Brendan plays drums, sings, and smiles, To find out more about them or their albums, visit their website.