Now that school has been going for a few months, packing lunches and snacks can become a real chore.  I've tried a lot of different meals over the past few months and heard "Mom, I didn't like that" a lot (particularly from my oldest). I try to vary their school lunches, but I'm always on the lookout for new ideas—and for things I can keep stocked in my pantry in case the fridge is empty or I don't have time to cook or make sandwiches. Here's my list of school lunch ideas…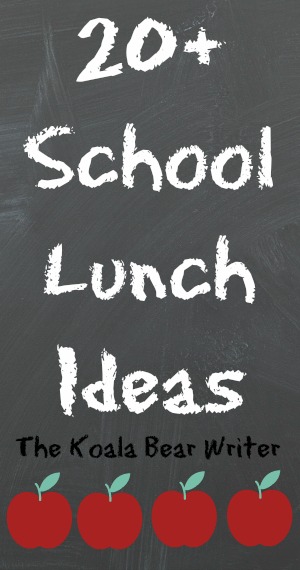 My Favourite School Lunch Ideas
Mini bagels with cream cheese
Macaroni and cheese
Yogurt and granola
Applesauce
Smoothies
Sushi rolls
Pepperoni sticks or beef jerky
Wraps, pitas and sandwich wraps
Raisin boxes or dried cranberries
Cheese strings
Granola bars
Fruit leathers
Sandwiches (cut into cute shapes with a cookie cutter or sandwich press)
Mini muffins (I have a mini muffin tin for making these, and then freeze then in bags of about a dozen or two)
Hardboiled eggs or deviled eggs
Hummus with chips, crackers, or celery sticks
Guacamole with chips or crackers
Ants on a Log (celery sticks with cheez whiz and raisins on top)
Crackers and cheese
Leftovers!
Vegetables: cucumber slices, cherry tomatoes, baby carrots, sliced red or green peppers
Fruit: grapes, oranges (peeled and sectioned), apples (sliced), berries, canned fruit in a bowl, sliced melons
And More School Lunch Ideas
I'd never heard of Bento Boxes before attempting to write this post, but they look like a cool way to pack a variety of foods into my daughter's lunches.  If you're a Bento-lover or want to check it out, visit More Than Your Average Mom (whose school lunches are seriously AMAZING).
I also find that Little Green Pouches help keep lunch kits clean and make it easy to pack things like applesauce, yogurt and smoothies.  SnackPack Reusables also reduce our lunch bag waste.
For more great ideas, see Lovable Lunches over at Mommy Moment.  Tales of Mommyhood has also been blogging about What's for Lunch? and makes her son's lunches exciting with a bit of a theme every day.  Plus, check out these Lunch Box Tips & Tricks from a Registered Dietician.
What do you pack for your kids' lunches? Where do you find great school lunch ideas?