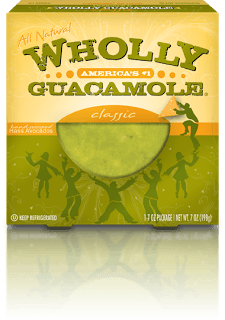 "I want some guacamole!" Lily announces from her car seat.
Her request takes me by surprise; it's been a couple weeks since I bought guacamole and we're nowhere near a grocery store.  Sunshine takes up the refrain, though, adding that we should stop at the grocery store to get some "Wholly Guacamole."  I'm amazed that she even remembers the brand name of the guacamole we tried.
When I was growing up, my mom sometimes made guacamole.  She was the only one in our home who would eat avocados, and we viewed her slimy green spread with a bit of distrust.  After I got married, I sometimes bought the ingredients for guacamole and made it for my husband for a treat, but other things topped my list of snack foods.  Then we had the opportunity to try Wholly Guacamole.
I planted a bowl of green spread in the middle of the table and put the bag of chips beside it.  Lily loves dipping, so she was instantly into it.  Even Sunshine was soon scooping guacamole onto her chips and into her mouth.  I tentatively tried one chip… and another… and another.  Then I was competing with the rest of them for chips and guacamole.  The package disappeared in a few minutes and I looked at the fridge, wondering if we should start on the next bag.
Our favourite chip dip is now Wholly Guacamole's Classic Dip.  I like the fact that I can read the ingredient list without wondering what's in my guacamole.  And I like the fact that we all like this snack food.  My husband and I also like the guacamole with salsa, but the girls don't like spicy foods so they weren't fans of the salsa.  I don't usually eat salsa or guacamole, but I like these.
Check out Wholly Guacamole's website for recipes and special offers.  You can also find Wholly Guacamole on Twitter and Facebook.  Look for Wholly Guacamole in your favourite grocery stores (here in Victoria, I found it in the produce section at Safeway, but Thrifty's doesn't carry it).  I'm sure you'll love it as much as we do!