It may only be October, but I've already been talking with my family about what we're doing for the holidays. Most of the Christmas shopping is finished because I do it throughout the year, as I see things that friends or family members would like. I've been browsing online for a few special things… like a personalized outfit for Jade's first Christmas.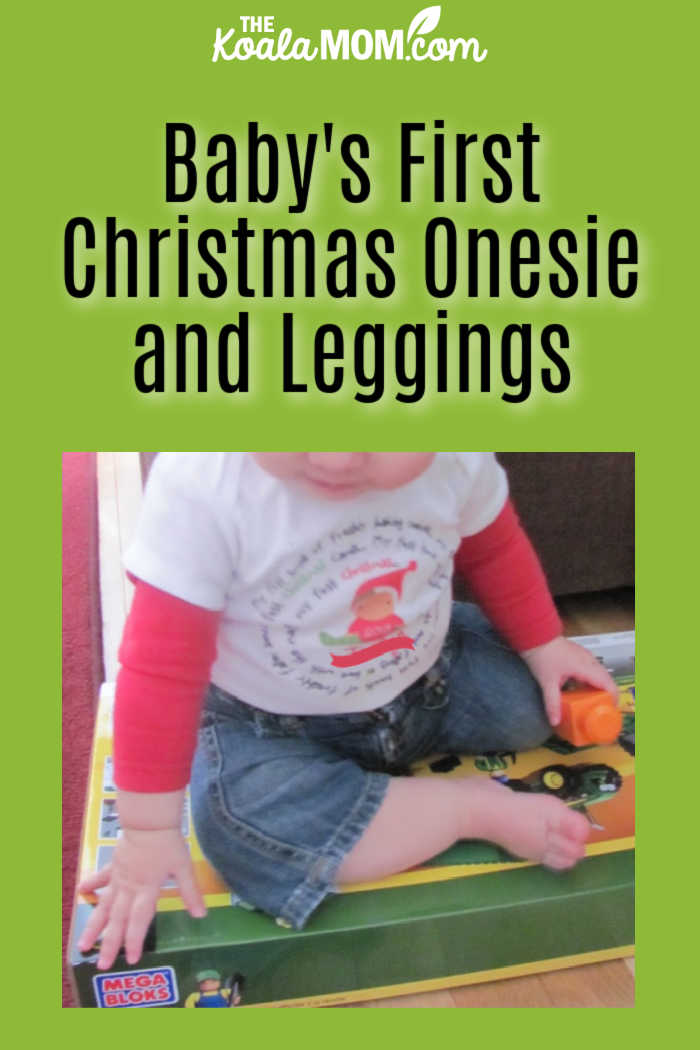 Jade's onesie and baby legs were provided by Zoey's Attic for my review; all opinions expressed are my own. This post contains affiliate links; as an Amazon associate, I earn from qualifying purchases.
Baby's First Christmas Onesie
Special milestones in baby's life should be celebrated. A baby's first Christmas is a pretty special milestone and I can't wait to see how Jade likes all the lights, decorations, and fun of the holidays. There's something magical about seeing the wonder in a baby's eyes that makes the holiday more special for all of us.
Zoey's Attic is a website I found when shopping for cute ways to announce I was pregnant with Jade. They also have whole Christmas section with tons of cute items from shirts and onesies to Christmas tree ornaments to hats and bibs. If this is baby's first Christmas or if you're announcing a new arrival in the new year, then Zoey's Attic is the store for you!
After browsing the website a few times, I decided to pick a personalized bodysuit for Jade for this Christmas. One of the things I love about ordering from Zoey's Attic is that they make each package so pretty! It's like getting a Christmas present even when it's not Christmas!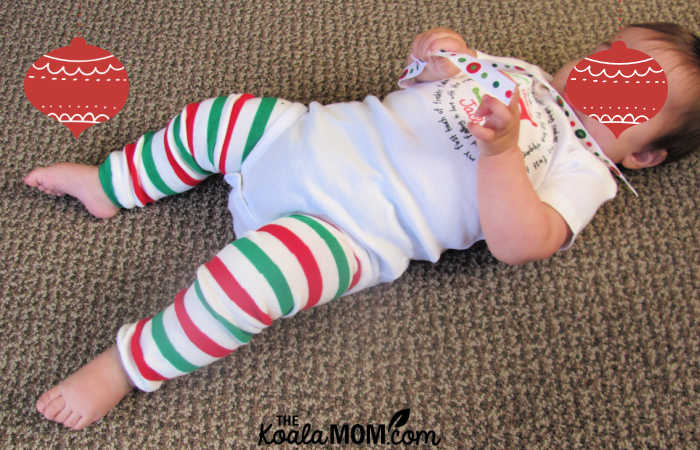 Jade loved playing with the ribbon while I got her into her leggings and onesie. I ordered the 9 month size for her, because that's how old she'll be at Christmas. It's a bit long now, so she has room to grow an inch or two before then, but otherwise it fits her perfectly.
I was also excited to order from Zoey's Attic because I could personalize the onesie with Jade's name. I picked unique spellings for my last two daughters, so they'll never find their names on any of those stands with ready-made monogramed ornaments or keychains or toothbrushes or whatever. It's easy to find things with Sunshine's name on them, as I picked a popular, traditional name for her, but I'll have to custom-order things for our other daughters. And Zoey's Attic makes it easy to do this!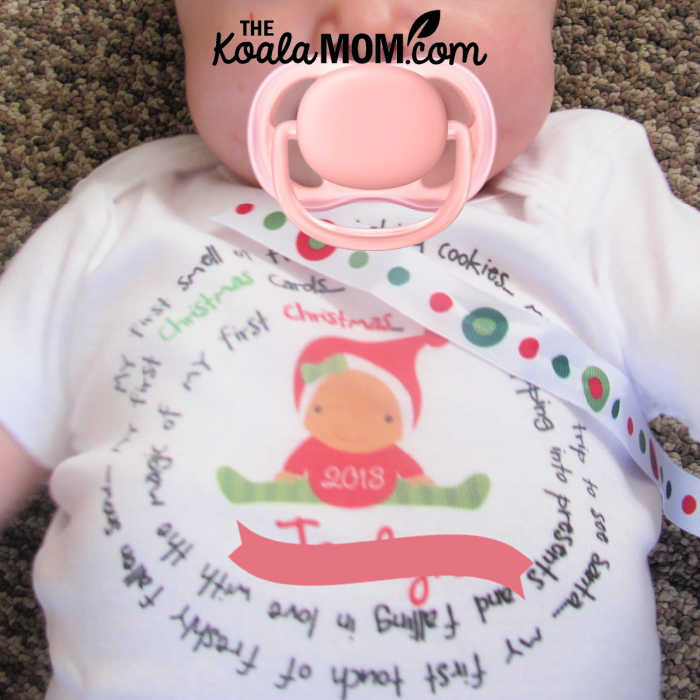 By Christmas, I suspect those leggings will be getting some wear, as Jade is so ready to be going after her sisters.  If you have a special announcement to make this Christmas, or a new little person to share the holiday with, then check out Zoey's Attic!
More First Christmas Onesie Ideas
If you don't want a personalized Christmas onesie, there are plenty more options available. While it's fun to get something special just for my third baby (who has worn a lot of hand-me-downs so far), I totally understand wanting to buy outfits that you'll be able to pass on to your younger kids. Some of my friends have saved the same special outfit to get a picture of each sibling wearing it!
Another idea is to get matching pajamas or Christmas outfits for the whole family. For example, mom and dad could wear red plaid pajamas for Christmas while baby has a Christmas onesie like this adorable outfit:
Of course, since babies are notorious for needing multiple outfits in a day, you may want to get a few different Christmas onesies. There's nothing like planning for baby to wear a special onesie for her first Christmas dinner, and then dealing with a diaper blow-out just before that Christmas dinner.
And don't forget the accessories for baby's first Christmas onesie! Choose a pair of adorable black, white or red shoes to go with the onesie. A few pairs of socks are a good idea. And a hat can help keep baby warm on colder days.
Did you plan any special outfits for your baby's first Christmas?