We've already been talking with our families about what we're doing for the holidays.  My husband has finished most of the Christmas shopping (we do it throughout the year, as we see things that our friends or family members would like).  And I've been browsing online for a few special things… like a personalized outfit for Jade's first Christmas.
Zoey's Attic is a website I found when shopping for cute ways to announce I was pregnant with Jade.  They also have whole Christmas section with tons of cute items from shirts and onesies to Christmas tree ornaments to hats and bibs.  If this is baby's first Christmas or if you're announcing a new arrival in the new year, then Zoey's Attic is the store for you!
After browsing the website a few times, I decided to pick a onesie and leg warmer set for Jade for this Christmas.  One of the things I love about ordering from Zoey's Attic is that they make each package so pretty!  It's like getting a Christmas present even when it's not Christmas!
Jade loved playing with the ribbon while I got her into her leggings and onesie.  I ordered the 9 month size for her, because that's how old she'll be at Christmas.  It's a bit long now, so she has room to grow an inch or two before then, but otherwise it fits her perfectly.
I was also excited to order from Zoey's Attic because I could personalize the onesie with Jade's name.  My husband has been bugging me that I picked unique spellings for our last two daughters, so they'll never find their names on any of those stands with ready-made monogramed ornaments or keychains or toothbrushes or whatever.  It's easy to find things with Sunshine's name on them, as we picked a popular, traditional name for her, but we'll have to custom-order things for our other daughters.  And Zoey's Attic makes it easy to do this!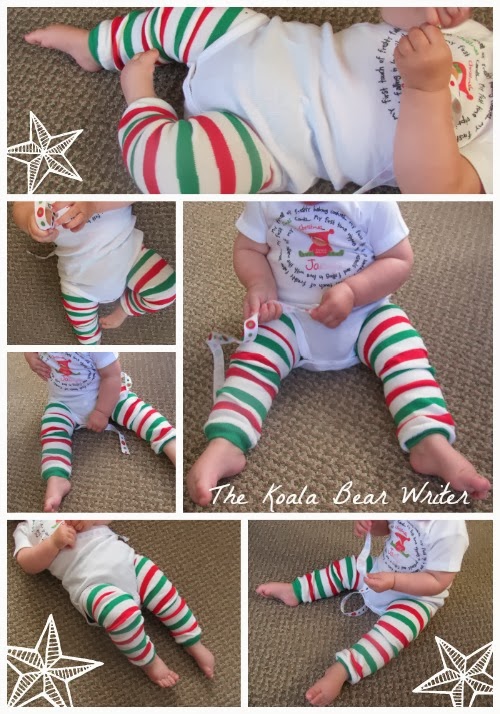 By Christmas, I suspect those leggings will be getting some wear, as Jade is so ready to be going after her sisters.  If you have a special announcement to make this Christmas, or a new little person to share the holiday with, then check out Zoey's Attic!
Jade's onesie and baby legs were provided by Zoey's Attic for my review; all opinions expressed are my own.