The Promise Box
 is the second book in Tricia Goyer's series Seven Brides for Seven Bachelors. The series is set in the small Amish community of West Kootenai, Montana, where Amish and Englisch live side by side.  Lydia's parents moved here when she left the Amish lifestyle and moved to Seattle.  Now, Lydia is returning to West Kootenai for her mother's funeral.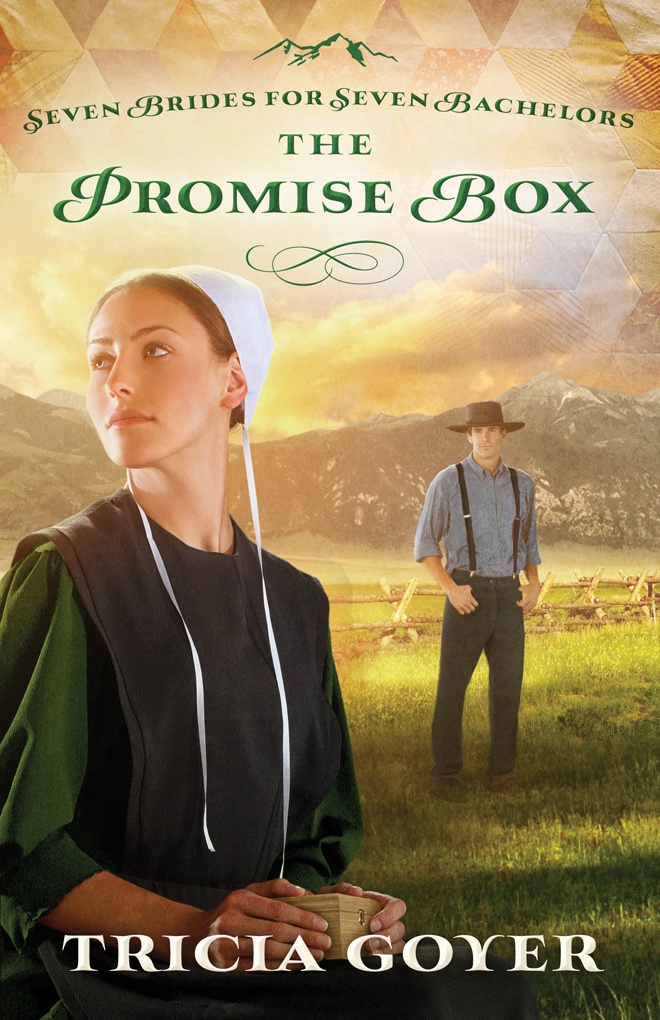 Lydia doesn't intend to stay, but her dat's loneliness, a handsome bachelor by the name of Gideon, and the promise box her mother left behind make her change her mind.  Plus there's her desire to write a book—and her boss' suggestion that she write an insider's story of the Amish.  As Lydia reads the letters and promises her mother left for her, she finds healing from the pain of her childhood and chooses to return to the faith of the Amish.  But just as Lydia's life seems to be going perfectly, one little mistake could cost her everything she's found in West Kootenai.
I always enjoy reading novels about writers/editors.  Lydia's job as an editor—and her boss' flexibility in allowing her to work from West Kootenai—made me surprised when Lydia said she also wanted to be a teacher.  Because most of my friends are teachers, I also had a hard time believing that she could so easily turn from editing to teaching fourteen kids in a one-room schoolhouse.  Since her boss (whose name, to my delight, was Bonnie) raves about Lydia's skills as an editor, I would have liked to see Lydia continue doing that instead of teaching.
I also found the plot of The Promise Box a bit cliched.  Boy and girl meet, both have hidden hurts from their childhood, both work through those hurts, but one keeps a secret that threatens to tear them both apart until, of course, it all works out perfectly in the end.  I wanted more surprises in the novel or more struggles in the characters, but everything seemed to go exactly the way they wanted.
I liked the way that Tricia tackled a tough (and often controversial) topic in the novel.  Lydia is adopted and wonders throughout the novel where she'll fit in.  Her mother's letters share the pain of infertility and the joy of receiving a child.  I guessed quite early in the novel why Lydia had been given up for adoption (by another Amish woman), but I thoroughly enjoyed Lydia's meeting with her birth mom and the wisdom her mom shares.
Tricia Goyer is the author of thirty-five books, including Love Finds You in Glacier Bay, Alaska (with Ocieanna Fleiss), Praying for Your Future Husband, and Blue Like Play Dough.  She and her husband live in Montana with their children.  Tricia is also the creator of Not Quite Amish Living, a blog for those who love the Amish lifestyle.
This book was provided for review courtesy of the publicist; all opinions expressed are my own. This post contains affiliate links; as an Amazon Associate, I earn from qualifying purchases.