If you go far enough back in my family tree, you'll find Scottish ancestry—both my mom and I had Scottish maiden names. Perhaps that's the reason that I've always been fascinated by things Scottish. My husband wore a kilt for our wedding and his wedding ring is a Celtic love knot. Lily's real name has Gaelic origins. I've made oatcakes and eaten haggis, and I love bagpipes (that's the best part of summer parades). So when I saw Healer by Linda Windsor, I was intrigued.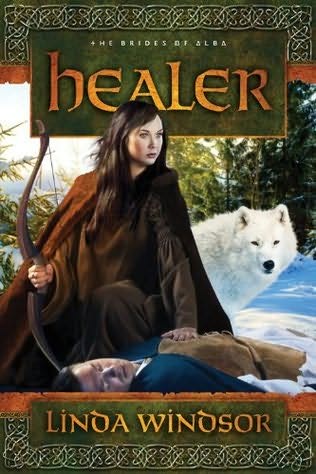 Brenna of Gowrys has lived as a fugitive since her parents were killed in a lovers' feud. The man who murdered her parents seeks her life as well, fearing her dying mother's prophecy. She lives alone with only her wolf for company—until the day that she and her wolf save a man from ambush. Brenna begins to hope that this man will save her from her life of loneliness. But her love is put to the test when she learns this man is her enemy.
As Brenna and Ronan return to his people, they face more challenges to their love. Not everyone is willing to set aside the twenty-year-old feud between their peoples. And somewhere, the man who tried to kill Ronan once is still alive, waiting to strike again.
Linda Windsor weaves a spell-binding tale of love and hate in medieval Scotland. Brenna and Ronan's story is tied to the legends of King Arthur as well as to legends about Joseph of Arimathea carrying the Gospel—and an ancient bloodline—to Scotland. While Linda skilfully weaves the history and legends into the story, they were still confusing at times as titles and lineages and legends mixed together. Glossaries at the back helped to explain more details.
In Healer, Linda also attempts to delve into Christian faith versus evil magic. She shows how knowledge of herbs and nature can be used for good in the hands of a healer like Brenna or for evil in the hands of a power-hungry woman like Rhianon. And besides Frank Peretti, she's only the author I've read who tackles spiritual warfare and demonic possession.
This book has found a space in the boxes I packed. In fact, when I went to put it on my bookshelf, I discovered I already had a Linda Windsor novel: Along Came Jones, which I bought just for the title (my brothers were big fans of the song and artist) and which is one of very few romances I really enjoyed. I'm looking forward to seeing the next two books in the Brides of Alba series—and finding out how Ronan's brother Caden's story ends. To read an excerpt of the book, visit Linda's website.  You can also view the book trailer.
I received this book for review courtesy of the publisher. This post contains affiliate links; as an Amazon Associate, I earn from qualifying purchases.