Kimberley Payne is a motivational speaker and author. I chatted with her a few months ago when I participated in a series of fitness interviews she was doing for her blog. Kimberley has managed to combine two of her passions—faith and fitness—in an interesting and dynamic way! Here, Kimberley and I switched interview places to give me a chance to ask her questions about her books and writing.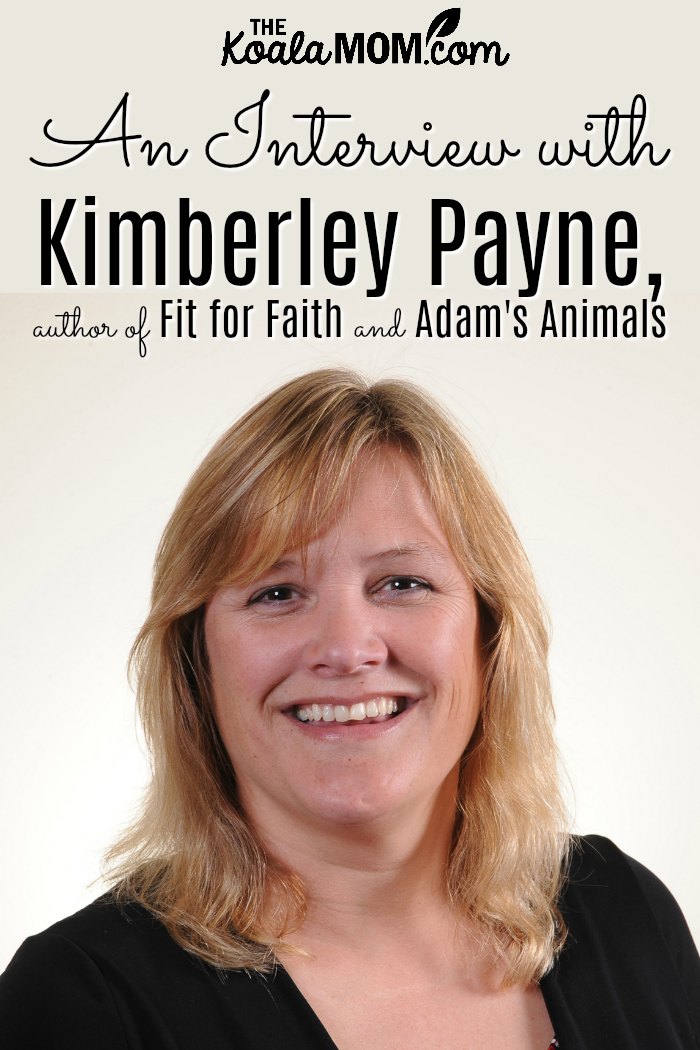 This post contains affiliate links; as an Amazon associate, I earn from qualifying purchases.
TKM: How did you become a writer?
Kimberley: I started writing in grade school with poetry. Encouraged by the annual Remembrance Day writing contests, I continued playing with poetry for years.
Journal writing came easily to me and my parents loved reading about my adventures on the Quebec French exchange and other sole trips as a teenager.
My schooling and jobs required me to hone my writing skills over the years.
But it wasn't until 2001 when I felt the "call" to write. I had moved to a new town, with no friends or family. I spent many hours journaling. Speaking to God through my writing, I felt Him say, "Write to bring others closer to Me."
Since then, I've dabbled in both non-fiction and fiction. I've written a nonfiction workbook, articles, poems, and devotionals. With Janis Cox, I created a kids activity book called Adam's Animals, which integrates science and faith for early elementary children. Currently, I am working on a novel.

TKM: What inspires you to write?
Kimberley: I am most inspired to write when I can relate raising a family, pursuing a healthy lifestyle, or everyday experiences to building a relationship with God.

TKM: What author do you admire and why?
Kimberley: An author I admire is Phil Callaway. I believe that to be a humorist requires a stronger backbone than any other type of writer. Many people dismiss humour as frivolous and do not take the writer or the written material seriously. Phil is not only funny on paper, but he's hilarious on stage as well. This, in my eyes, is pure genius.
---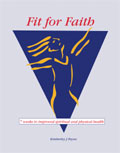 Are you looking for balance in your life?
Believing that prayer, Bible study and journal writing are to the spirit what exercise, healthy eating and stretching are to the body, Kimberley Payne's Fit for Faith workbook unites spiritual health and physical health through a 7-week program to lose weight and develop a deeper relationship with God.
Fit for Faith is a motivational tool to empower women to improve their health to live balanced, whole and joyous lives that glorify God.
---
TKM: How was the idea for Fit for Faith born?
Kimberley: Although I was born and raised within the church, it wasn't until I attended a Christian women's retreat that I realized how much I had compartmentalized my life: family in one corner, work in another; finances here, health there, faith over there.
I began to see that my faith shouldn't be kept partitioned off from the rest of my life. Instead, it needed to be intertwined with all the parts of my life. If I was going to follow Him as my Lord, God wanted me to include Him in everything and that included my health and fitness.
TKM: There are many fitness books on the market. How is Fit for Faith any different?
Kimberley: Fit for Faith makes no assumptions about the reader's spiritual walk. All levels, whether a new Christian or a mature Christian, can benefit from this program.
It is a program for a new Christian who wants to learn about prayer, journal writing and Bible study in the comfort of their own home. A mature Christian can still be refreshed in their faith and re-commit to a daily relationship with God. It is motivating with inspiring reflections included each day and Christian truths set forth in a non-threatening manner.
Fit for Faith makes no assumptions about the activity level of the reader. All levels, whether a sedentary individual or a seasoned athlete, can benefit from this program. It emphasizes overall health, not just weight loss.
Expertise and professionalism are provided throughout the program in easy-to-read "fit tips" and goal-planning assistance. The program includes strategies that empower people to make small changes in their daily routines to improve the quality of their life.
Fit for Faith is a well-rounded balanced program that follows the stages of change and so inspires confidence and builds esteem.
TKM: What is involved in the 7-week program?
Kimberley: Fit for Faith starts with developing an action plan that includes exploring benefits and success strategies of exercising, healthy eating, and stretching the body and the spirit.
Then, the reader moves into implementing the plan through a daily program of prayer, Bible study and tracking of healthy habits. Each week is capped with a review that is a natural lead into the next week.
TKM: What are the benefits of the program?
Kimberley: It's like having your own personal trainer, without the cost. There is a ton of useful information that helps the reader wade through the myths and misconceptions that are out there.
Fit for Faith is an awareness program. The reader is accountable to record their activities, and this helps to recognize where their strengths are and what areas they need to improve.
It's a lifestyle change. Over the 7 weeks, the reader will gain habits that last a lifetime.
More about Kimberley Payne
Kimberley Payne combines her teaching experience and love of writing to create education materials for parents and children about family, fitness, science and faith. She is an award-winning author and a member of The Word Guild, Inscribe Christian Writer's Fellowship, and the John 3:16 Marketing Network. Her favourite animal is the leopard because it can climb trees, run fast, and swim.
To connect with Kimberley or find out more about her books, visit her website. You can also find her on Twitter and Facebook, or check out her YouTube channel.
If you enjoyed this interview, check out my interview with author Carolyne Aarsen.