When it comes to buying a new sofa for your living space, there are a lot of factors to consider. You may be wondering about leather vs. fabric sofas and which is best for young children. We'll explore the pros and cons of both options to help you make the best choice for your home and family.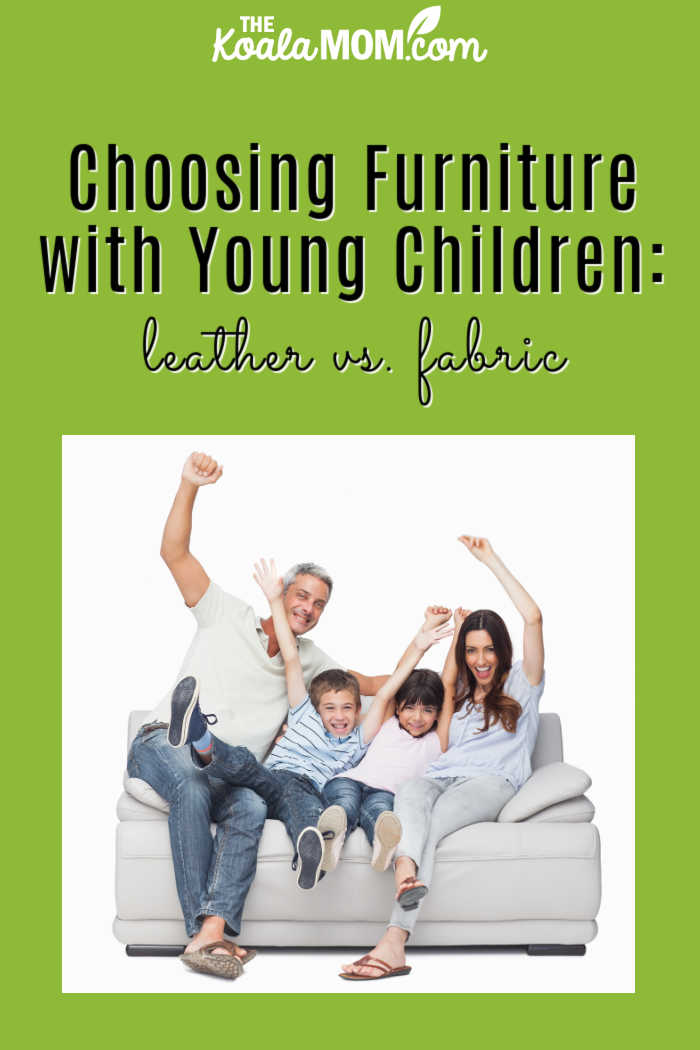 Leather vs Fabric Sofas: Which is Better for Young Kids?
As parents, you know buying decisions for virtually every aspect of your life is shaped by your kids, and the choice of leather vs. fabric sofas is no different. The size, shape, colour and cost of a leather sofa or fabric sofa are important. However, in maintaining the look of your home, how your choice of new sofa stands up to the rigours of everyday family life is likely to be the most important issue.
Leather Sofas: stain resistant but prone to wear and tear
Leather sofas tend to be more stain-resistant than fabric sofas, which is a big plus for families with children. Full grain leather can be wiped clean with a damp cloth, and some high-quality leather sofas tend to age beautifully, developing a sheen over time. Dark colours are better at masking stains than light colours, a handy tip for any household with small children.
However, leather sofas can also be prone to wear and tear, and spillages can seep into porous leather material. There are various ways to protect leather, change its colour or do minor repairs with products like those available from The Leather Colour Doctor.
Is the fake option better for leather furniture?
Faux leather is generally easier to clean spills and stains from compared to genuine leather. Faux leather, also known as synthetic leather, is made of a plastic polymer material that is water-resistant and easy to wipe clean. Genuine leather is more porous and can absorb liquid and stains more easily, making it more difficult to clean.
It's worth noting that the quality of the synthetic leather material can vary greatly, with some lower-quality options being more difficult to clean than others. In general, all leather upholstery, real or fake, requires regular cleaning and maintenance to keep them looking their best.
Fabric Sofas: durable, but easily stained
Fabric sofas can be a good choice for families with children, as they tend to be more durable than leather sofas. However, stains can be tricky to remove, and many parents find that inevitable spills can quickly lead to unsightly marks on their furniture.
It's worth noting that there are many different types of fabrics, ranging from microfiber to suede, and some are more durable than others. Other alternatives to a leather sofa include:
Cotton: a durable and versatile fabric that is often used for slipcovers and casual furniture.
Linen: a strong and breathable fabric that is ideal for warmer climates. It has a natural texture and a relaxed, casual look.
Velvet: a luxurious and soft fabric often used for formal furniture. It has a rich texture and is available in a wide range of colours.
Microfibre is a great choice for a fabric sofa
According to the Cleanup Team, microfiber couches are an excellent choice for a young family. Microfiber is soft to the touch, in the same way as velvet, but is more durable and easier to keep clean than leather furniture, or sofas from other fabrics.
Common stains to be aware of with leather or fabric sofas
Whether you opt for semi aniline leather or fabric sofas, if you have young children, you know there will be stains. Even the most angelic of children cause messes at times, and this means your new sofa will be under attack for the same reason, regardless of the material.
There are many different types of stains children can drop onto a sofa, including juice, milk, food, markers, crayons, and even bodily fluids like urine and vomit. The most common stains will likely vary depending on the age of the child and their individual habits.
If you have pets alongside kids, you'll have stains like drool and food droppings alongside pet hair to clear from your leather or fabric sofa.
With care and maintenance, there is no reason a family cannot enjoy a great looking leather sofa, or have a fabric sofa that remains in excellent condition for many years.
Leather vs. Fabric Sofas: It's a Personal Preference
When it comes down to it, the choice between leather sofas or fabric sofas is largely a matter of personal preference. Some people love the sleek, modern shape and style of a leather sofa, while others prefer the comfort and softness of a fabric couch as they watch TV. Ultimately, it's important to choose a style and material that you love and that will work well in your home.
Stain Prevention and Cleaning Tips for Sofas
No matter what type of sofa you choose, there are some key preventative measures you can take to protect your furniture from spills and stains. If you have fabric chairs, using removable covers on cushions can be helpful when you wash them, as can choosing dark colours over light ones. (For example, our last several couches have been either dark green or black.) Check out my post on mixing and matching cushions to get some creative ideas on this.
Regular cleaning is also important, and both real leather and fabric materials benefit from professional cleaning from time to time. Take the cushions off to vacuum behind and underneath. If you do have leather furniture, use appropriate leather treatment regularly to keep it clean and conditioned.
Have your kids let you know as soon as there's a spill or stain on the couch so you can clean it up. Try to avoid big reactions to spills and stains that may make kids scared to admit to an accident. If possible, keep paper towels or rags within reach so that children can start to clean up messes themselves (as age-appropriate).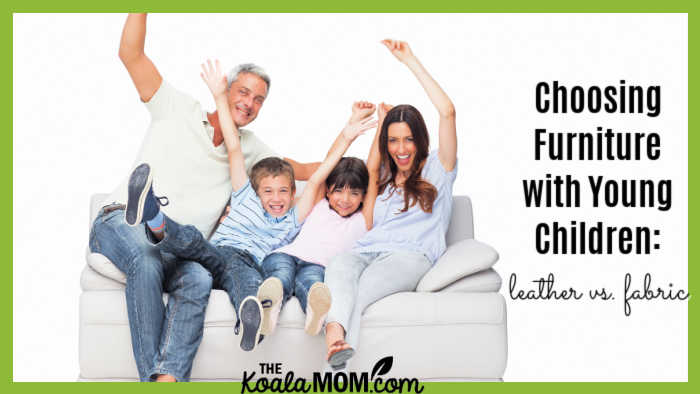 Choosing the Right Sofa for Your Family
When deciding between leather vs. fabric sofas for your family with kids, there are many factors to consider, and you don't need to be an interior designer to choose. Whether you opt for leather or fabric, both materials have their pros and cons.
Ultimately, the decision comes down to your personal preferences, your budget, and the specific needs of your family. By focusing on durability and quality materials, you can find a family friendly sofa you all sit on for many years to come in your living room.
Photo credit: Depositphotos.