Breast pumps are incredibly useful for nursing moms for a variety of reasons. They allow women to continue breastfeeding, even when they are away from their babies. Even if you plan to exclusively breastfeed (as I did with all five of my babies), you should have a pump just in case.
There are many types of breast pumps on the market today. They vary in function, price, and portability. Which pump is right for you depends on how you plan to use your pump.
If you are looking for breast pump options, this article is for you.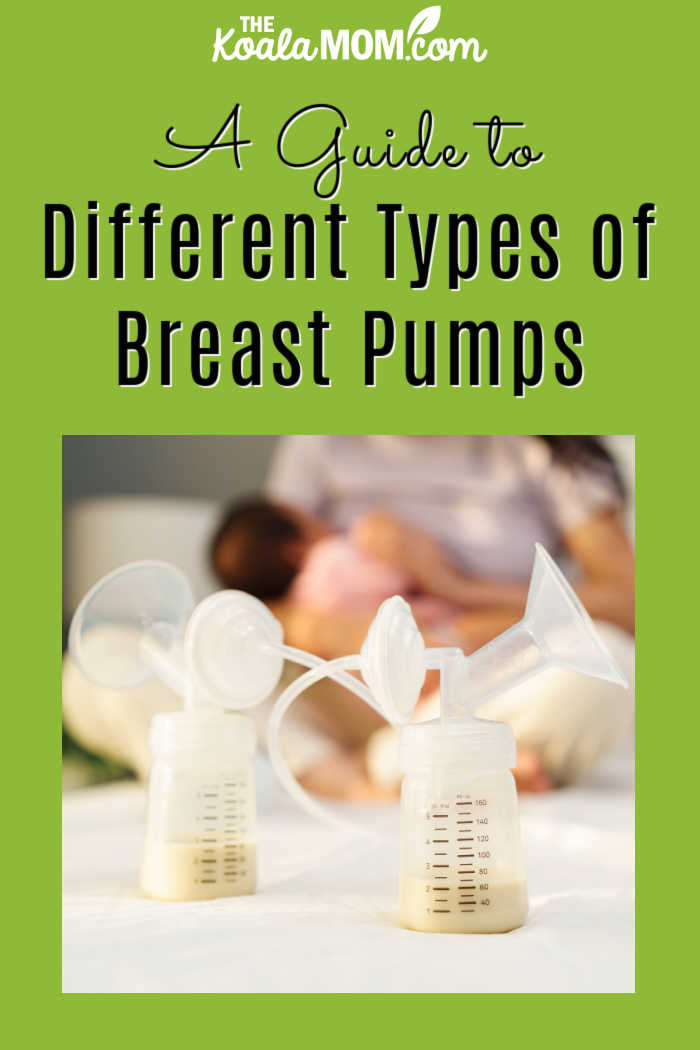 Why Buy a Breast Pump
When I had my babies, I thought I didn't really need a breast pump as I planned to breastfeed. While I'm grateful that I was able to breastfeed all five of my babies without issues, I'm also grateful that I followed the advice to get a pump just in case. A breast pump can be used to help relieve the pain of engorgement.
On a few occasions, I went on a trip when my baby was old enough to be without me but still breastfeeding. I took a pump along to help keep myself comfortable and maintain my milk supply so that I could keep breastfeeding when I returned home.
I know other moms who've dealt with low supply issues, who have used a pump to try to stimulate increased milk production. A mom may pump milk for her baby if she goes out, whether for work or fun. (My babies never drank breastmilk from a bottle, but some babies do so it's worth a try.
Pumping milk for baby can allow another caregiver, such as Dad or Grandma or even an older sibling, to help take care of baby and give Mom a break. In cases of postpartum depression or other health concerns, this option can be very helpful.
There are other reasons why having a breast pump may be necessary and not just handy for a new mom. Consider your own situation and how you wish to feed your baby, and then choose the right pump.
Manual
Manual breast pumps are the most affordable option. They are available at most pharmacies and baby stores, and they're very easy to use.
All you have to do is place the cup over your nipple and squeeze the handles together. This creates suction in the bottle, which will stimulate your milk production. You can pump until you feel comfortable or have gotten the desired amount of milk.
This is likely the best option if you plan to breastfeed exclusively. I had a couple manual breast pumps over the course of my breastfeeding years and used them only occasionally. If you choose this option, then watch for a manual breast pump for sale.
Electric
Electric pumps are more expensive than manual pumps, but they're also more convenient. This type of pump comes with a small motor, which you can use to create suction in the bottle. You just have to place the cup over your nipple and press a button. Many electric pumps are available as double pumps, so you can pump both breasts at the same time.
Electric breast pumps are available at most baby stores, pharmacies, or on Amazon. If you plan to pump more frequently, then the electric pump is likely a better option as it is quicker and more comfortable. Electric pumps are usually quiet and pack neatly into a small case.
Silicone
Silicone breast pumps are a great option if you have sensitive skin. They're made from a soft and flexible material, so they won't irritate your nipples or other delicate areas of your body. The material is also BPA-free. You won't have to worry about chemicals leaching into your breast milk.
Hospital-Grade
Hospital-grade breast pumps are the most expensive type of breast pump. They're also the most powerful and effective. They're designed to mimic the sucking power of a baby, so they can quickly and efficiently remove milk from your breasts. Hospital-grade breast pumps are good for mothers who need to pump for more than one child.
Wearable
Wearable breast pumps are popular among mothers who need to pump while they're at work. These pumps are discreet and small, so you can wear them throughout the day. They have rechargeable batteries that allow you to pump without being plugged into an electrical outlet. Wearable breast pumps are available in manual and electric versions.
Customizable
Customizable breast pumps fit the specific needs of each mother. They may have different settings and modes, such as manual or electric, high-speed or low-speed suction. These pumps also come with accessories like bottles and valves, as well as different sizes of flanges.
The breast pump you choose should be as customizable as possible so that you can adjust it to fit your needs.
A Note about Pumps
As a breast pump is used for feeding a baby, sanitation is very important. While I recommend finding as much baby gear as possible secondhand to save money, breast pumps (and car seats) should always be purchased new. Due to sanitation concerns, don't share breast pumps with other moms. Follow the manufacturer's recommendations for cleaning and sterilizing the pump (and bottles).
Choose the Breast Pump that's Right for You
Various types of breast pumps can help you with your breastfeeding journey. The most important thing to consider when choosing a breast pump is your budget. It's also important to look at the features of each product and decide what's most important for you and your baby. Take some time to talk to breastfeeding friends about what has worked for them and read reviews of the pumps you are considering.