A common question after the birth of any baby is whether the baby looks more like their mom or their dad. In some families, it's obvious that a baby got Dad's blue eyes or Mom's curly hair. Beautiful You, Beautiful Me by Tasha Spillett-Sumner is a story about a girl who notices that she doesn't look exactly like her mom. She feels sad about these differences. Her mom, however, has another perspective.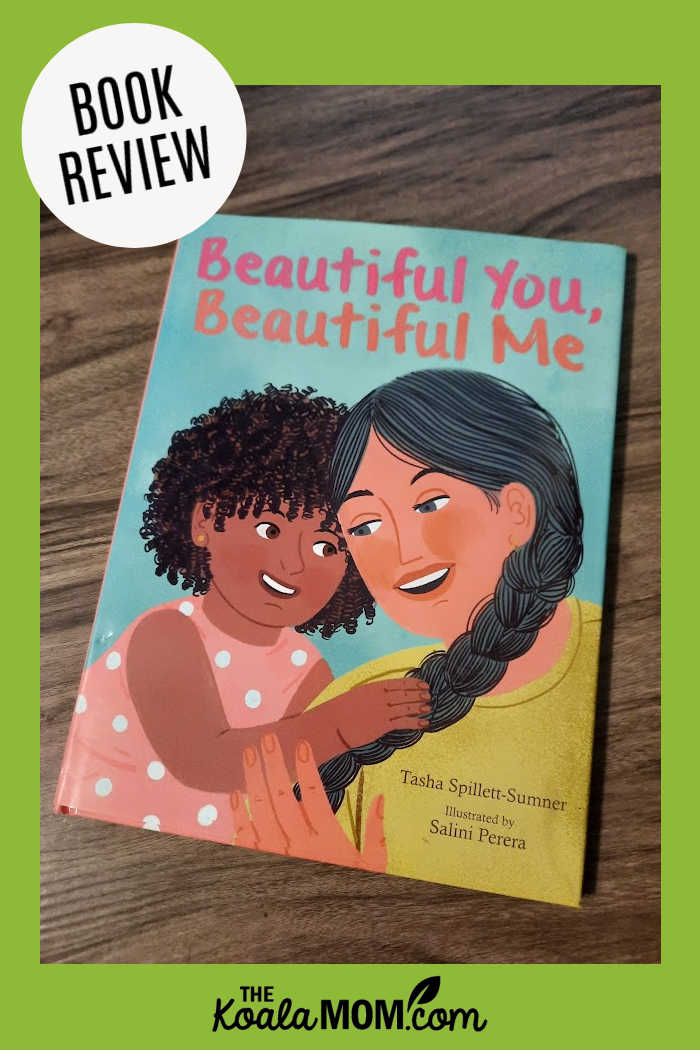 I received this book for review courtesy of the publicist; all opinions expressed remain my own. This post contains affiliate links; as an Amazon associate, I earn from qualifying purchases.
Beautiful You, Beautiful Me
Izzy is an adorable little girl with brown skin and curly brown hair. She loves her mama's hugs. But one day, she notices her skin isn't the same colour as her mom's skin. Another day, she notices her hair isn't the same as her mom's hair. These differences make Izzy feel sad, because she sees her mother as beautiful and so, being different from her mother, she must not be beautiful.
Her mother answers her patiently, "You're part of me, and I'm part of you. I'm beautiful like me, and you're beautiful like you."
Mama takes Izzy out for a walk. As they walk, Mama points out all the animals and babies they see along their walk. Izzy realizes, "Not all mamas and babies match." Mama points out that even if they don't match, they belong together.
My thoughts on this book
My four girls all have brown hair and brown eyes. Just like me. Just like their dad. Physically, our family has a lot of similarities. However, we know many families with multicultural backgrounds, where the children resemble one parent more than the other. As our world becomes increasingly global, multi-racial families are becoming more common.
As Mama says, each of us is beautiful in our own way. We don't need to compare ourselves to anyone else—even to our family members. Beautiful You, Beautiful Me shows that families don't have to be identical to belong together.
I think this could also be useful for adoptive families to read with their children. In Beautiful You, Beautiful Me, we only see Izzy and her mom. Izzy could look more like her dad or she could be adopted; that's left out of the story and doesn't really matter. Either way, Izzy and Mama belong together, just as other families belong together despite their differences.
While Beautiful You, Beautiful Me compares physical differences in families, often it's other differences that push us apart. In some families, personality makes one sibling feel like an outsider. Perhaps this book can help us reflect that no matter our differences, we belong together. If one sister likes makeup and another sister likes riding horses, they are still sisters and can appreciate each other's interests, even if they don't share them.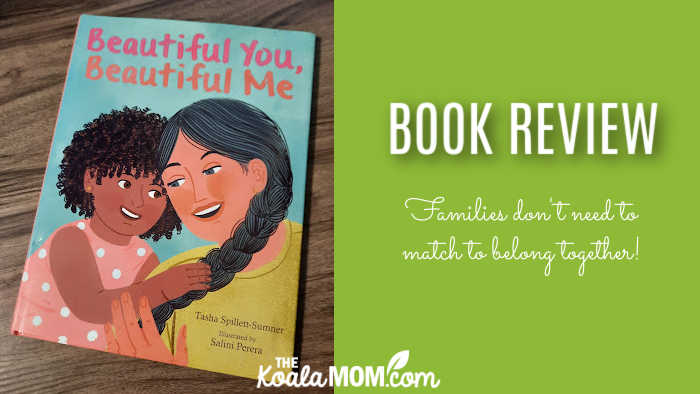 More about Tasha Spillett-Sumner
This picture book about a multiracial girl navigating identity and belonging draws from author Tasha Spillett-Sumner's own experience growing up as an Afro-Indigenous girl. Spillett-Sumner is a celebrated educator and poet. She is also the author of the picture book I Sang You Down from the Stars and the graphic novel Surviving the City. She lives in Treaty 1 territory, Manitoba, with her husband and daughter.