As parents, it can be hard to keep up with a constantly changing environment as your children grow and explore. It can be even harder when they need their own space that is suited to their present age and needs. Dreams of creating a special childhood haven or playroom filled with fun colors, accessories, and memories are often easily forgotten in the chaos of busy family life.
Remodeling your house to be more child friendly doesn't have to involve expensive materials, lengthy projects, or difficult DIYs. Understanding what elements make an inviting yet safe space for children means you too can bring these dreams (and yours) to fruition. In this blog post, we will guide you through the essential steps for transforming your home into something both you and your little ones will love!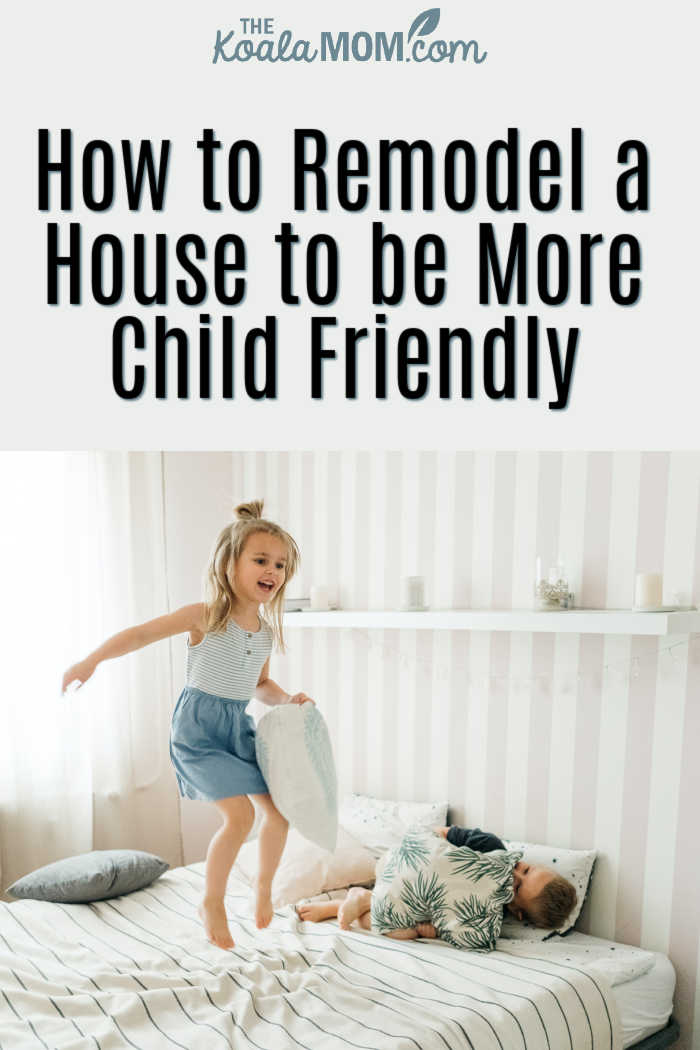 Determine the layout of your home to ensure ample space
You'll want to determine the layout of your home to ensure there is ample space for day-to-day activities and when your children bring friends over.
For instance, if you have a galley kitchen, it may be best to consider flat-pack kitchens with more counter space for meal preparation or for eating. And in the living room, have furniture that is easily moved so smaller spaces can be used for arts and crafts activities.
Make sure stairs are blocked off for safety reasons and if possible, create an outdoor area for playing and entertaining. When you remodel with a child-friendly approach in mind, you will create a functional and happy environment for your family!
Aside from the kitchen and living room, it's important to consider other areas of the home as well. So think about the bedrooms, bathrooms, and playroom for areas that need to be remodeled with a child-friendly approach. Should the bathroom counters be lower or the taps changed to be easier for children to turn on and off? Maybe the closet needs to be remodeled so your child can get out and put away their clothes without help.
Make sure electrical outlets are covered
When remodeling a house to be more child-friendly, electrical safety is of the utmost importance. Always make sure all electrical outlets are covered and cords are in areas out of reach from children.
If you have young children, one easy yet effective way to do this is by purchasing plastic covers that easily fit into open electrical outlets. Not only will they keep curious little hands away from potentially hazardous currents, but these covers also conveniently blend into most wall colors and styles, so there's no need to worry about them being an eyesore!
By taking precautions such as these, you can ensure your home is safe and secure for your little ones. Furthermore, make sure to check for any loose wires or broken appliances that could be dangerous.
Install soft, safe flooring
Home remodeling projects can be a great way for families to create safe and comfortable environments that are tailored to their needs. Installing soft, safe flooring is one such important home improvement task.
When it comes to installing flooring that is comfortable for kids – especially those who love running around – the best option is probably going to be cork, rubber, or foam tiles. These materials are not only softer than traditional hard floorings options like wood or tile, but they also provide an extra cushion in the event of falls. Kids need comfort and safety in their own homes, which makes installing child-friendly floors an essential part of any renovation project.
Put up child-proof gates
A key step in making your house more child friendly is to install child-proof gates around any areas you want to keep off limits for kids. While you may have a natural inclination to be drawn to elaborate wooden picket fences, for safety reasons, you'll want to opt for metal or plastic gates that latch firmly and stay shut when closed.
Even better, look for ones with only one-handed open/close features so that curious toddlers can't easily open the gate themselves. Put up these gates strategically in order to discourage young children from entering restricted areas. This will help ensure both your peace of mind and the safety of your kids! Most child-proof gates come in a variety of sizes and styles, so you won't have to worry about compromising the look of your home either.
Add child-friendly furniture
When planning to make your house more child-friendly, selecting the right furniture is essential. Consider choosing pieces that are specifically designed for kids, like tables and chairs with bright colors or fun patterns. Don't forget to check how washable the furniture is before purchasing it!
You may also consider creating built-in storage compartments or play areas to provide further convenience for children. For example, we've had several storage coffee tables and footstools that allow me to put board games, books, and toys out of sight yet conveniently close.
Alternatively, you could opt for a smaller number of furniture items that serve multiple purposes and provide flexibility for older children. Lastly, look for safety features such as rounded edges on hard surfaces and avoid leaning bookcases and hanging shelves. By investing in furniture designed both to look great and be safe, you'll ensure a pleasant experience while they hang out in their special space.
Choose non-toxic paint and materials
Making sure a home remodel is child-friendly is so important for creating a safe and secure living environment. One of the most important steps in ensuring a child-safe space is to choose materials and paint that contain no toxic chemicals. Working with eco-friendly, non-toxic paints and materials will help prevent children from being exposed to unhealthy elements in their homes.
Results can include improved air quality, fewer allergies, and better protection against lung irritants which are all essential for providing your family with a safe home environment. Keeping children's health top of mind when planning any type of remodeling project can help ensure everyone in the home is kept safe and secure at all times.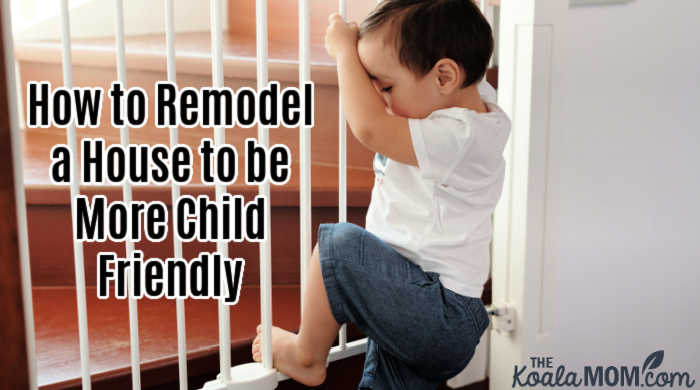 Remodeling your home to be more child friendly doesn't have to take up a lot of time or money. With the right strategies and materials, you can make sure that your home is a safe and comfortable place for children.
Start by determining the layout of your home, making sure all electrical outlets are covered and cords are out of reach, and then installing soft, safe flooring. Put up child-proof gates in areas you want off limits and add child-friendly furniture. Finally, choose non-toxic paint and materials to create an environment that is truly nurturing for kids. Following these steps will go a long way in helping you create a kid-friendly house that is safe yet fun!