We all know how important it is to have a well-decorated home. After all, our homes are our sanctuaries. It's the place we relax after a long day and entertain our friends and family. But sometimes, redecorating can seem like a daunting task. Where do you start? What should you do first? Don't worry, we're here to help. In this blog post, we'll give you some tips on redecorating your walls and floors like a pro.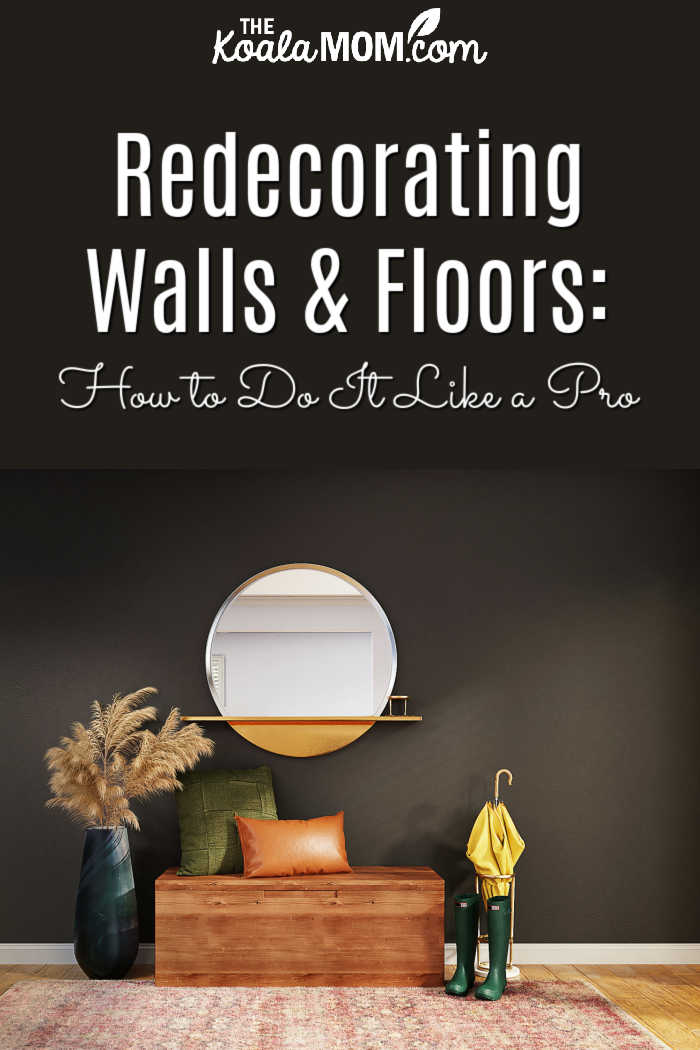 Play Around with Different Tiles
If you are looking to add some pizzazz to your walls, why not consider different tiles? When it comes to redecorating walls and floors, think beyond painting the walls a single color and experiment with all sorts of shapes, sizes, colors, and textures.
Tiles come in all colors, from bright fire engine red to muted heather blue. Some patterns feature intricate complex designs while others can be as simple as tiny metal squares that shine when they hit the light. You don't just have to stick to ceramic tiles either—unique materials like these subway tiles, slate, and glass can really bring character into any room.
Tiles can help protect your walls, particularly in bathrooms or kitchens or in high-traffic areas like entry ways. You can also use tiles to create a stunning feature wall. There are so many options out there—take some time to play around with different tiles for your next DIY project!
When I was a teen, I helped my parents redo our entryway. We choose a set of 12×12 tiles we loved and then picked paint to go with the tiles. We used the tiles for the floor and also to create a baseboard. The overall colour scheme was a soft pinkish brown, which felt warm and welcoming for the first room most people see when arriving in the home. A couple of decades later, the tiles and paint in that room still look great.
Decide on a Color Scheme
When making the big decision about what colors to use when redecorating any walls and floors, it's best to first consider a color scheme that works for both your walls and floor. Choosing a scheme will help you narrow down the options available, from paint colors to fabric ideas and more.
Think of a palette of complimentary hues or even just one special shade—these choices will become easier once you have established your base tones. Have fun brainstorming ideas to make sure your redecorated room is perfect—from modern muted neutrals to bright pastels, or even something bold like emerald green and gold.
For example, the DIY Mommy loves creating mood boards when she's planning to redecorate, whether she's redoing a single bedroom or an entire summer cottage. This lets her play with colours, themes, textures and patterns to get an idea of what she wants the overall area to look like. Once you've generated your mood board on your computer, you can turn it into reality in your home.
Choose the Right Type of Paint for Your Walls
It might surprise you that there is not one standard type of paint, but three main options—flat, semi-gloss, and high-gloss. Each of these paints has a time and a place for different areas of the home.
Flat paint minimizes imperfections on uneven surfaces and can be used in low-traffic areas such as bedrooms.
Semi-gloss is best for trim work or doors because its shinier surface withstands scrubbing and wears better than flat paint does.
High gloss paint is often found on baseboards because it is durable, cleanable, and also provides plenty of shine. High gloss may also be used in kitchens and bathrooms, where you tend to wash the walls more often.
Ultimately you should choose the type of paint based on your own preferences and needs—but no matter what kind you select, with just a little effort (and maybe some professional help here) you can give your walls and floors an entirely new look!
Prep Your Walls Before Painting
Before you pick out the perfect paint color and break out your brushes, make sure you give your walls the attention they deserve by prepping beforehand. Take some extra time to clean the walls, freeing up any dust and dirt that can prevent a uniform finish. You'll also want to spackle any holes or fill in any gaps for a smooth surface.
If you really want to ensure a great painting experience, take the extra step of washing down the wall with trisodium phosphate (TSP) before conditioning it with an oil-based primer. Little tricks like these can go a long way toward ensuring you end up with beautiful walls that last!
Pro mom tip: keep the spackling, trowel, some paint and a brush handy after you're done redecorating the walls. Numerous times in our condo, after I'd repainted all the bedrooms, one wall got scratched or gouged. Maybe we were moving furniture or maybe one of the kids was playing too rough. Either way, it took me literally ten minutes or less to fix that nick because I had the spackling and paint handy to do so.
Paint Your Walls in a Light Color First, then Add Accent Colors
There is no one-size-fits-all solution to painting your walls, but an easy way to start is by painting the walls a light color first; this will act as a blank canvas for you to work from. From here, you can then add smaller accent colors directly on top of the base layer, allowing you to personalize your decor in whatever way suits you best.
Whether you choose to focus on textured paint designs or vibrant oranges and greens, with light wall color as an underlying base layer you know that whatever changes you make will feel cohesive and well-placed.
Choose the Right Type of Flooring for Your Home
There are so many different flooring options: hardwood, laminate, vinyl, tile, carpet, etc. Each material has unique characteristics and benefits of its own. To ensure you're making the best decision for your living space, you should familiarize yourself with the pros and cons of each choice before redecorating your walls and floors. For example, hardwood offers elegance and sophistication, but it's also more expensive than other materials.
Laminate is a great budget-friendly option but doesn't have quite the same visual appeal as wood. Carpet provides comfort and insulation during colder months but may require more maintenance than other types of flooring. It's imperative to consider all of these factors before committing to a type of flooring—aside from aesthetics, cost, durability, and sound absorption will all play important roles as well!
You can also mix and match various flooring for different parts of the home. Our condo had tile in the hallway, kitchen and bathroom when we bought it, and carpet in the living room, dining room and bedrooms. After a few years, the carpet was worn out and dirty (hello, kids who are hard on carpets!) so we replaced all the carpet with grey laminate flooring. Some people prefer carpet in the bedrooms, where it's less likely to get as worn as the main areas, and may feel warmer and softer on bare feet in the early morning.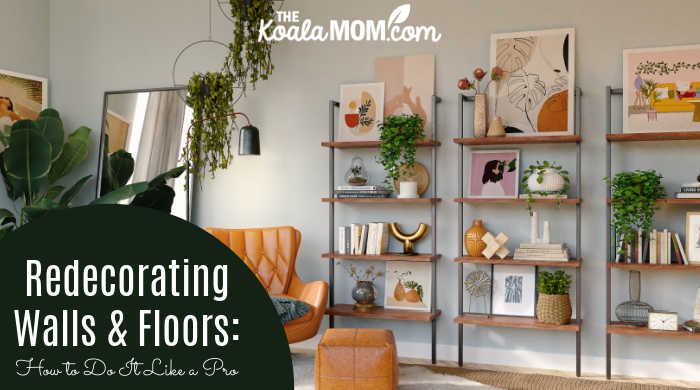 In conclusion, redecorating walls and floors can be a fun and inexpensive way to spruce up your home. Whether you choose to play around with different tiles or try out one of the many beautiful paint colors, the possibilities are endless. Take a little extra time to plan it out so that you get the best possible results.