Everyone loves a good poem now and again. Whether you are learning English as a second language, love good verse, or are seeking inspiration for writing your own, inspirational poems are often the best place to start. This is especially true for Renaissance or Shakespearean sonnets, a type of poem known best for their excellent use of sound and rhythm.
Because poems are often best enjoyed when recited aloud or read by someone else, you will want to find a collection of inspirational poems standing out from the crowd before delving deep into their study. You'll find that many inspirational poems use beautiful imagery, metaphors, and various sounds to express deep thoughts on life, love, nature, or other ideas. We've compiled a list of the best below.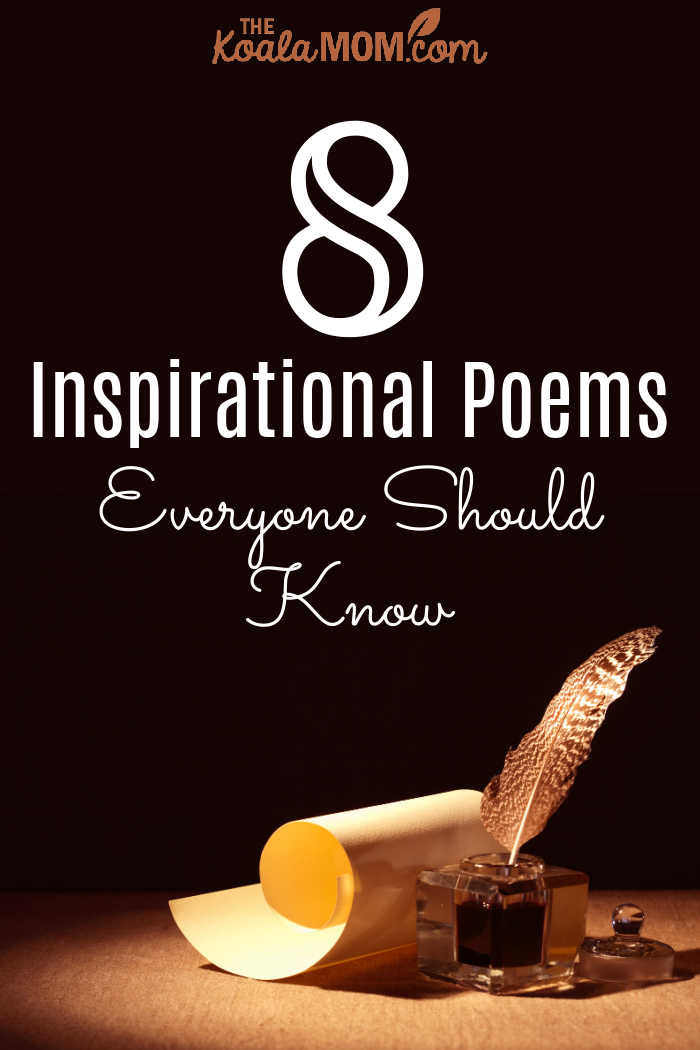 "Invictus" by William Ernest Henley
"Invictus" speaks about the determination and sheer will to carry on even in the face of unavoidable adversity. It reminds us that we are the masters of our destinies and must draw the strength from within us to face life's toughest challenges. Its message is one of hope and perseverance.
The poem has become a source of consolation. It is an inspiration to many, motivating them to take on the most difficult tasks with courage and determination. It brings to light that all of us, regardless of our situation, are truly strong and can make it through whatever is in our way. It reminds us that we can overcome whatever life throws and find enlightenment in our darkest days.
"Desiderata" by Max Ehrmann
"Desiderata" by Max Ehrmann is an inspirational poem filled with timeless wisdom. Despite being written almost a century ago, the words of this poem remain relevant and carry a powerful message. The poem seeks to remind us to live life to the fullest, to be kind to ourselves, and to accept others for who they are.
"Desiderata" teaches us to look for beauty in the world, to be grateful for the little things, and to strive for balance and peace in life. The poem is an uplifting reminder for us not to take life for granted and to always strive for a better tomorrow.
"Song of Myself" by Walt Whitman
This poem is about knowing oneself, understanding other people, and celebrating the beauty of nature and the spirit of life. It's a great reminder to see joy and pain as beautiful and essential parts of life. The poem also celebrates the spirit of fraternity and global unity.
Through thought-provoking questions and reflections, it encourages readers to go beyond seeing life as mere existence and fully embrace the unknown to unlock their true potential. "Song of Myself" is the perfect reminder that life is too short to spend too much worrying and judging others. Instead, we should take a moment to reflect and find our self-worth and love for the world.
"Ozymandias" by Percy Bysshe Shelley
"Ozymandias" is a story about a powerful ruler who was both feared and respected. This short poem is about how power can be fleeting, and everything fades away with time. Ozymandias' meaning is a reminder that life can be short and sometimes brief, so making the most of it is essential.
The poem emphasizes that nothing lasts forever; in the end, we are all just specks in the universe. It is a great reminder to live life to the fullest and strive to make a difference in the world. Ozymandias has timeless lessons that everyone should learn and live by every day.
I first encountered this poem in university and it's still one of my favourites. A big story is packed into a few lines of poetry. This poem also makes a great recitation if you ever have need to stand up and recite something.
"Phenomenal Woman" by Maya Angelou
This poem celebrates strength and beauty in Black femininity, rejecting the Eurocentric standards of conventional beauty. "Pretty women wonder where my secret lies," Angelou declares. "I'm not cute or built to suit a fashion model's size." Angelou claims her body's fullness, curves, dark skin, and inner strength in each stanza.
The poem ultimately serves as a beautiful reminder to embrace our uniqueness. In a society that often teaches us to conform to certain ideals and beauty standards, "Phenomenal Woman" encourages us to take pride in our unique forms of beauty.
"The Road Not Taken" by Robert Frost
In this poem, Frost reflects on a point in life's journey when you need to make a decision that could alter the course of one's destiny. The themes of individual choice, risk and opportunity, and personal growth have resonated with people of all ages and backgrounds, giving hope to those who have taken a less traveled path. This poem is popular in greeting cards and inspirational art, and many people know at least a few lines of it by heart. Frost encourages readers to be daring and brave and to explore the many possibilities open before them.
"If" by Rudyard Kipling
Kipling's words resonate with a powerful message that encourages us to remain steadfast on our journey, no matter what life throws at us. He encourages us to persevere through difficult times, strive toward our goals, and inspire others. This timeless poem inspires us to face adversity and difficulties with courage and reminds us that failure is not permanent. By avoiding self-pity and despair, we can be strong and hopeful instead of defeated.
"Dreams" by Langston Hughes
"Dreams" speaks of a dream deferred and how you can hold it off for a time but never wholly forgotten. Hughes uses his writing to remind readers of the importance of striving until you reach your goal. He says that pursuing a dream is far better than giving up and not trying. The poem encourages us to keep on despite the difficulty of the goal.
The message Hughes imparts through "Dreams" is timeless, motivating young and old readers. This simple poem is a constant reminder that the journey toward the aim may take longer than expected; however, it will always be worth it in the end.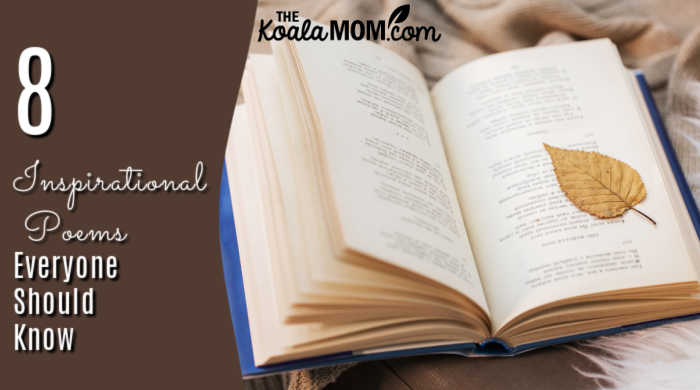 Have a Better Insight into Life by Reading Poems
Poetry can deeply connect with listeners and readers and inspire great emotion. From the classics to the modern day, inspirational poems have a lasting message that often resonates with readers and listeners.
During trying times, it can be helpful to remind yourself of the power of poetry. Take a moment to enjoy and reflect upon some of the most moving poems of our time. If you are looking for inspiration or a spark of joy, take the time to explore the world of meaningful and motivational poetry today.
Has this article helped you out? For more, please check out the rest of my blog!
Photo credits: Depositphotos.