Everywhere we look these days, there seems to be bad news. War in Ukraine. Rising gas and grocery prices. A possible recession coming. Another pandemic coming. Governments imposing more control. And that's just the world news; many of us are dealing with personal crises in our own lives, from health problems to job losses and more. It can be easy to get news anxiety and depression and to feel extreme stress from all of this. How do we combat this? Hope.
My mom is constantly reminding me that God is in control. He holds the future in His hands. And while it may look dark or impossible or frightening to me, God knows the plan. I just need to keep my eyes fixed on Him and to hold onto the hope that He offers.
One thing that helps me cling to this hope daily is my Hope Fueled bracelet. Sometimes, as I go through my day, I need these concrete reminders to look to God. My bracelet isn't just a pretty piece of jewelry; it's also a tangible reminder to me to pray, to look to God, to worry less.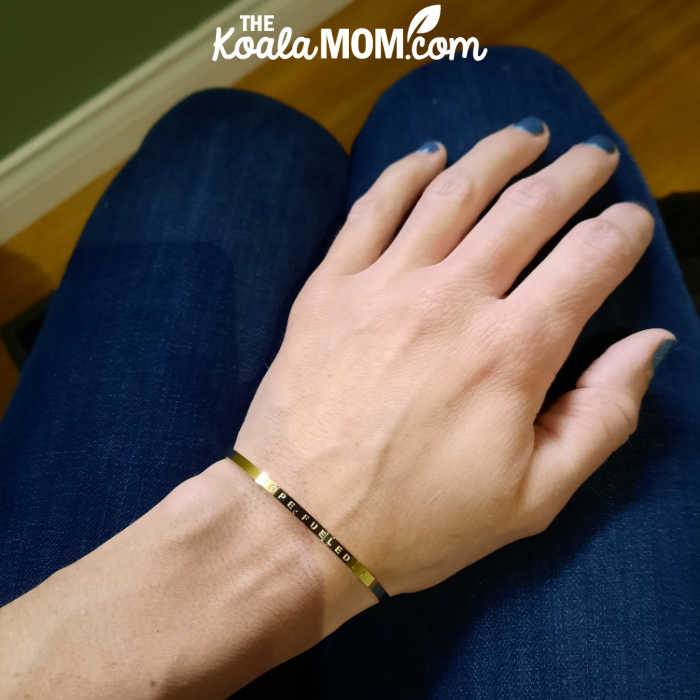 I received this bracelet for review from Hope Fuel; all opinions expressed are my own.
The Source of Our Hope
This bracelet is inspired by Romans 15:13: "May the God of hope fill you with joy and peace as you trust in him, so you may overflow with hope by the power of the Holy Spirit." Too often, I turn to earthly sources for hope and peace. I try to work harder or deal with whatever is causing me stress. However, when the causes of stress are outside my control, those methods of dealing with the stress don't work. That's when I need to trust in God and lean on His joy and peace.
The inside of the bracelet reads, "… by the power of the Holy Spirit." This bracelet reminds me that I'm not alone. I don't have to do this on my own. God has given His Holy Spirit to guide me through whatever I am facing each day.
Recently, I faced a very stressful day. Usually my response to this is to power through—to just keep doing the housework, the schoolwork, all the busy things that will keep me too busy to think about the thing I worry about but can't really change. Around 11 am, I stopped myself. I knew that I was stress-driven and that it wasn't helping with anything. So I went to my room, closed my door, sat down on my bed, and prayed.
For twenty minutes, I forced myself to sit still and to turn to God with all my needs. When I got up, I felt so much lighter and less stressed and worried. I went back to the kids, the housework and the schoolwork, but with a much different attitude. And shortly after that, I received an email with very good news about the matter I'd been so worried about. God had it all in control.
Let us hold unswervingly to the hope we profess, for he who promised is faithful. ~ Hebrews 10:23
Finding Ways to Stay Hope Fueled
One thing that has really helped me stay hope fueled over the past year is Father Mike Schmitz's Bible in a Year podcast. The podcast as made it easy for me to listen to the Bible every day—usually as I drove home from dropping my teen off at school or as I fold laundry or wash dishes. And as I listen to the Bible, I hear how God has worked from the beginning of creation to draw His people to Himself. He promises peace and joy and hope in our lives if we will turn to Him.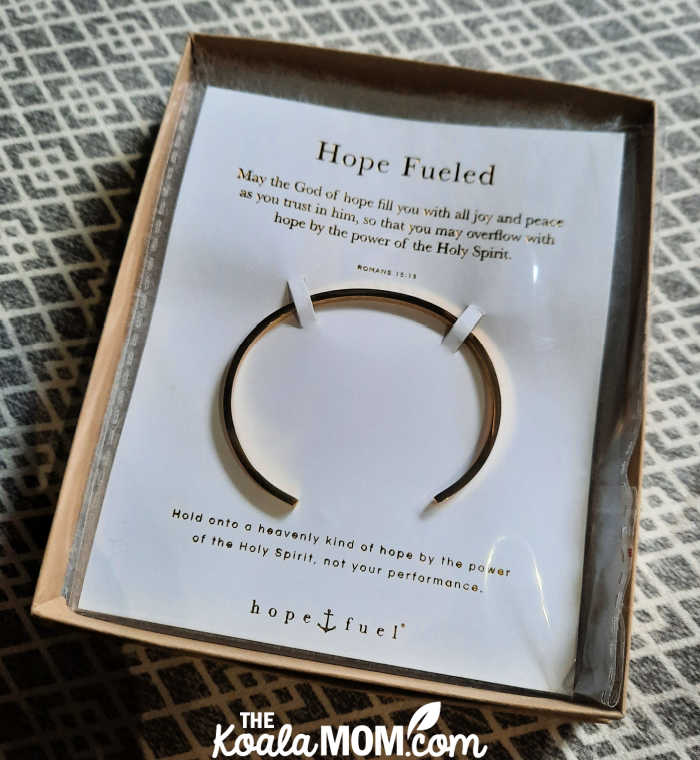 Another important way to stay hope fueled is to stop and pray. As a mom with five kids, I'm often on the go from the moment my youngest wakes up until he crashes again at night—and by then I'm ready to crash too. My prayers often become little phrases thrown at God throughout the day. And that's not really a great way to maintain a relationship with anyone! I'm trying to find time each day to talk to God and especially to end my day with prayer, giving Him all my concerns and worries and then resting in His peace and comfort instead of letting those worries and concerns keep me up at night.
But those who hope in the LORD will renew their strength. They will soar on wings like eagles; they will run and not grow weary, they will walk and not be faint. ~ Isaiah 40:31
I also lean on my friends for hope. So many of my friends are going through tough times too. It takes only a moment for me to check in on them via text and ask how they are doing and if I can pray for them. Sometimes we can find time for coffee or a longer phone date during the week to really connect and share what's on our hearts. I know that when I do make the time to share my struggles with a friend, and to hear what she's going through, I always feel better. God places us in community for a reason. Offer hope to your friends and let them speak hope into your life too.
If a friend or family member is going through a particularly hard time right now, maybe a Hope Fueled bracelet could help inspire her. Hope Fuel also has Scripture stickers you can stick anywhere to help inspire you throughout your day and other merch to remind you of the power of the Holy Spirit.
For I know the plans I have for you," declares the LORD, "plans to prosper you and not to harm you, plans to give you hope and a future. ~ Jeremiah 29:11
What keeps you hope fueled throughout stressful times in your life?