Nosy Parker is a fun coming-of-age novel about a young girl in Montreal in the 1960s. It reminded me somewhat of Harriet the Spy, another wanna-be writer who watches her neighbours and takes fills numerous notebooks. Author Lesley Crewe brings a precocious girl (and her neighbourhood) to life in this novel that compelled me to keep reading to find out what Audrey got into next.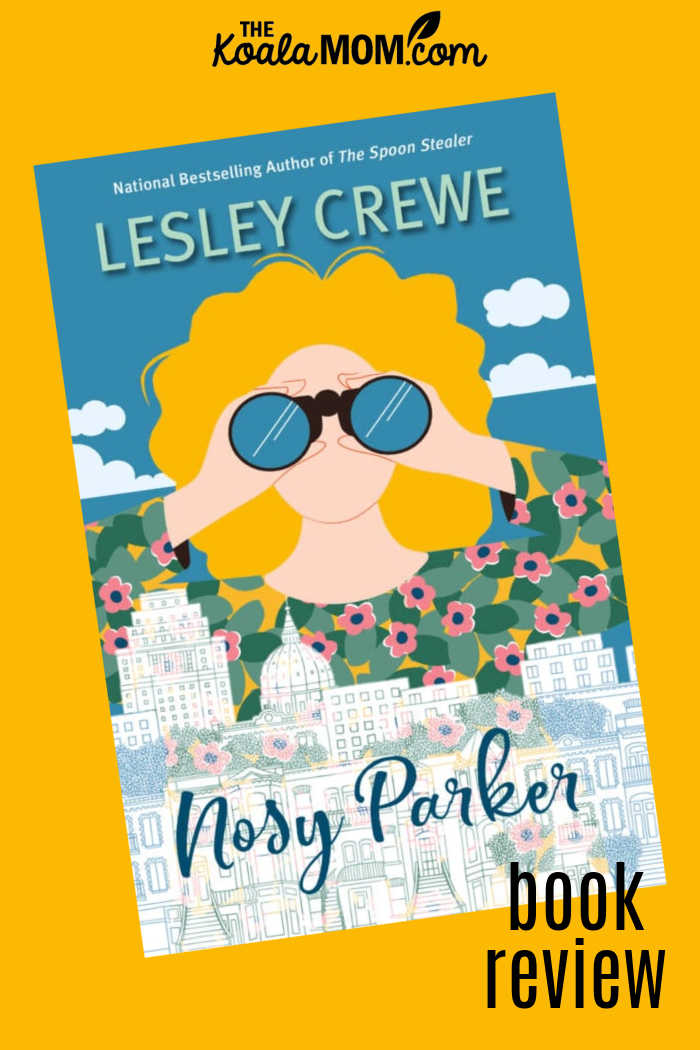 I received this book for review courtesy of the publicist; all opinions expressed are my own. This post contains affiliate links; as an Amazon associate, I earn from qualifying purchases.
Nosy Parker plot synopsis
Audrey and her father have just moved to a new duplex on a new street. Audrey uses an old pair of opera glasses to spy on her neighbours, but slowly she gets to know the other residents of her street. There's the big, boisterous Greek family across the street whose grandma glowers at Audrey through every meal. There's the Jewish family next door, with twin boys who never listen to their mother, no matter how loud she yells. There's the one-legged man across the street who never comes out during the daytime, convincing Audrey he must be a murderer.
I'm supposed to be a nice person, but I said something nasty very easily just because I was hurt and angry. Doing something nasty seems to be Jacques' way of dealing with hurt and anger. He and I are not so different, which is appalling to me.
Raised by a single dad who is also a writer, Audrey finds the lives of her friends' families fascinating. She tries out Girl Guides and the swim team, starts babysitting, catches mono, adopts a kitten, attends Expo 67, stars in the school play, and learns to type. Her Aunt Maureen is a constant, alternately annoying and helpful, presence in her life.
Audrey also attempts to find out more about her mother. All she knows is that her mother is gone and nobody will tell her anything about her. A chance encounter with a strange woman who takes Audrey for her mother gives her one clue. Slowly, she tries to put together other clues about this elusive woman whom she resembles, but her attempts at sleuthing dig up painful memories for her father.
Nosy Parker spans a life in Audrey's life, the start of her high school career, her first (and last year) in a new home. Her adventures in that year are both normal and extraordinary, memorable and not. I laughed and cried along with Audrey and loved getting to know her (and her neighbourhood).
My thoughts
Nosy Parker was a fun, fast read. I thoroughly enjoyed Audrey's unique observations of life and the scrapes she gets herself into (and out of) by her frank observation of life around her. Plunked down in the middle of a multi-cultural Montreal neighbourhood, she gets to know each of her neighbours in different ways.
One thing that struck me about this "motherless" girl is how many mothers came into her life. Aunt Maureen is an obvious example, as she attempts to help her brother raise his daughter (to both his and his daughter's annoyance, at times). Audrey's neighbour Mrs. Weiner teaches her numerous life skills, such as doing her own laundry, and takes her on shopping trips. The mothers of two of Audrey's school friends also, in various ways, reach out to help her.
While we get to "grow up" along with Audrey for a year in this novel, we also experience her close relationship with her dad. They've always had each other and while he's a somewhat unconventional, absent-minded dad, his devotion to his daughter (and hers to him) is obvious. They have the typical fights of a 12-year-old and parent, but always make up and move on. As a "daddy's little girl" myself, I loved the interactions between Audrey and her dad.
Although Nosy Parker is about a 12-year-old, it's not written for 12-year-olds. There's some adult content as Audrey discusses the usual coming-of-age matters with her school friends but also experiences inappropriate touching and meets several gay couples. Audrey accepts the gay couples with her usual frank naivety but struggles with understanding why she's been targeted for the other attention. I almost gave this to my 12-year-old wanna-be writer to read, but the publicist warned me about the adult content and I was glad I pre-read it.
Nosy Parker is as entertaining as one could want. The only thing that seems out of place is the cartoony cover, which does nothing to suggest how real and sincere and eloquent Audrey is, or how moving her story proves to be. ~ Winnipeg Free Press
More about Lesley Crewe
Lesley Crewe is the author of twelve novels, one of which has been adapted into a feature film, as well as two collections of essays. She was born in Montreal and now lives in Nova Scotia. She says, "I love the ordinary moments. I celebrate everyday things. They are too often lost in the race for something grand. I hold dear our humdrum routines. These accumulating hours make up our lifetimes and when we remember, it is always the simplest of pleasures that make us happy. These are the memories I create in my books."
Nosy Parker was named one of CBC's 66 works of Canadian fiction to watch for in spring 2022. To find out more about Lesley and her books, drop by her website or follow her on Facebook and Instagram. Nosy Parker is available from Vagrant Press and Amazon.
Also available from Vagrant Press: Beneath Her Skin by C.S. Porter.