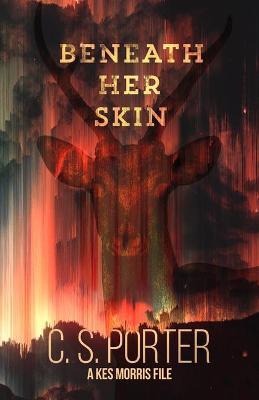 One piece of writing advice I got as a young writer was to read widely—try different genres, different authors, old books and new. This is advice that I've tried to follow ever since. Although I have my favourite genres and favourite authors, I try to regularly read new authors and push myself once in a while to read a book that's a bit outside my normal pick. Beneath Her Skin is a crime thriller from debut Canadian author C. S. Porter. I don't normally read crime thrillers, but I do like supporting debut authors and reading Canadian books.
I received this book for review courtesy of the publicist; all opinions expressed are my own. This post contains affiliate links; as am Amazon associate, I earn from qualifying purchases.
Beneath Her Skin plot summary
When a grisly double murder happens in a small town in eastern Canada, detective Kes Morris is called in to help local law enforcement solve the crime. As she builds her team and gets to know the locals, Kes also tries to put herself into the killer's mind to figure out what he might do next. Despite this, she can't stop the next murder from happening.
As Kes and her team search for clues and dig through town history, the newspapers hound her for information. Slowly, Kes begins to put together the pieces of the mystery, but as she does so, she begins to wonder who the victims really are. Each new clue, each new crime, makes it harder for the team to go on, but Kes knows she has to get to the bottom. She has to find justice.
My thoughts on this crime thriller
As I mentioned, crime thriller isn't my usual genre of choice. What really drew me into this story was the characters. C. S. Porter creates realistic, gripping characters, from our first introduction to Harrison (local cop and single dad to a teenage son) and Kes Morris (detective's daughter turned detective herself) and the rest of the small town cast. Most of the story is written from Kes's point of view, and we see her opinions of the town and its people, as well as her own memories of learning how to be a detective from her dad and her struggles to separate her personal life from her professional life.
"So, you're pissed because you couldn't see what was coming? If any of us could do that, we wouldn't be here, would we? There'd be no need for us to look back to figure out the how, who, and why. We'd be prophets, heroes, instead of picking up broken pieces and rooting through garbage. You're pissed because you're not a god, just a human. All any of us is now, Harrison. That's the job. That's what detective do. We look backwards." ~ Kes Morris
What struck me about Beneath Her Skin is how it highlights the failures of "the system." Whether it's the school system, the foster care system, the justice system, too often the system has failed to do what it was supposed to do. People have been hurt. In this story, a victim failed to receive justice and so took matters into their own hands. Beneath Her Skin doesn't justify the victim's actions, but perhaps it can make us think about how to prevent such things from happening in other places.
There are some dark, grisly portions to this novel. Five people are murdered by someone bent on revenge, on creating sensation, on sending a message to a town. I appreciated that the author treats these murders as horrendously as they are. Kes' team of small-town cops who've never seen anything like this really struggle with what they see, and their reactions are relatable and honest. Even Kes herself, with greater experience, has to steel herself to do her job, distance herself from what she sees to collect clues. Too many Hollywood movies glorify the guts and gore and killings; this author does not.
More about C. S. Porter
C. S. Porter is a solitary writer who lives near the Atlantic ocean and was perhaps once involved in crime investigation. Porter may have suffered an immense personal loss (like Kes) and came from the the US or the UK or Canada. Beneath Her Skin is Porter's debut novel. It is available from Vagrant Press and Amazon.
Also available from Vagrant Press: Nosy Parker by Lesley Crewe.