We've been huge fans of the Minion movies since Despicable Me first hit theatres. What's not to love in these movies about a "bad guy" with a good heart, three adorable girls, and an army of cute, bumbling yellow creatures? This summer, we used Minions: The Rise of Gru as an excuse to escape the heat wave with a trip to an air-conditioned movie theatre. Recently, we had a movie night to enjoy the fun all over again as Minions: The Rise of Gru comes home on DVD.
Pssst… wanna plan your own Minions movie night? Keep reading to enter to WIN a DVD or digital copy of the movie!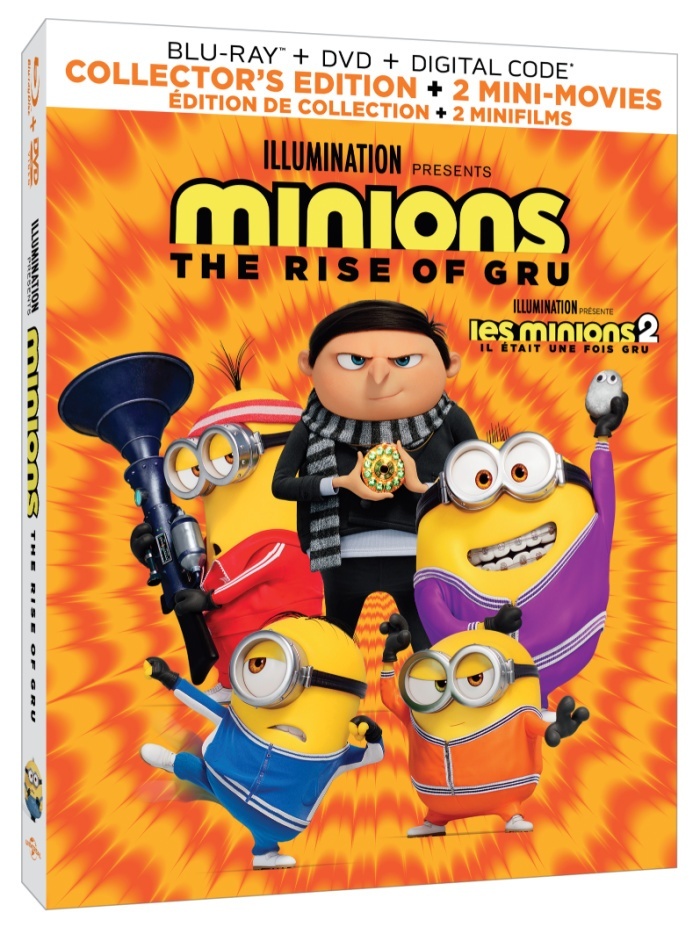 I received compensation for this review; all opinions expressed remain my own.
Minions: The Rise of Gru plot summary
In the heart of the 1970s, amidst a flurry of feathered hair and flared jeans, Gru (voiced by Steve Carell) is growing up in the suburbs. A fanboy of a supervillain supergroup known as the Vicious 6, Gru hatches a plan to become evil enough to join them. Luckily, he gets some mayhem-making back-up from his loyal followers, the Minions. Together, Kevin, Stuart, Bob, and Otto—a new Minion sporting braces and a desperate need to please—deploy their skills as they and Gru build their first lair, experiment with their first weapons, and pull off their first missions.
My Thoughts on this Movie
We loved this movie. It has all the laugh-out-loud moments we expect from a Minions movie, plus the satisfaction of good overcoming evil. In an era when it's getting harder and harder to find family-friendly movies that don't contain inappropriate "mushy" scenes, bad language, or other questionable content, it was awesome to be able to enjoy this movie without worrying about having to explain something to my kids later.
In Minions: the Rise of Gru, we meet Gru as a boy genius with big dreams. He already has a basement workshop and the adoration of his Minions. While his mom hosts Tupperware parties, Gru rides his rocket-powered bike around town, trying to get the attention of his evil heroes. We see how Gru meets Doctor Nefario and also learns a new tricks from another mentor.
Plan a Family Movie Night!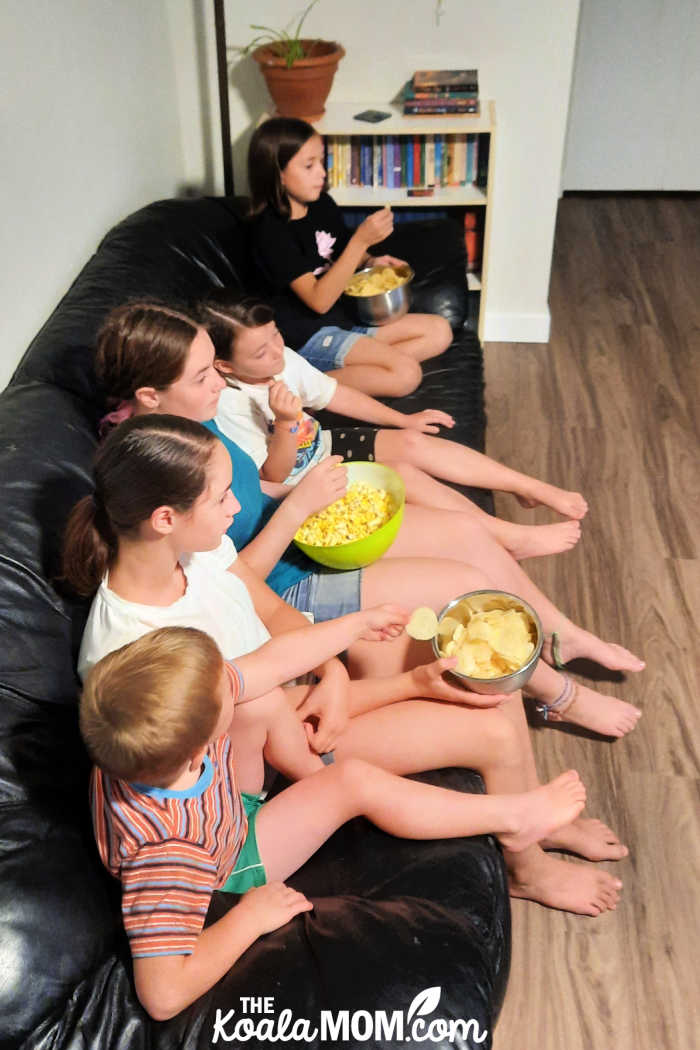 Watching movies is one of our favourite ways to spend time together as a family. I stock up on the kids' favourite movie snacks (like chips and popcorn) and we squash onto our couch to laugh and cry and comment on the movie. Often, we have a crazy dance party afterwards to the credit music or sit around discussing our favourite (and least-favourite) parts of the movie.
There's so many things you could discuss as a family from Minions: The Rise of Gru. Gru looks up to the Vicious 6; who are your kids' heroes? Gru tries to get a job; have your kids ever applied for a job and how did it go? Gru finds a mentor by the end of the movie; what adults act as mentors for your children? Kevin, Stuart, Bob, and Otto make plenty of mistakes in the movie, but things always turn out okay in the end; how do your kids feel when they make mistakes? The Minions also try to learn a new sport; how does that go for them and has your child ever had an experience like that?
For more about the movie, drop by the website or follow the Minions on Facebook, Twitter and Instagram. There's also fun extras on the website, like a Minions drawing tutorial and some behind-the-scenes glimpses.
Enter to win a digital copy of Minions: The Rise of Gru by using the Rafflecopter form below. Canadian winners may receive a DVD copy of the movie and US winners may receive a digital copy of the moive. Good luck!
This giveaway open to residents of Canada and the US over the age of 18 except where prohibited by law. The Koala Mom is not responsible for the prize.