The nursery is slowly coming together, and you're now thinking about the walls. They pull the room together and can determine how spacious and inviting a room appears. Get crafty and dive into the different ways to decorate the nursery without painting.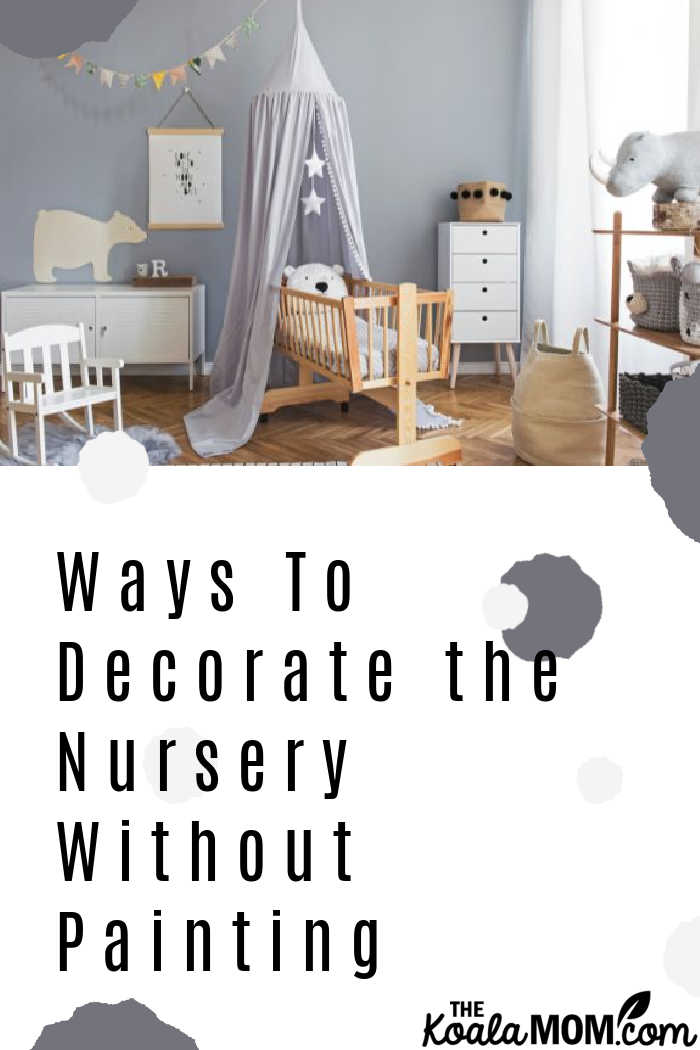 Decorate with Colorful Furniture
Furniture is essential, but if the room lacks color, try opting for furniture within your nursery's color palette. Find a crib, dresser, and other baby equipment to match the color palette of your baby's bedroom.
Add a Cute Mobile
Getting a mobile might not seem like a super impactful touch, but it does add something: style. Mobiles come in many themes and colors. If your baby's room's preppy, you can look for mobiles with pink and white pom-poms and other attractive embellishments that descend from them.
Add in More Variety with Tapestry
A tapestry is a long sheet with a design. The styles vary—some have quotes, while others feature pictures of animals and scenery. You can even capture the sensation of swimming with fish with a colorful sea animal tapestry. There's a lot of space on most walls, so don't be afraid to use a wall hanging.
When Sunshine was a baby, I used a few of her extra baby blankets as tapestries on her wall because we rented and couldn't paint. She'd been given several beautiful, quilted blankets that really brought some colour to her room. If you have a vintage quilt from your childhood, this can be a cute way to use it without worrying about it getting torn or stained from use.
One bonus to hanging a tapestry or quilt on the wall is that it will help absorb sound in the room, making the space calmer and quieter for you and baby.
Embrace the White Walls
Sometimes, all you can do is hug the white walls with beautiful accents, such as a beige wicker footstool and off-white chair. These two pieces add charm and character to a room with bare white walls. Add more pieces to create a fun room.
Try Out Wallpaper
If you don't like paint, try out peel-and-stick wallpaper. Wallpaper can create great accent walls, and you'll want to do nothing more than to continue decorating. There are many wallpaper styles to pick from, and they age gracefully.
Some wallpaper designs to consider for the nursery include:
Stars and the moon
A basic solid color
Watercolor wildlife
Paisley prints
Polka dots
Hang Up a Shelf
If you don't need or want to paint the nursery walls, you can add a shelf! There are many ways to use creative shelving on the walls. Shelves can display baby mementoes and nicknacks and also be used to store baby items. When you're experimenting with different ways to maximize nursery storage space, you can start with the walls.
Shelving is fun, as you can place them just about anywhere. For instance, you could create the illusion of a ladder or stairs by placing one slightly off-center relative to the one below it. This may not only improve organizing but make the room feel more energetic.
Creating a nursery takes time, but you have all the ideas in the world to get your decorating spirit inspired. Draw out your plans and include different ways to decorate the nursery without painting. You'll be in awe at what you create for the bedroom.