What mother doesn't want her nursery to be perfect for the new little bundle of joy she will bring home? Picking colors, furniture, and other decorations is fun but can be a little time-consuming. When it comes to redecorating your nursery, changing the color of the walls can make significant difference as it takes a considerable chunk of visual real estate in the room. Instead of spending time repainting the whole room, you can add more fun and texture to your room by adding peel and stick wallpaper.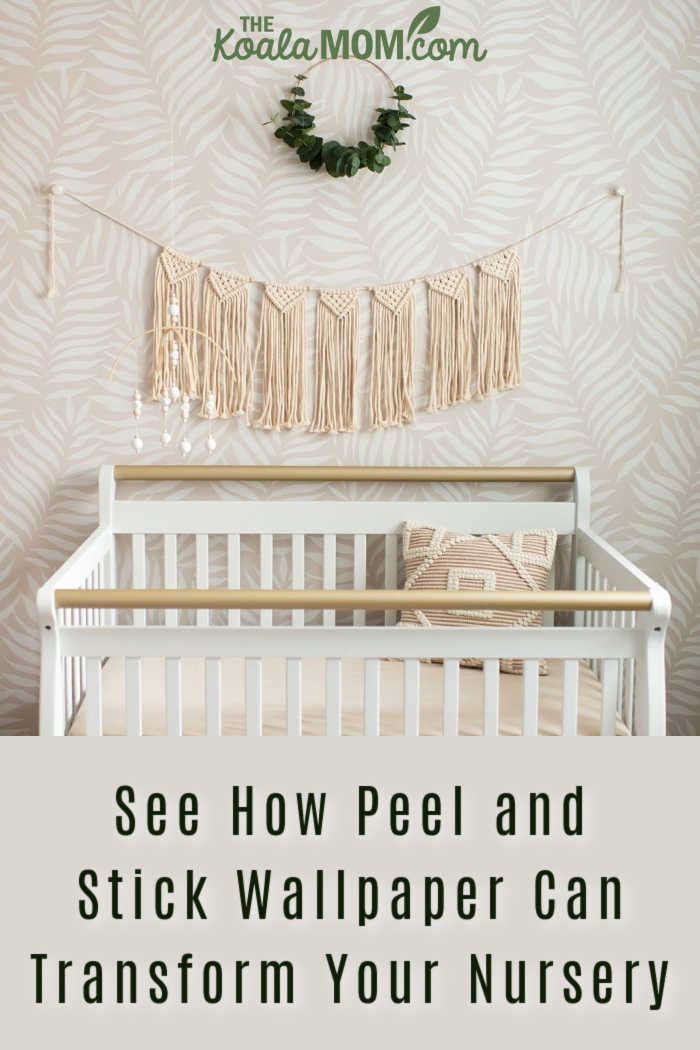 Why Use Peel and Stick Wallpaper?
Now, before you say wallpaper is for your grandma's house and is an absolute nightmare to install and remove, you need to hear me out.
There is a new style of wallpaper called peel and stick wallpaper that comes in super cute trendy designs and is entirely removable. It works a lot like a sticker but won't leave any sticky residue. When you are ready for a change, you can peel it off the wall, and it will come off without removing your paint. So it is entirely safe for parents renting or living in apartments. You get all of the plus sides of painting but with no mess and fuss.
Now that we have that out of the way, let's get down to the fun part, which is talking about how to transform your baby's nursery into a work of art.
Let Your Colors Do The Talking
If you are only looking for a color change, you can do that with peel and stick wallpaper by selecting a straightforward pattern such as a stripe, or an ombre, or even a solid color. These options will allow you to change the color of the wall without drawing too much attention to it. It will still give you a noticeable change but will allow you to keep using other accents in the room, such as a crib, light fixture, or other pieces of furniture to be a stand-out piece in the room instead of the wall.
Let Your Design Do The Talking
Now, if you are looking for a statement wall, wallpaper can help you do that. You can do this by choosing a busy pattern or a combination of pattern and color to grab attention. For example, using contrasting colors will help your design stand out and will help make it a focal point in the room.
One of the things I've loved embracing with all of my babies is preparing their little nurseries for their arrivals. Whether it's been an actual, good-sized room or a safe haven of a nook in our teeny hallway, I've enjoyed creating a space that's just for them. I like to take the time to make special little things by hand for my little girls, and to make sure that they have everything that they (and I) need. One of the biggest things I've realized after nesting for three? Less is more. Really! When it comes to nursery prep, you really don't need as many things as you may think for you and baby to be happy and comfortable! ~ Christina, the DIY Mommy
Let Your Theme Do The Talking
Maybe my favorite way to use peel and stick wallpaper is to use it to set my theme. If I want a safari-themed bedroom, I can use wallpaper with zebras and elephants. If I am looking for an under the sea vibe, I can do that with a nautical-themed wallpaper. With so many different designs out there, you can find a wallpaper to bring in just about any theme in a big way.
No matter what you decide to do, peel and stick wallpaper for a nursery is a great addition to help make your nursery just as cute and the new addition to the room. So if you are even thinking of redecorating your home, take a look at peel and stick wallpaper to see if it might be a fit for your upcoming project.
Have you ever tried using peel and stick wallpaper? Where did you put it?