Shopping for new clothes can be a difficult experience. This can be especially complicated for parents with children, as there are many factors to consider. However, if you know certain tips and strategies on how to approach your shopping experience, you can make it easier and more efficient, allowing you to get what you need in a simpler fashion.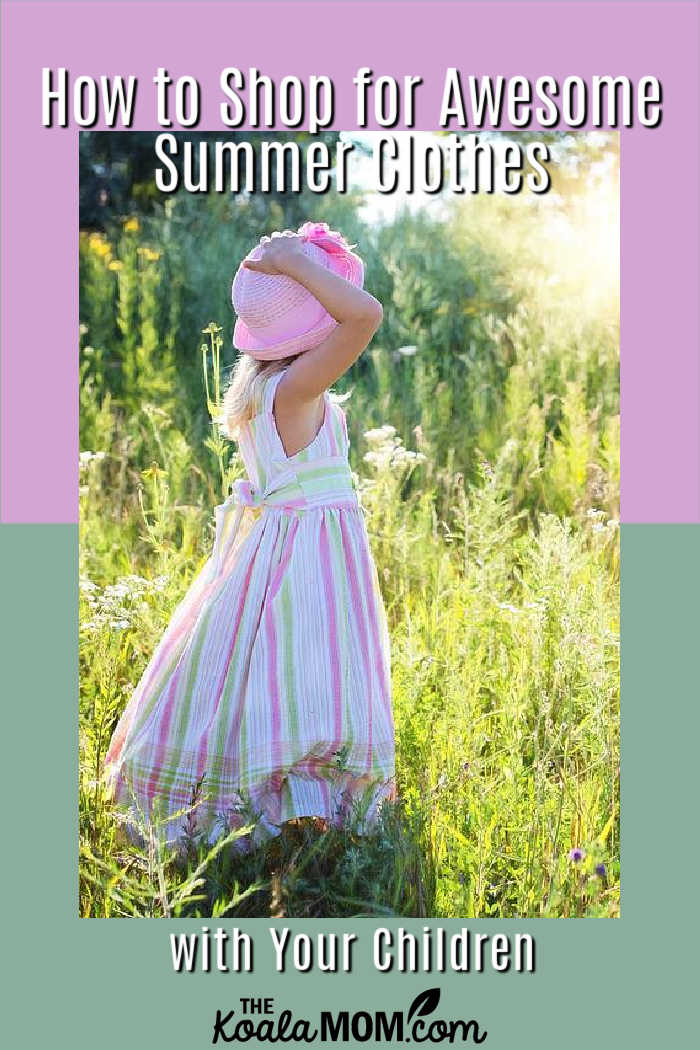 Involve Your Kids
As a parent, you might always want to take control. However, when shopping for their clothes, this is an opportunity to provide them some autonomy and choice. Ask them what they like, as they will surely have a voice when it comes to their clothes. Each of my daughters has her own personal sense of style and comfort when it comes to her clothing. While I do have some boundaries around modesty and price, I try to let them express themselves in what they wear.
Shopping for the Activities
When it comes to summer clothes, one aspect you need to consider is the type of activities your kids will be doing during the hotter seasons. This is important because it will help you in choosing the type of clothes you need, which can range from beachwear to activewear to casual comfortable clothing. Having an idea of what you and your kids will be doing over the summer will help you shop for the types of clothes you need to add to your closet.
It's a good idea at the change of each season to assess what clothing your child has in their closet already. Have them try their clothing on to ensure it fits and put aside any clothing that no longer fits (either their size or their style). Then make a list of what they need for the summer. I like the idea of capsule wardrobes and find such lists helpful when assessing my kids' clothing needs.
Shop after the Season
Saving money as a parent is important. You can achieve this by shopping in advance and thinking ahead of time. There will be times in the year when items are heavily discounted. If it is seasonal apparel like kids swimwear or activewear, think about picking something up that might have dropped in price after the season and for the next year. If you are worried about sizing, shop for larger sizes, as your kids will inevitably grow into all types of clothing at an early stage.
Buy Different Sizes
Everyone understands just how picky kids can be. One tip to consider to help save you some time and money is that if you shop with your child, and they find something they like in terms of clothing, consider buying those items in progressively increasing sizes. This will give you allowance when it comes to your kids growing up and not having to worry about clothes being too small in the subsequent years.
Additionally, when shopping, also look out for anything that has elastic that makes the clothing flexible. These will also provide adjustable sizing options without paying extra.
Shopping Online
You don't have to limit yourself to traditional in-store shopping. As a parent, it is understandable how much time is a commodity that can sometimes be rare. Buying online can save you the trouble of having to bring your kids to a mall or store, especially if they are being uncooperative. Although it can be difficult for sizing reasons, free returns and exchanges offered by many stores help to offset this concern.
Shopping online can also be a great option if you have a favourite store you shop at. For example, we frequently shop at George (by Walmart) as I know their clothing fits my kids. It's easy to look inside their current leggings or shirts to see what size they are wearing. Then we can go online to pick out new clothing they may need and order it, without having to drag younger siblings to the store with us.
Shopping for your kids can be tough, but it doesn't have to be. Understanding their preferences and what they need are a few helpful steps you can take and apply to your shopping trips. Such information is beneficial to have and will make preparation for shopping a much easier time and endeavor.