There are many ways to turn your entryway from drab to fab. And since the entryway is the first place your guests see in your home, why not try to make it welcoming and memorable? Of course, you can't do it at the snap of your fingers, but you can make the entryway appear better with these ideas. Here's how to make some needed changes.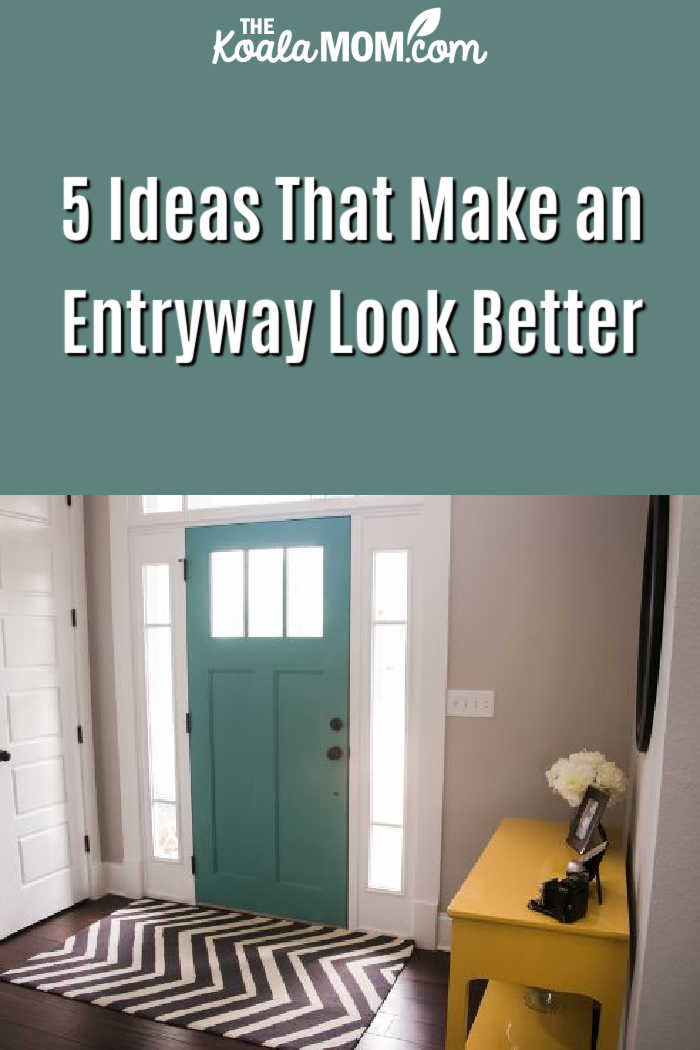 This post contains affiliate links; as an Amazon associate, I earn from qualifying purchases.
Add a Pop of Color
Color is necessary for a livelier space and represents your design style. You don't need to go with a neutral tone—do what you want and stick with it! However, ensure you follow the number one rule: scaling. Scaling takes practice but mixing colors with decorations can achieve the best effect.
First, find the color that draws you, and then find decorations. Try avoiding going all out with style—you want an even tone balance. For example, hot pink walls can look great, but having large artwork plastered throughout creates bulky barriers.
If you do choose hot pink, try hanging a wall mirror above a gold table along with antique brown candle holders on either side of the mirror. The colours complement and balance each other for a trendy effect.
The gigantic 36″ wide mirror above the cabinets is my favourite piece here! It's such a lovely scale for this wall, and it's also practical for checking makeup and hair as we rush out the door. ~ Christina, DIY Mommy
Don't Leave the Space Feeling Empty
If the room feels bare, add more. Make the entryway serve a purpose, such as having a bench with shoe storage. This gives you a place to sit while putting on your shoes before heading out the door.
Add an umbrella holder, a shelf for your purse or the kids' bags, or more seating to make the area appear fuller, and it will become a valuable asset for the family and guests.
Add in Custom Built Furniture
If your space needs a little bit more, add custom-built furniture. A custom-built item is perfect for an extra room to sit in and read a good book. You can decorate the space more with fun pillows, a few pictures, and a side table.
Enhance the Doorway with Glass Panels
You can't go wrong with ample glass panels adorning the sides of the doors. Find the most fitting window style to complement your doorway and bring in more natural light. Glass panels make a space feel a little bigger and more enjoyable to be in during the day.
Get creative and add antique items to make the space feel natural. Natural wood items make the room feel cleaner and more sustainable.
Don't Forget the Statement Rug
You don't need a mirror for the statement; use a rug. A statement rug adds a touch of personality and delivers a grand first impression to visitors. Whether it's near the staircase or the front porch, a stunning rug creates flawless equilibrium in a room.
Don't miss out on decorating your entryway to help it stand out and look better. These ideas will inspire you to create something different the next time you need to renovate. Find your style and demonstrate it through your entryway.
What little things have helped improve your entryway?