Water sports are a great way to enjoy nature and get physically fit. The best part about them is that, other than buying equipment, they are completely free to practice. You don't need permits, licenses, or permission to access rivers. Another great thing about water sports is that they can be enjoyed nearly everywhere. Even if you live very far inland, there will be rivers or lakes nearby. Water sports aren't just fun at home, they can also be a lot of fun when on vacation.
Here are some tips for buying water sports equipment to take along with you on your vacation.
Transportation Considerations
The first thing that you need to think about is transportation. How are you going to get your water sports equipment to your holiday destination? Do you need a trailer or special roof racks for your vehicle to transport your kayak or stand-up paddle board? Can you load and unload your canoe solo or will you need someone to help?
If you are going to be taking a plane and or have a small vehicle, then your best option is to invest in inflatables, which can be deflated and stored in your suitcase. Inflatable water sports equipment, such as an inflatable kayak, are also a great option if you have limited storage space in your home. As they are smaller, inflatables are also usually easier to handle if you are vacationing or paddling by yourself.
Which Sport?
You also need to think about sport. What specifically do you want to get involved in? Kayaking is a very popular water sport, but so too is surfing. Stand-up paddle boarding is easy to do as a single person, while canoeing may be fun if you have a partner who wants to paddle with you. The difficulty with surfing is that you need to be close to a beach with good waves to do it. Stand-up paddle boarding is best in calmer bodies of water. Kayaking and canoeing can be done on any body of water, from lakes to the ocean and even rivers.
Look at Your Budget
Your budget is also something that needs to be thought about. How much can you afford to spend on water sports equipment? Some equipment can be very expensive. By far the cheapest (and most reliable) water sports equipment is usually inflatable. If you are on an extreme budget, then you may want to consider financing your equipment. Most retailers give you the opportunity to pay for your equipment in monthly installments.
Don't forget that, as part of your water sports equipment, you'll also need safety gear such as a life jacket.
New or Used?
Do you want to buy the equipment new or second-hand? If you only plan to enjoy water sports when you are on vacation, you may want to rent when you arrive at your destination. If you plan to kayak or surf regularly near your home, then buying your equipment is likely a better idea. Starting with used equipment can be a budget-friendly way to try the sport and find out if you enjoy it; you can always upgrade to better equipment later. Before you purchase anything second-hand, make sure that you thoroughly inspect it and test it out.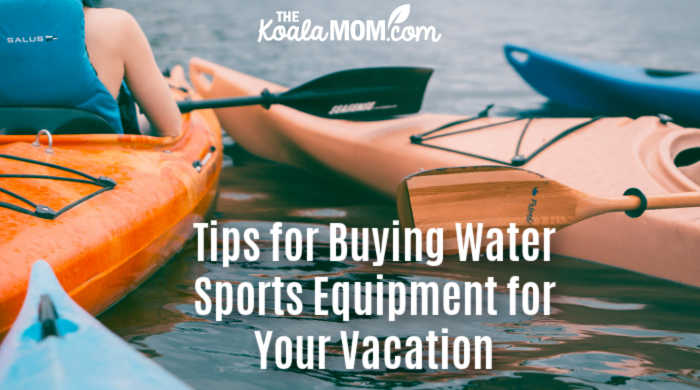 Get Recommendations
If you have any friends that are into water sports, then it might be a good idea to ask them for their recommendations regarding the equipment that you need to take with you. You may also be able to try out the sport using their gear to see if you enjoy it. If you do not have much experience in water sports and you don't ask for advice, then you are bound to miss or forget something. If you do not have any friends that are into water sports, then there are lots of forums dedicated to them online that you can use. You can also read reviews online for any equipment you are considering, to see what other users have said.
Get a Warranty
If you are buying new water sports equipment, then it is very important to make sure your products are covered by a warranty. If the products you have purchased break down or fail to properly do the task that they are advertised as doing, then you can claim your money back or get an exchange (as long as you have a warranty). Warranties are a legal requirement in many places, so you shouldn't have an issue getting one. If you aren't sure whether or not a product you are interested in buying comes with a warranty, then contact the retailer and make inquiries.
Construction Materials
The materials that your equipment is made from need to be factored into your buying decision. Ideally, you should buy equipment that's made from hardy and durable materials. Durable materials shouldn't be hard to find, especially if you are buying brand new products. If you are buying an inflatable product, then make sure that the rubber is extremely tough. Again, read reviews to see what other users have said about durability and long-term wear.
Prepare for Your Trip
Make sure you prepare ahead of time for any paddling excursion, even a short jaunt to your local lake. If you are planning to do some water sports while on vacation, make sure that you take weather, geography, and restrictions into consideration. You should also factor in the season. If it's monsoon season where you are going, then kayaking may not be possible. Additionally, factor in local wildlife. Kayaking down a river that abounds with crocodiles or alligators probably isn't the best idea if you don't know how to handle them or react around them.
Do You Need a License?
Finally, do you need a license to perform water sports in the place that you are going? While it's very unusual for you to need a license, it does happen. If you don't do your research and just turn up somewhere that has a license requirement, then you could get turned away. This could completely ruin your trip. Water sports licenses, when required, usually don't cost a lot of money and are easy to find. Make sure that you also research the legality of performing water sports in the locations that you want to go to. It could turn out that the location you want to go to is private property, and you cannot therefore go.
Water sports are a lot of fun, but first, you need to buy the right equipment. Hopefully these tips will help you find the right equipment and have fun on the water!