Ready to party like it's spring? Awesome! Whether you're looking to throw a big bash or keep things small and intimate, we've got you covered. In this blog post, we'll give you some tips on how to plan the perfect spring party.
People of the world! It is time to come out of hibernation and celebrate the arrival of spring! And what better way to celebrate spring than throwing a party? Here are our top tips for your party planning success.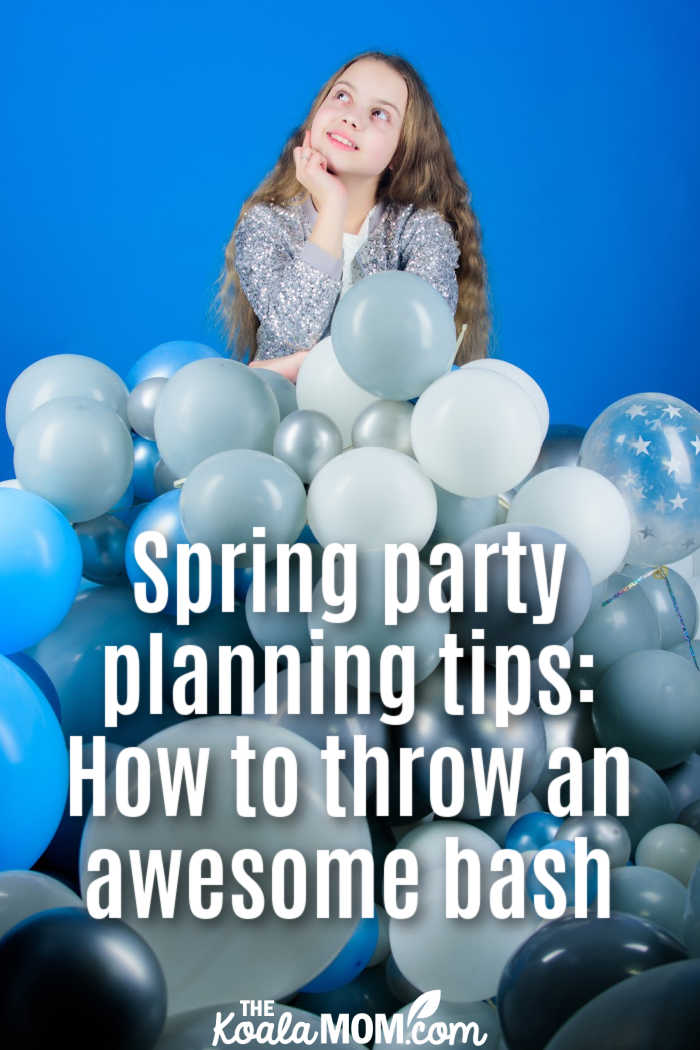 Finalize Your Guest List
One of the most important things to consider when throwing a party is your guest list. Who do you want to invite? Family? Friends? Neighbors? Once you've decided who you want to invite, make sure you send out the invitations in plenty of time so that your guests can save the date.
If you want to get to know your neighbours better, some communities have budgets to support block parties. You could also your city or community about this as it could be an awesome way to get the neighborhood together now that the weather is nicer and the pandemic is past. When I was a child, one of our neighbours threw an annual block party and it was always great fun.
Having a concrete guest list will help you arrange whatever you need without wasting resources. Also, it's better to have too many people RSVP than not enough. That way, you can be sure your party will be a success!
Budget for the Party
Now that you know how many people will be attending your party, you can start to budget for food, drinks, decorations, and any other party essentials. It's important to remember that costs can add up quickly, so it's always best to err on the side of caution when it comes to your budget.
One of the best ways to save money when throwing a party is to DIY as much as possible. Get creative with your decorations and see what you can make yourself. You'd be surprised at how many things you can do with a little imagination and some elbow grease.
When it comes to food, try to stick to simple, affordable dishes that will please a crowd. Finger foods are always a good option, and you can never go wrong with pizza or tacos. Just make sure you have enough to feed everyone! Another budget-friendly party option is to potluck—invite your guests to bring their favourite party dish or snack.
Plan the Menu
No party is complete without food and drinks! When planning your menu, make sure to consider any dietary restrictions or allergies that your guests may have. If you haven't asked about dietary concerns on your RSVP, try to plan a variety of foods—a few vegan snacks, a few gluten-free desserts, etc—so your guests have options.
You'll also want to consider what type of food will best fit the theme and atmosphere of your party. For instance, if you're throwing a pirate-themed party, you might want to serve up some rum and seafood. Or if you're having a pool party, you might want to have light snacks and refreshments on hand to keep your guests cool and hydrated. Whatever you do, make sure there's plenty of food and drink. No one likes being hangry at a party, now do they?
Choose a Fun Theme
Speaking of themes, having a party without a theme is like having a cake without frosting, and it's just not as fun! Choosing a party theme will help you narrow down your decoration and menu choices, making planning the whole event more manageable. Plus, your guests will love getting into the spirit of things by dressing up and being festive.
Some popular spring party themes include Easter, May Day, Cinco de Mayo, and Earth Day. But really, the sky's the limit when it comes to party themes! Get creative and have fun with it.
Get Your Decor Game Strong
Once you've finalized your guest list, budget, and menu, it's time to start thinking about decorations. If you're stuck on ideas, look at Pinterest or Google for inspiration. You can ask your friends and family for help. Kids are often happy to help with this part of the party, especially if they enjoy doing crafts. Also, give yourself plenty of time to get everything together.
Some essential spring party decorations include flowers, balloons, streamers, and confetti. But really, anything goes when it comes to decorating for a spring bash. Just have fun with it and let your imagination run wild!
Don't Forget the Music
No party is complete without music! Make a playlist of all your favorite spring songs to get your guests in the mood to celebrate. You can also hire a DJ or band to perform at your party if you want to really go all out.
Just make sure you have enough speakers and that they're loud enough to be heard over the chatter and laughter of your guests. No one wants to strain to hear the music! Nor should it be so loud that it's overwhelming.
You can also set up a karaoke machine if you want your guests to be entertained and interactive. Just make sure you have enough microphones for everyone who wants to sing!
Some Parting Words
Now that you've figured out all the logistics, it's time to start inviting people to your party! The sooner you send out invitations, the better. This will give your guests plenty of time to clear their schedules and make arrangements to attend.
There are a few different ways you can go about sending invitations, but the most convenient is to use these spring flyers to craft heartwarming invitation e-cards and send them to your guests. Remember to include all the essential details like the date, time, location, and theme of the party.
What spring party planning tips would you share? What's your favourite type of party to throw?