Among the politics, plans and religious problems of European history, there are a few notable stories of deep and true love. One of these stories is that of Henrietta Maria, a daughter of France, and Charles I, king of England. In My Queen, My Love: a Novel of Henrietta Maria, author Elena Maria Vidal brings this historic couple alive for the modern readers, drawing us into this tale of intrigue and romance.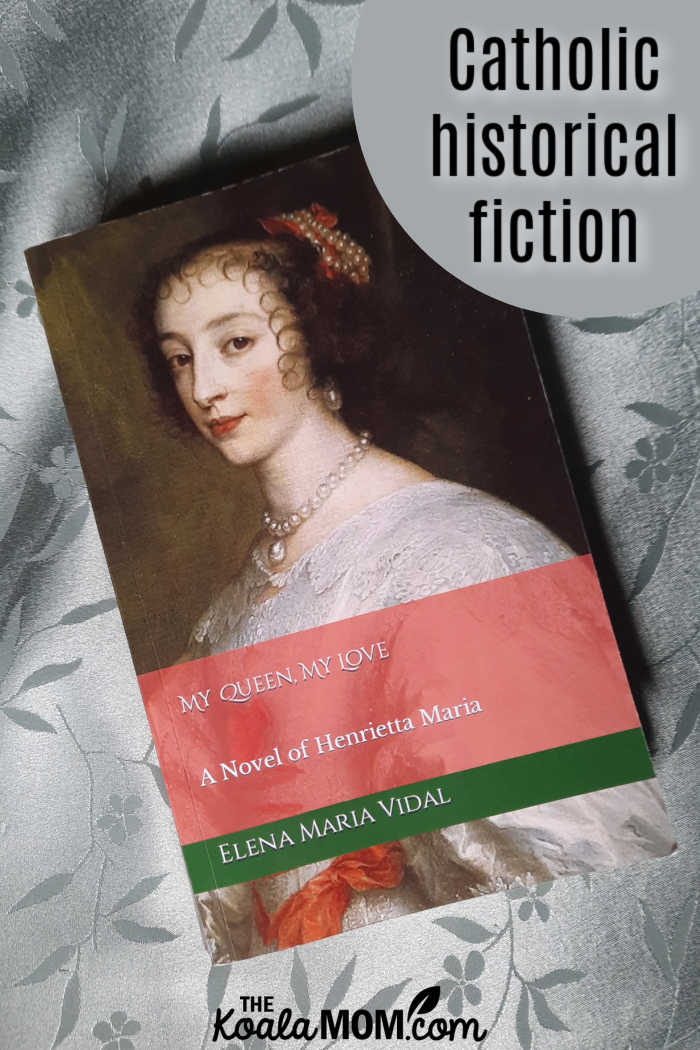 I received this book for review courtesy of the author; all opinions expressed are my own. This post contains affiliate links; as an Amazon associate, I earn from qualifying purchases.
My Queen, My Love plot synopsis
Henrietta Maria is the youngest daughter of King Henri IV of France and Marie de Medici. She is raised in splendor and wealth in France, although not without hardship, for her father dies when she is a baby and her mother is exiled when she is a girl. At the age of 13, she catches the eye of the visiting King Charles I of England, who is looking for a wife—a politically advantageous wife. Two years of negotiations (and letters) follow before Henrietta and Charles are married.
Fifteen-year-old Henrietta then sails for England to meet her husband, accompanied by a massive party of French courtiers. In England, she settles into her palace—nowhere near as grand and pretty as those she left in France—and attempts to adjust to married life. However, her deep religious devotion ostracizes her from her husband and the people of England, who are deeply suspicious of anything Catholic. Henrietta must also compete with her husband's best friend, Buckingham, for his attention; an outgoing, pushy man, Buckingham despises his new queen and makes plans to invade France.
When Buckingham is assassinated by an angry, unpaid soldier, Charles turns to his wife for comfort. Slowly, they grow to love each other. Henrietta builds a beautiful chapel in her palace and works slowly but gently to bring Catholics back into the English court. Her desire to become a mother is finally fulfilled, and she and Charles have nine children together.
My thoughts on this novel
Vidal does an excellent job of showing Henrietta as a young woman, raised in a devoutly Catholic household, aware of the politics around her, yet dreaming (like any girl today) of true love with a handsome prince. Part 1 (three-quarters of the novel) focuses on her wedding, her arrival in England, and her first few years there. She is a likeable girl who makes understandable mistakes in her efforts to adjust to a new life in a new country.
Part 2 of My Queen, My Love passed more quickly, as huge years of her life are skipped over. Suddenly she's the mom of many children, building a chapel in her palace, and worrying about being unable to teach her faith to her children. I wanted to see more of the deep dive into her daily life, the slow growth of love between her and Charles, and her excitement over her first pregnancy after so many years of trying to have a child.
I liked Charles much less than I liked Henrietta. It was hard, at times, to see why she adored him and was attracted to him. A few of Vidal's depiction of how he treated her made him seem abusive and controlling. At one point, he removes her entire French household from her, sending them home to France like discarded dolls; he is often cold and bossy towards her. It was easy to see how their differences early in their marriage kept them apart, but I wanted to see more of how they came together after that and really became friends and lovers.
Towards the end of Part 1, Henrietta attempts to consult a woman known as a prophetess about when she'll have a baby. When Charles discovers this, he is angry and draws Henrietta away. A brief conversation here highlights the disparity of their ages (he's a decade older), yet their equality as a man and a woman of faith (despite the differences in how they practice their faith), and their ability to discuss a difficult topic together. (I would have liked more scenes like this!) Charles tells Henrietta,
We live by faith. We both believe that. When one has faith and trust in God, it is not necessary or even preferable that one knows what the future holds. We commit ourselves to God's hands and to His Holy Will. The grace He gives us is for the present, not for the future. We rely on His help for the future when it comes.
My Queen, My Love is the first book in a trilogy about Queen Henrietta Maria of England. While it ends on a high note, with Charles and Maria in love with each other and growing their family, I know that turmoil is coming, and can't wait to read the next two novels.
Overall, Vidal writes an excellent, engaging novel that made me want to know more about Henrietta and this time period in history.
Henrietta is very likable. She is determined but hard-working. I rooted for her to have a happy ending, but I know that in history, she will not. ~ History from a Woman's Perspective
More about the Author
Elena Maria Vidal grew up in Maryland, reading so many books that her mother limited how much time she had to read. As a teen, she began writing short stories and novels. She holds a BA in Psychology and an MA in Modern European History. In 1986, she joined the Secular Order of Our Lady of Mt. Carmel. She has worked as a teacher and tutor. During a trip to Austria in 1995 she visited the tomb of Empress Maria Theresa in the Capuchin crypt in Vienna. She is the author of numerous historical fiction books, including Trianon about Marie Antoinette and King Louis XVI.
You can find out more about Vidal by visiting her website. Her books are available on Amazon.