Editing your travel films is considerably more difficult than editing regular films. In travel videos, viewers want to see every detail of the locations shown in the video in a way that's both visually appealing and informative.
People are more likely to go to new areas if they see them well. So if you're a travel blogger who uses video content on your social media pages or YouTube channel, you'll need to think about what your audience wants from your films. On the other hand, YouTubers often fail to provide long-lasting material for their audience.
Travel videos abound on the internet. However, how many of them compel you to go on your journey? If you find the majority of them tedious, consider how much work is required to make your vacation videos worthwhile.
This article will show you how to edit vacation videos like a pro.
No, it's not difficult. Your kids can do it too.
It's important to keep your audience engaged in your vacation films, so they don't become bored and fail to gain inspiration from what you present. Using these seven tips, you may edit your travel videos to perfection.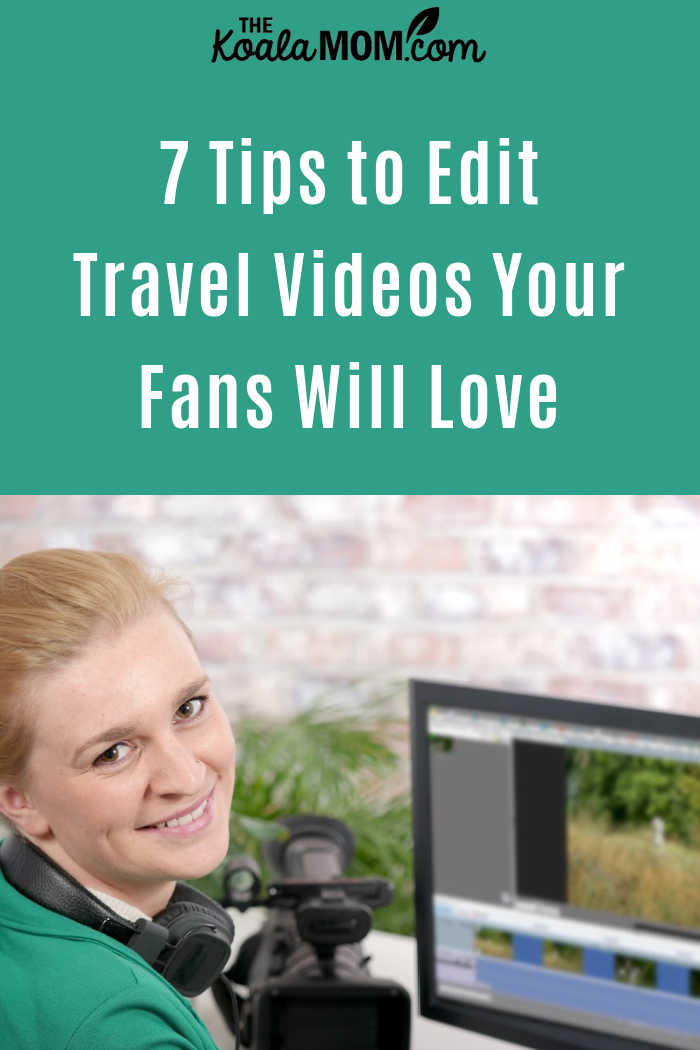 1. Capture the Best Images
Shooting your videos occurs first, then editing. For vacation movies, it's essential to capture clear images. The first step is to make sure you have a high-quality camera (or a smartphone with a refined camera). Make all of the recording-related preparations ahead of time to save time.
It's unnecessary to spend a lot of money on a high-quality camera to get amazing videos; you may even use your phone. Just make sure that it creates clear images. In addition, shoot as many photographs as you can. The more photos you have, the more options you have for editing and putting together a final product.
Consider the perspectives, formats, and styling that will improve the attractiveness of your footage; after all, your vacation film should be engaging. Look at other trip videos online for inspiration on formats and styles before making your own.
2. Choose the Right Video Editor
Anyone who has produced a video understands the value of having a high-quality video editor on hand like Kizoa. Editing is a critical step after recording, as you now need to put together all your footage and photos into an interesting, appealing video. The right video editor will make editing your video easier for you and also create a professional-looking product.
Look for a video editor based on user reviews to make the best decision. While free video editing programs are available, you may get better value from paying for a program that offers more effects and options or is more user-friendly (especially if you are just starting out).
Adding extra audio, visual, and animation effects to your film is a snap when you have a video editor at your disposal. In addition, many adjustable themes are available in the online video editors, so you don't have to spend time brainstorming new ideas.
3. Organizing Your Travel Videos
It's important to filter and cut material before you begin editing your films. If you've never edited before, this might be a frightening experience since you have no idea what material to include or remove.
I like to put all my photos and video footage in a file folder, and then view them one at a time on my computer. Seeing them on my large screen gives me a better chance to determine which are in focus and which are blurry (and should be deleted). I can also name the files so that they appear in the order that I want them once I start editing the video.
Selecting photos and videos with the finest angle viewpoint is the best strategy for cutting and organizing. Your video should be crystal-clear. Because of this, it is best to keep things simple. Look for the videos that really focus on your subject and aren't too busy or distracting.
In addition, make sure your video isn't too long since no one loves to watch exhausting stuff. Think of a sequence or flow that will keep viewers engaged throughout your film. Likely, the traditional folk dance you watched can be captured in 20 or 30 seconds of video rather than boring the viewer with the entire 5 minute dance.
There are a wide variety of video trimmers and editors out there. However, if you want the work done quickly, you'll need a video trimmer that's simple to use and comes with excellent customer support.
4. What's Your Storyline?
Creating a compelling tale is the key to a great video. To create a video that people would want to see again and again, you must have both a creative attitude and professionalism. What story or message do you want to convey through your video?
Even though crafting a narrative for a vacation movie might be challenging, it's easy if you spend some time chatting to locals and gathering fascinating information about the location. Then, by doing web research, you may verify that the data you've acquired is accurate.
Travelling to a country with little in the way of history or culture might be an opportunity to highlight its lifestyle and natural resources. The next step is to look for a common thread across all of the clips to create a compelling narrative that will keep viewers interested.
5. Effects of Transition
How would it feel to see a sudden change in a travel video? Maybe you abruptly move from the beach to the hotel with no transition or explanation. The viewer may feel jarred or uncertain about where they are now.
Video editors can help you get the most out of your video by providing seamless transitions. Video editors have a wide variety of transition effects that may be used to transition between scenes effectively. These also add a more professional quality to your videos.
To give your vacation videos a more dynamic feel, you may use motion blur and shifting effects without sacrificing quality or graphics.
6. Effects of Audio
One way to make your vacation film more visually appealing is to use eye-catching effects. The video's aura will be completely transformed if you add precise audio effects.
For example, if you're making vintage or old-school films, you may want to include an appropriate sound effect. Music plays a significant role in keeping the spectators interested. It's a key component in conveying your material flow to your audience.
The quality of your movie improves when you include music and other audio effects. Overuse of audio effects, on the other hand, is not recommended. For example, a song or soundtrack might be added to some sections while leaving others unadorned. Adding too much music to your video may also detract from your work and make it appear bloated and unwieldy.
The internet has many free video producers that contain uplifting music, such as old, calming, etc. You may choose any suitable alternative based on the quality of the music resources.
7. Visual Effects and Animation
Finally, if you want to spice up your movie, consider using visuals and animations. Using the correct visuals and animations, you can convey information about a location. For example, you may use motion or visuals to draw attention to a fact about the destination. With this in mind, try around with animations and visuals while making your vacation films.
Start Shooting and Editing Today!
Travel video editing might be scary since it requires a wide range of abilities and a keen eye for the most important details. But if you have the right tools, nothing can stop you from making exceptional videos.
Check out some of my vacation videos: