Digital videos have made a huge impact on our day-to-day lives. Online video hosting websites like Vimeo, Youtube, and Metacafe have audiences numbering in the millions. Many of us turn to online videos regularly for either entertainment or how-tos. With the ever-increasing popularity of digital videos, it's important to extend this platform and integrate it with the education system.
Students all over the world are using educational videos for daily learning. They are equipping themselves with everything from basic skills like changing a bulb to the latest dance moves. Millennials make up as much as 92 per cent of the audience on digital video websites. With the help of digital videos, teaching abstract topics that were difficult to explain in the past can be taught easily.
According to studies, the use of short video clips makes difficult topics easier to process and recall for students. The videos' auditory and visual nature boosts its appeal and allows all students to process the information easily and naturally. The use of videos in learning and teaching is beneficial for students, teachers, and institutions. They also help break down the barriers that stood between students, teachers, and institutions in the past.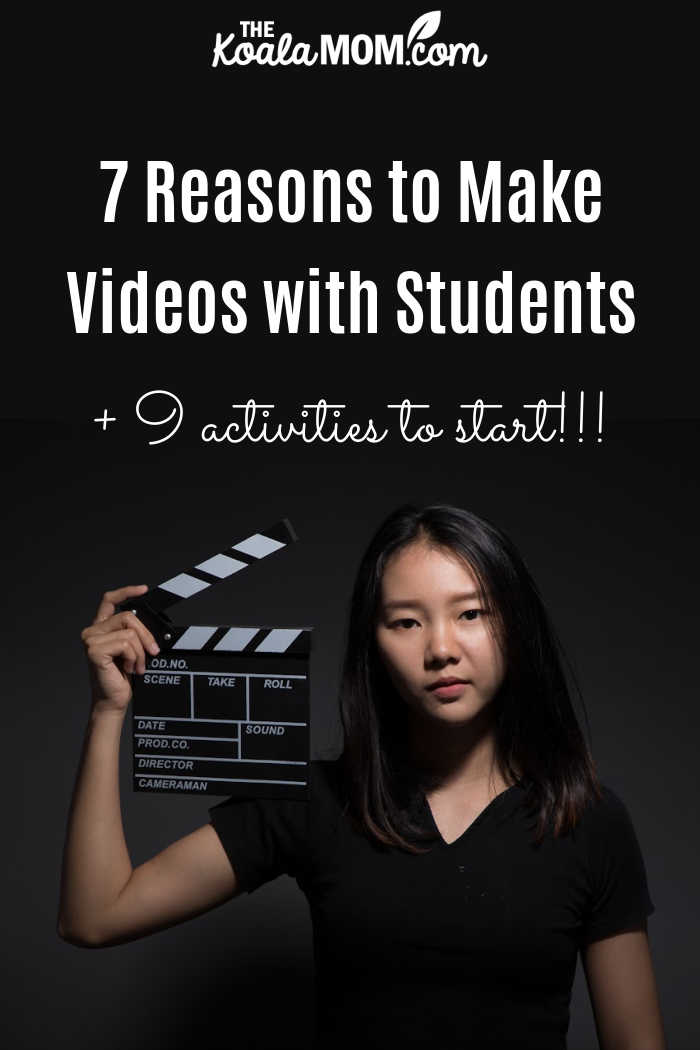 Why make videos with your students?
There are various reasons you should encourage your students to make videos:
Videos have become an important means of communication. As remote learning is gaining popularity, video-based platforms can make it easier for students to communicate confidently and gain skills such as language proficiency.
Videos are great for developing non-verbal communication and enhancing one's body language. Students can see and learn how confident speakers use their bodies, expressions, and gestures to communicate effectively. Making videos will give them a chance to practice and develop these skills.
Even with a small group of students, it can be difficult for the teacher to give individual focus and time to each one. With video recordings, the teacher can watch and listen closely to their use of language and communication and provide them personalised help as they require.
Getting students to record themselves regularly and storing their recordings digitally will help both the teachers and students to monitor the progress over time.
Creating and editing video clips can be an extremely interesting and creative skill for students to learn and practice. Encourage students to use a simple video editor available online to create and edit their videos. My 14-year-old recently did this for a class project and my 11-year-old has been trying to make cat videos.
Helping students create and edit videos is an excellent way to develop digital literacy skills. This skill and knowledge will prove extremely valuable for them in the future.
A collection of video clips from students over time can work as an enlightening tool for linguistic research. It can be used to develop a corpus of communication and language to get insight into the linguistic capabilities of the students and the challenges they face.
Interesting Activities to Encourage Students to Create Videos
A variety of video creation activities can be offered to students that they can do with their webcam or phones. Here are some of the best ideas:
Poems: Ask your students to choose a poem and record versions of it. Ask them to memorize the poem instead of reading from the book. They may even be able to find a video of the poem on YouTube and use it as inspiration. It is a great way for students to learn to speak with expressions. It will also help teachers to diagnose pronunciation issues and help correct them. (Our parish did this over Christmas during the pandemic, as a way for the children to still connect and share the holiday spirit.)
Anecdotes / Jokes: Anecdotes and jokes are great for practicing social interaction. Having social skills of delivering jokes and the right use of English can be quite helpful for students in the future. Ask them to record a short clip of themselves telling a joke, and watching it back will help them develop performance skills and improve on it.
Sales Pitch: Ask your students to choose any household product and record a sales pitch for it. They can show the product on the camera, describe its features, talk about its benefits, and sell it to the viewer. This activity will help the students to talk to the camera like it is an actual person and work with visual prompts.
News Report: Ask your students to read the newspaper and create a video news report for the same. The students can work in groups and play different roles like a live reporter, anchor, bystander, and much more.
Video Vocabulary: Students can come up with their video dictionary. Whenever they learn a word that is new to them, they can create a short clip including the word, an image, its meaning and use it in a sentence. The student can later use these clips to revise their vocabulary. Students can also be asked to share their clips and help others develop their vocabulary.
Video Dictation: Record yourself reading out a paragraph and share it with your students. You can ask them to write down whatever you said in the video and record their version of it. It will help them develop listening and reading skills.
Show and Tell: Ask your students to choose any object that is important to them. Ask them to record a short video clip describing the object and telling others about its importance.
Movie Monologues: Ask your students to create a video recording of their favourite monologue of a scene from a movie of their choice. Students can easily find movie clips and scripts of scenes online and work on their versions. This will help them develop their listening, reading, and speaking skills, as well as help them develop expression and body language.
Learning Diary: Encourage your students to create their learning diary using videos. They can create clips about what they are learning each day, the challenges they face, and how motivated they were while learning. Learning journals are great for consolidating learning and reflecting on what they learn from the lessons.
Digital videos are extremely popular among kids and adolescents these days. So why let them use videos just for watching cartoons and movies. Please take advantage of the popularity of videos and digital content and use it to develop exciting and useful skills in students of all ages.Have your children tried making movies? Do you think they'd enjoy being in front of the camera or putting together their own movie?