Physical activeness is crucial to our overall well-being, especially for our young ones. It improves their physical health and sharpens their cognition and emotional well-being. Children under six years need to stay active throughout the day, while teens need about 60 minutes of physical exertion in a day.
A fantastic way to keep them moving is by creating workout spaces that would motivate them to enjoy an active lifestyle. You need to carve out an exercise area that lets them view exercise as something to enjoy and not an obligation. Here are great ways to make exercise interesting for yourself and your young ones.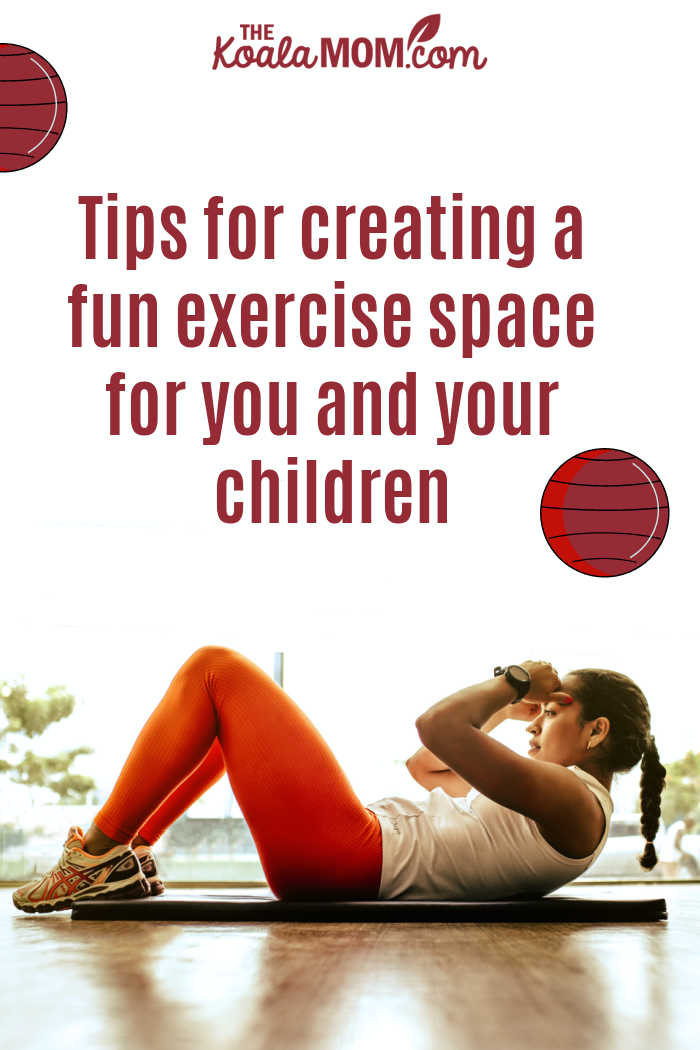 This post contains affiliate links; as an Amazon associate, I earn from qualifying purchases.
Playful Indoor Gym
As much as your kids need an outdoor playground, they should have an indoor space that keeps them active during the cold season. Make the home gym kid-friendly and colorful. Let your kids be part of the designing process to create a space that expresses their desires.
Use colors to lure them into the home gym. Mixing rich and exciting colors in the gym will enhance your kids' imagination and make them comfortable working out with you.
Install some gym equipment that you can customize to suit your kid's interests and age. You can add colorful kid-sized and adult-sized bench presses, treadmills, dumbbells, or exercise bikes. Paint sporty murals on the wall. Don't attempt to set up any gym equipment by yourself. Get a professional installer to ensure it's done right.
Exergaming is another option to get your child interested in exercising with you. For example, your child may have so much fun with their TekyGo! learning and gaming console that they won't even realize they are exercising and learning while playing games!
What about the Home Gym Flooring?
While setting up kid-friendly and age-appropriate gym equipment, don't forget the floor. The focus of creating a kid-friendly workout space should be balancing safety and fun. Besides, gym equipment needs a sturdy base. What's more, your kids will be running and jumping all over the space.
Think of installing rubber lock tiles instead of adding playground mats to the space. Go for colorful rubber lock tiles to make the gym visually appealing and fascinating for your kids. The rubber lock tile provides a fantastic cushion for your equipment and acts as a good shock absorber. This will help prevent dislocated joints and broken bones while having fun with your young ones. Besides, rubber lock tiles provide smooth seams that minimize trips and falls as you exercise with your kids.
Kid-Friendly Decor in the Exercise Room
Your children can also benefit from a clutter-free and calming space. Whether you live in a small or a massive house, you can create a dedicated exercise space for you and your children. You can use a quiet corner, an unused space near the window, or a less functional room. Declutter the space. Remove any art or item that doesn't have a purpose or exude calmness. If the space is in a dark area, use lighting to create a calmer and softer space. Be intentional when accessorizing the space. Add calming kid props to make it fun for the kids.
DIY a Climbing Wall
You kids will definitely enjoy having an indoor rock climbing wall at home. You don't need high ceilings to give your kids the ultimate rock climbing experience. Take advantage of both the vertical and horizontal spaces to test your young ones' ingenuity, coordination, and physical endurance. Set up different rock climbing levels to challenge the whole family. Don't forget to make the space colorful.
Lastly, Dance Your Way to Fitness
If your kids enjoy dancing, turn dancing into a workout session. Set up a kid-inspired dance room or space in your home. You need clear space, stable flooring, full-length mirrors, and a good sound system. The dance room will give your and your kids the freedom to dance, move and "hoop" yourselves to fitness. Apart from keeping your kids fit, the dance room will strengthen your bond as a family and boost their confidence.
Making fitness a fun activity will encourage your kids to stay physically active while indoors. What's more, investing in kid-friendly workout spaces will strengthen your family's bond. It will also boost their confidence, keep them mentally fit, and occupied while at home.
Photo by Jonathan Borba on Unsplash.