Choosing the right school for your child can be an overwhelming decision. I know it's probably something I overthink, as I try to decide whether each of my children should be homeschooled or attend one of our local schools and if so, which one. If you're also trying to figure out the best school for your child, here are some things to consider which may help you narrow your options to the right one.
Education is the greatest gift any parent can bestow on their child. Getting the best education is also a fundamental right that every child deserves. With that in mind, finding a suitable school for your child is a crucial decision that can directly influence their future.
Schools provide children with a platform for the growth and nurturing of skills. These institutions are packed with all the necessary resources, such as books and flexible seating chairs for classroom, that are necessary for a comfortable learning environment. Schools also offer children an opportunity to make friends and participate in other opportunities, such as sports, choirs and bands, field trips, and more.
But how do you choose the best school for your child?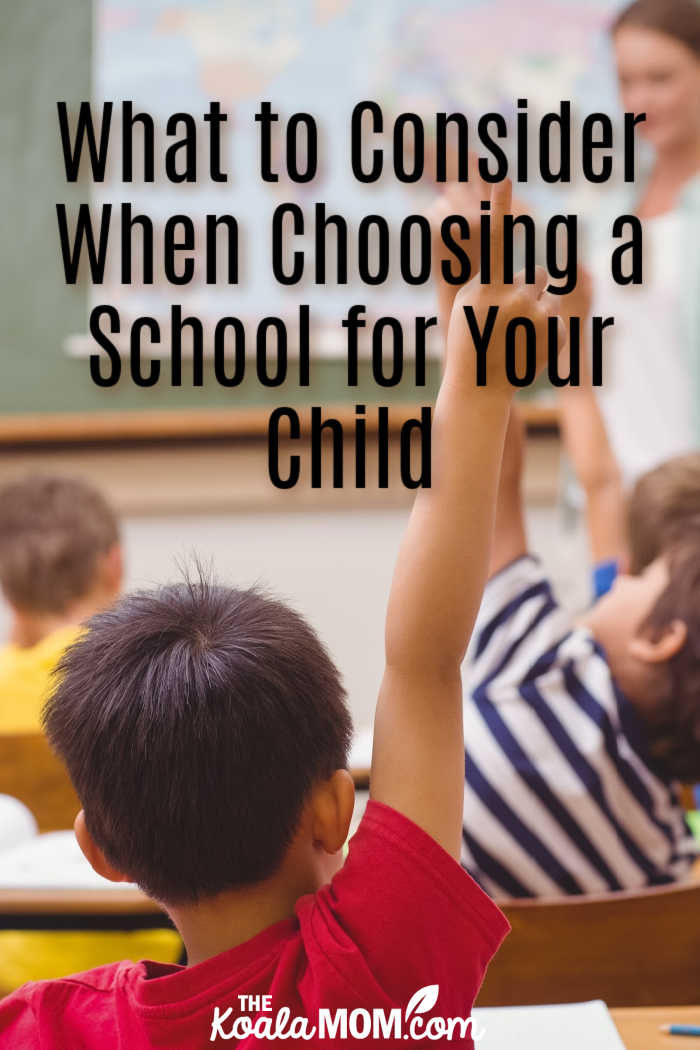 Consider the School Culture
The first thing you need to consider when choosing a school for your kid is the school culture. A strong culture can impact the values and norms of any organization—and institutions such as schools are not exempt from this. Having a strong school culture influences the dedication of teachers and students towards excellent performance.
Apart from driving performances, a healthy school culture will encourage teachers to expand their knowledge base to impact learning in a variety of ways. Such an approach to learning ensures school not only focuses on improving educational performances but also nurtures extracurricular activities. So, before your kid starts school somewhere, make sure the institution's culture suits the future you envision.
Take time to explore the school's website and social media channels. How does the school describe itself and its vision for education and students? What do past students say about the school? If you can, connect with other parents to learn about their perspective on the school. I was happy to know that several of my friends gave positive reviews of the school I was considering for my oldest daughter, which helped assure me that it was the right place for her.
Consider Your Child's Interests and Needs
My first consideration when thinking about schools for my children is their personalities. My oldest daughter (who start attending a local school this year) has always been a social butterfly who loves to sing. While she was doing okay at homeschooling, I could see areas where school would help her to thrive more. And as I can't carry a tune in a bucket, singing was definitely not something that I could help her pursue. The excellent choir program as her current school was a huge factor in choosing to allow her to attend there.
What are your child's passions and interests? Does he love sports or science? Does she like enjoy music or theatre? Do the schools in your area offer opportunities for your child to pursue these interests? Some schools are more science-oriented and others are more arts-oriented; one school may have a better sports program while another has a better music program. You'll want to choose the school that allows your child to thrive and reach their full potential, and not a school where they will feel left out or awkward because their talents aren't being fostered.
Look at Location
Another important thing you need to consider before choosing a school for your kid is the location. Commute matters. Unless you plan to send your kids to a boarding school, the commute distance and time are important factors to pay attention to before getting attached to a particular school.
Most urban learning institutions provide transportation for kids. Typically, the charges are included in the school fees or paid separately. If you do not have the means to get your kids to school and pick them up in the evening, it might be good to consider schools with transportation arrangements. Is your child old enough to catch public transit yourself? Can he or she carpool to and from school with another parent?
Whether you decide to use the school's transportation or use personal means to drop off and pick up kids from school, you need to choose an institution close to home. That ensures your kids do not have to sit on the car or bus for long hours, which can be detrimental to their mental and physical state when they attend their classes.
What about Safety and Security?
Apart from the commute distance, you need to consider choosing a school that can ensure your kid's safety and security. Depending on their age and level, children spend a considerable percentage of their day in school. For that reason, you need to ensure the environment you choose to send your kid to is a safe one.
A secure school environment offers learners an open platform, the kind they need to explore, learn and grow without any limits. Security threats in school can be external or internal. As a parent, you need to ensure the school you pick for your kid has taken measures to ensure they shield your kid from both these types of security and safety threats.
Type of School
The type of school is probably the first factor you should consider before you settle for a learning institution for your kid. As we already know, there are different types of schools, which can be categorized into two primary sub-categories:
Regular schools
Special needs schools
If your kid has any special needs, it might be good to consider taking them to a special needs school. There are many benefits of special needs education for children learning with disabilities. If you take your challenged kid to a regular school, they will miss out on the opportunity to get an exceptional education that is tailored to suit their unique needs.
Getting special needs education unlocks your kid's full potential and enables them to attain a high level of independence. So, before you settle on a school for your kid, ensure you consider the type of school that suits your kid's needs.
Conclusion
As a parent, choosing a suitable school for your child can be a challenging experience, especially with many options to comb through. Apart from that, there are plenty of factors to consider before you deem a school fit to nurture your child's future. There are many things you need to look at before you choose a school for your child.
However, the factors above are the top ones on the list. Follow these few guidelines to streamline the process of searching for a perfect school for your kid.
What factors influenced you in choosing the right school for your child?