Just because it's winter doesn't mean that your baby can't look good! Yes, it might take a little more thought to balance fashion with warmth, but it's totally doable with a little bit of planning. (Plus, what baby doesn't look absolutely adorable in a holiday sweater or tiny jacket?) Follow these eight tips to coordinate cute winter outfit ideas for your baby during the colder months.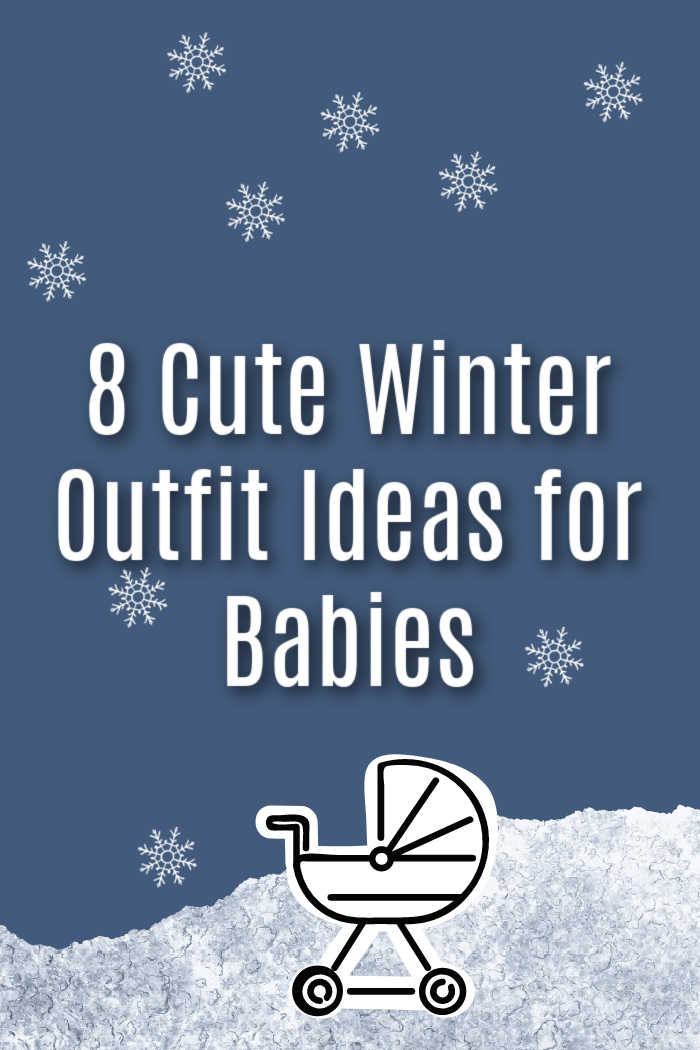 1. Layer on a sweater.
Sweaters are the quintessential cold-weather clothing (not to mention that babies look super cute in them). Sweaters are perfect for layering over other cute baby girl outfits on this list, including onesies, t-shirts, long sleeve shirts and dresses. Sweaters also make it super easy to follow the "plus one layer" rule — in the winter, babies usually need to wear one more layer than adults do. Any more than that and they might overheat, so put them in a sweater to keep them at the optimal temperature.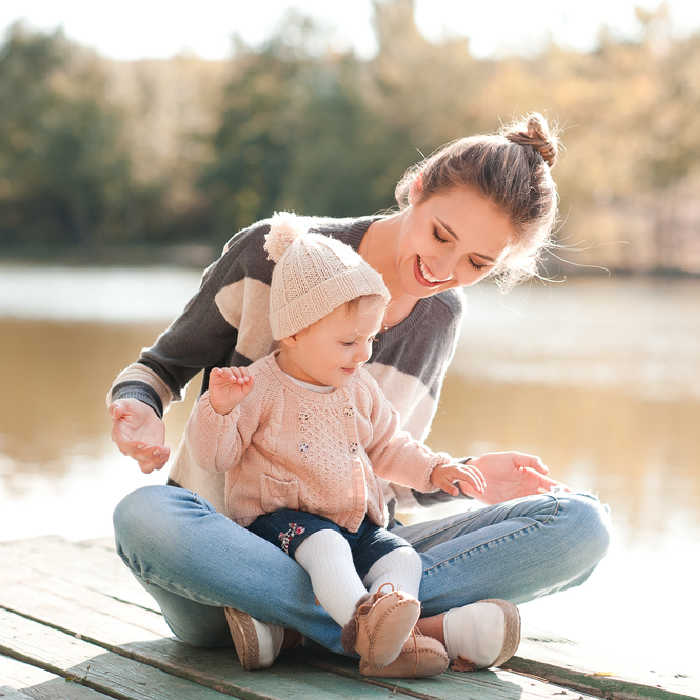 2. Choose a printed romper.
If you want to keep things simple — or live in a milder winter climate where your baby doesn't need as many layers — then you can't go wrong with a printed romper. Choose bright colors and fun patterns to spice up a drab winter day and add some interest to this classic baby uniform. If your child tends to wiggle out of their socks, then choose a romper with feet attached so you don't have to worry about them losing socks during the cold weather. Also, look for romper designs that have snaps along the legs or seat so that you can change your baby's diaper without completely undressing them.
3. Pair leggings with a shirt.
If you love the stretchy fabric of rompers but are looking for a two-piece outfit that looks more put together, then you might want to consider pairing leggings with a shirt. This combination allows you to choose whatever clothing is best suited to the weather: a long sleeve shirt on its own, a long sleeve shirt with a sweater, a short sleeve shirt with a sweater and so on. Unlike onesies, most leggings don't have attached feet so make sure that you are also putting socks on your child to prevent heat from escaping through their feet.
4. Get fancy in a dress or suit.
Wintertime often brings lots of family get-togethers, making it the perfect time to dress up your child. However, you don't have to sacrifice warmth for fashion when it comes to fancy baby girl and cute baby boy clothes. For instance, you can pair a dress with a cute sweater and leggings, or put a suit jacket over a onesie. Yes, you want your child to look adorable for all the photos, but make sure that you are always prioritizing their warmth and comfort first as well.
5. Don't forget cold-weather accessories.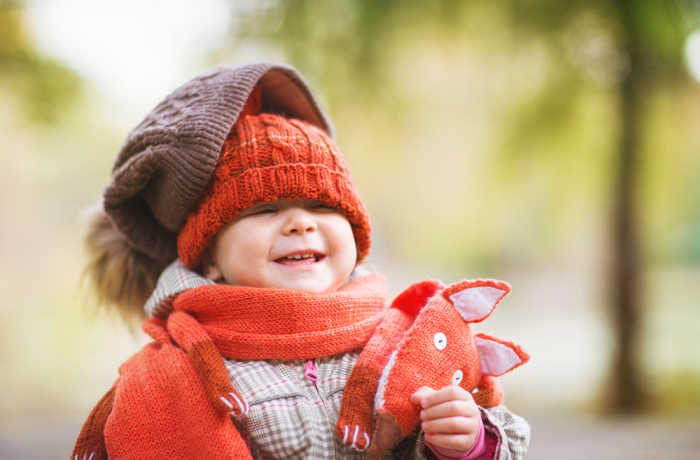 Not only are accessories super cute, but they can also play a vital role in keeping your child warm during the winter. Hats, scarves, mittens, socks, cute baby girl shoes and more will protect vulnerable skin from the wind and cold and make it easier to regulate their body temperature. Coordinate these accessories with their outfits to create a warm and functional yet fashionable look.
6. Opt for warm materials.
When selecting winter clothing for your baby, make sure to prioritize warm materials that will help trap body heat and keep them warm. Fleece and flannel are super cozy, and puffer jackets (either down or synthetic) will help trap their body heat. One material that you do need to be careful of is wool. While wool is excellent at keeping us warm, it can be itchy and irritating for sensitive skin — and a baby's skin is especially sensitive. If you are going to dress your child in wool, then you need to make sure that there is another layer of fabric between the wool and your child's skin to prevent potential irritation.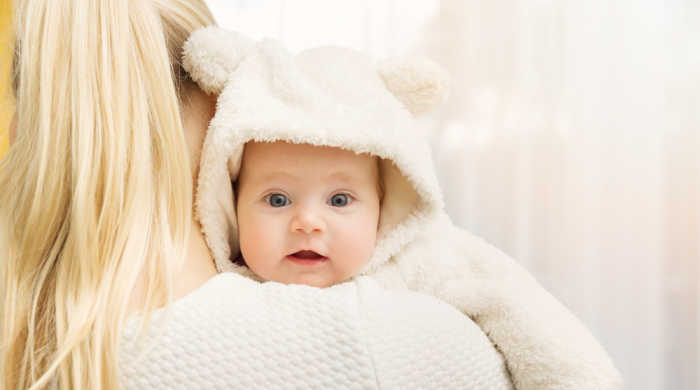 7. Select the right outerwear.
You should limit your baby's time outside to prevent exposure to the elements. However, sometimes taking your baby outside for short periods of time can't be helped. In these situations, make sure to cover your baby in the appropriate outerwear, including coats and insulated pants (there are even puffer onesies available). Other devices, such as stroller bags and shields or keeping baby close to you in a baby carrier, can provide even more protection from the elements and can help reduce their chances of getting windburn or frostbite.
8. Be safe in the car.
Winter coats are key for keeping your child warm in the winter, but did you know that they can actually pose a safety hazard while your child is riding in a car seat? That's right. Bulky coats require you to loosen the car seat belts in order to accommodate them, which leaves your child vulnerable in the event of an accident.
Here's how to see if your child's coat is too bulky: Put them in their car seat and tighten the webbing until there is no slack in it. Then, unbuckle the straps, remove the coat and rebuckle the straps. If the harness is still snug, then the coat is okay. If not, then the coat is too bulky. Instead, you can cover your baby with a blanket to keep them warm while in transit. Lindsay from Maman Loup's Den is a car seat tech who explains why coats don't go with car seats and what you can do instead.
Follow these tips to keep your baby warm yet fashionable this winter. You don't have to sacrifice cuteness for comfort with the right cold-weather outfits! Always bundle up before going outside and don't forget to check the car seat fit before going for a drive.
What are your favourite winter outfit ideas for babies?
Photo credit: Shutterstock.