Joey loves all things related to diggers—backhoes, skidsteers, dump trucks, tractors, fire trucks, you name it. He also loves tools, from tape measures to screw drivers and if it's electric and makes noises, even better. So when I saw the Construction Truck Take Apart Toy by Landzo Quincy, it was like his dream come true. All the digger things with tools to take them apart and assemble them again. This is one of his favourite toys (and his sisters like it too).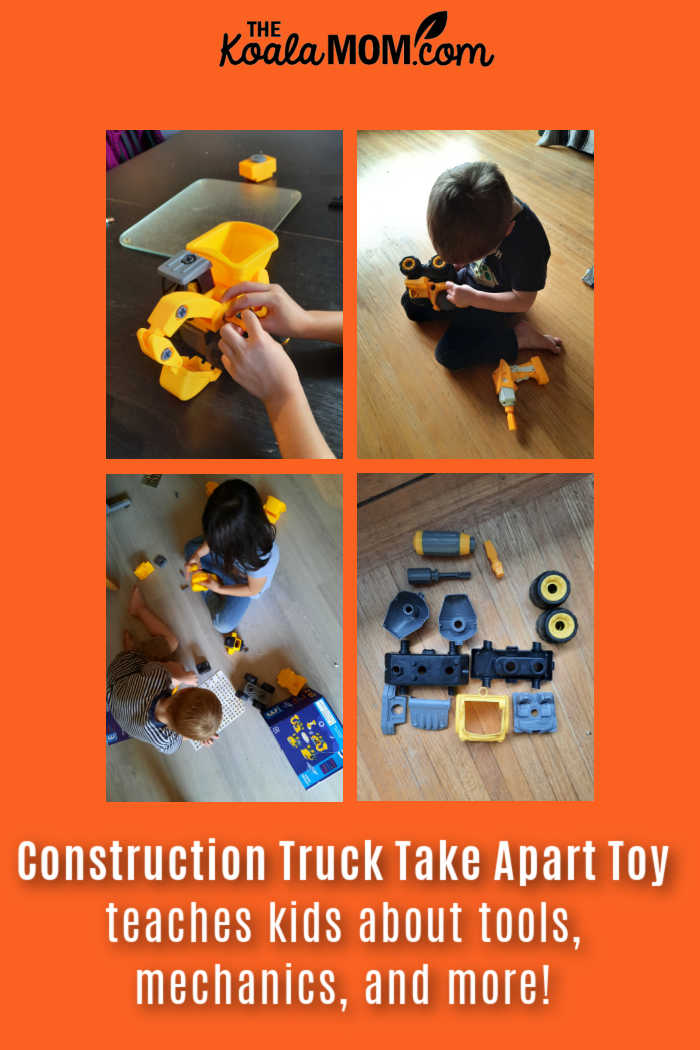 I received this construction truck set for review courtesy of the company; all opinions expressed remain my own. This post contains affiliate links; as an Amazon associate, I earn from qualifying purchases.
What is the Construction Truck Take Apart Toy?
The Construction Truck Take Apart Toy has four trucks in one, plus a little electric screwdriver that can convert to an engine and remote control for the trucks. Joey can take apart and reassemble the trucks / diggers in any way he wants, using either the battery-powered driver or the hand screwdrivers. And once he's built a truck he likes, he can use the remote control to steer it around the living room.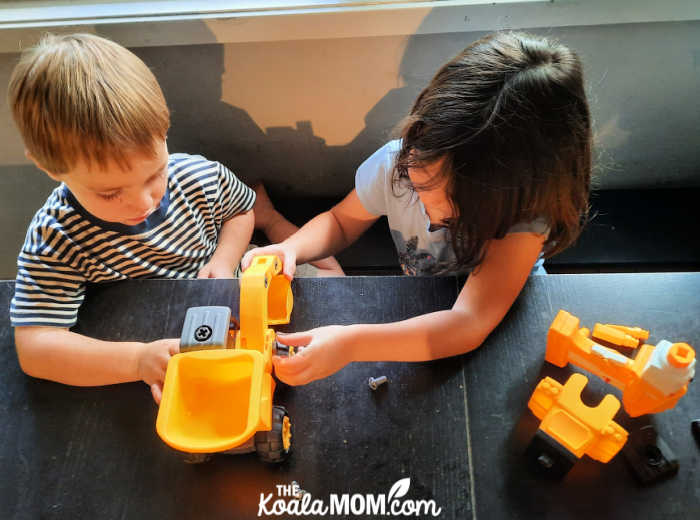 We got these construction toys just before Joey turned four. At first, while he loved playing with the trucks or diggers, he let his older sisters do most of the assembly and disassembly. They were better at fitting the screws or turning the screwdriver. I loved seeing them playing together to build the toys and talking about who was the driver and who was the mechanic.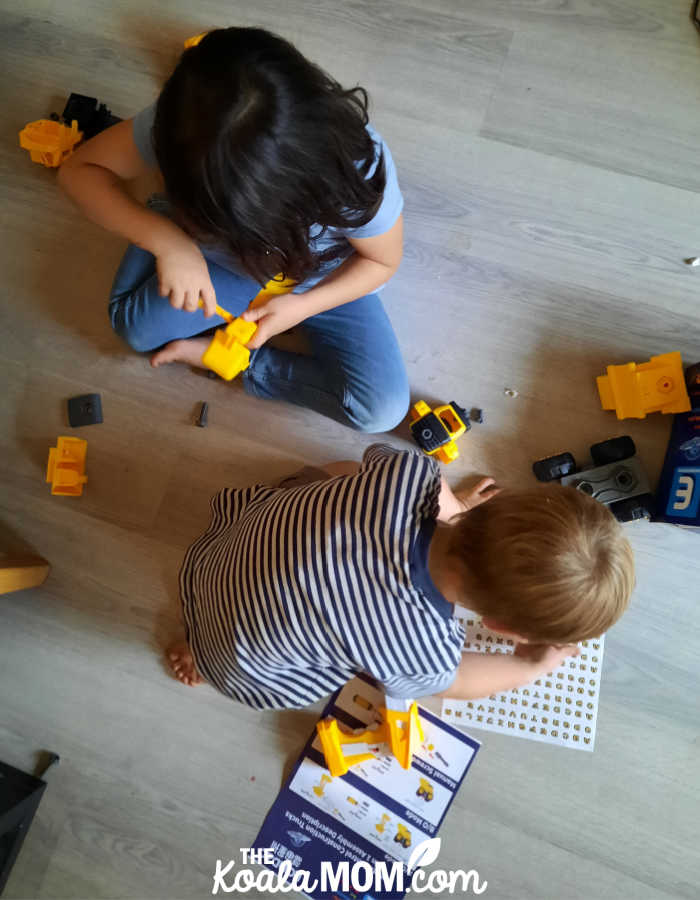 The Construction Truck Take Apart Toy came with stickers for the kids to decorate the construction machines with, but my kids haven't used those much. Joey isn't very interested in letters or numbers yet. I did like that the stickers were a sheet of letters, so kids can pick whatever they want to name their trucks. We could have put his name on the side of the dump truck or digger. Other kids may be more interested in this than Joey was.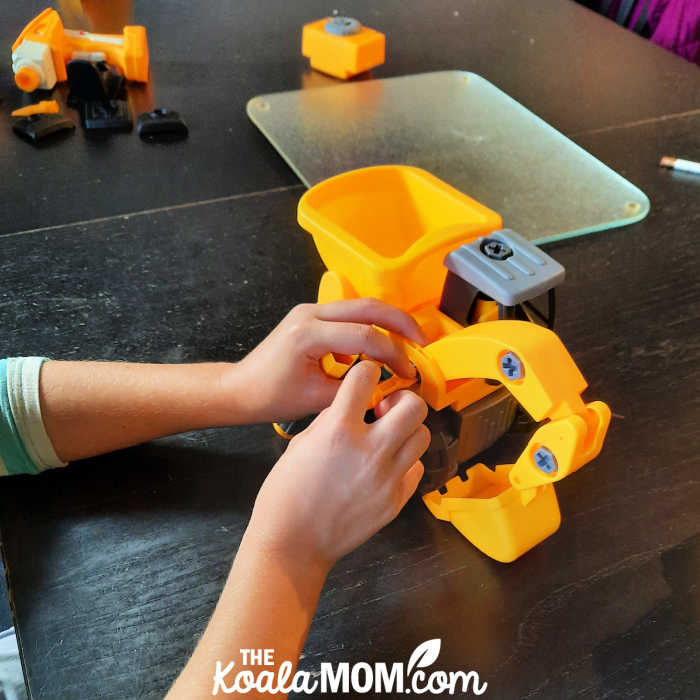 Batteries Required (or not)
When the construction toys first arrived, I didn't have batteries for the driver. It takes AA batteries and usually I buy these by the dozen, but right then I was out. Joey and his sisters played with the trucks for several days, just using the screw drivers and having fun with that. When I finally bought batteries and installed them in the drill, they were delighted! They quickly began switching between using the drill to drive the screws and using it to drive the truck or dump truck around.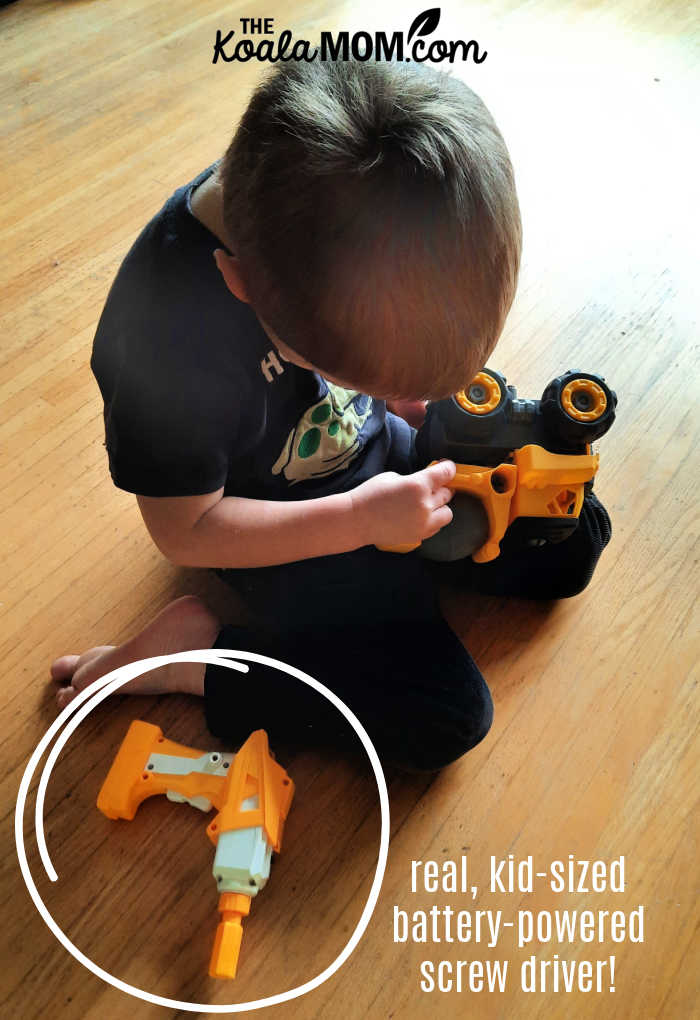 Real, Kid-sized Tools
Did I mention how much Joey likes tools? Whenever I get my tools down to fix something around the house, he wants to help, even if he's just holding it for me. He was delighted to have his own working driver that screws nuts and bolts and screws in just like Mommy's. He can change the bits on the driver and switch it from screwing in to screwing out. This driver also becomes the control for the remote control.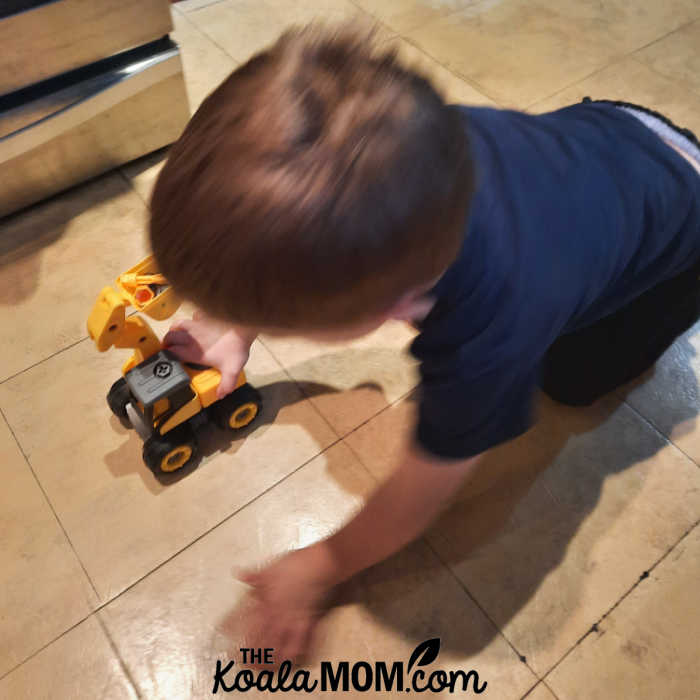 Now, I love seeing Joey pull out his bag of construction toys and begin to build them (or take them apart) by himself. He loves figuring things out, so taking things apart is just as much fun as putting them together for him. These construction toys rarely stay in once piece. In fact, when they arrived, I thought he could just switch the cabs around on the base. He's actually taken all the wheels off and really taken them completely apart!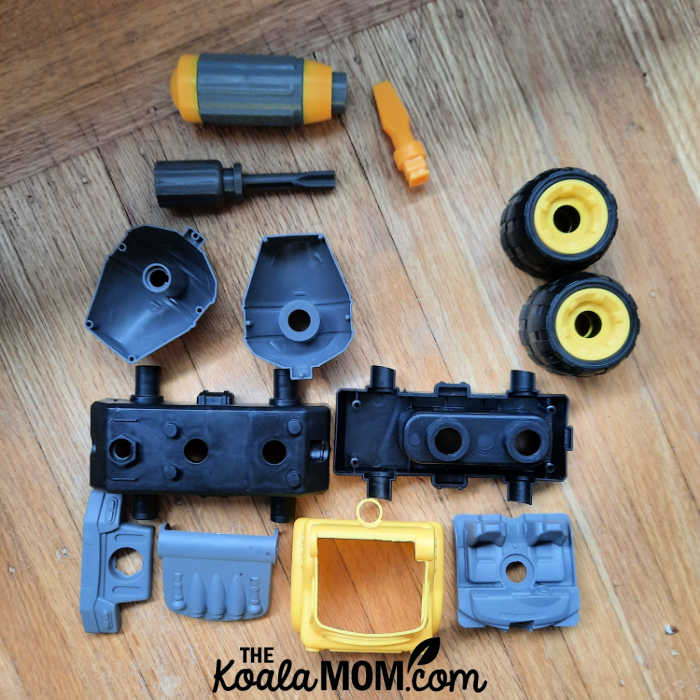 Learning Opportunities
Joey is a busy kid. He's on the go from the moment he rolls out of bed saying "Morning time!!!" until I read him three bedtime stories and sit beside him in the dark long enough that he falls asleep. I sometimes think he runs on the same batteries that his construction toys—except that they need recharging more often than he does.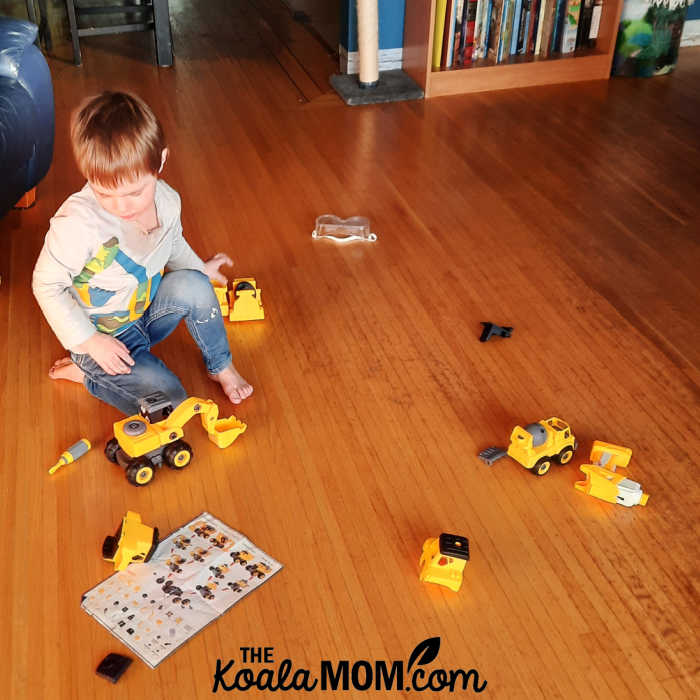 The Construction Truck Take Apart Toys have been one of few things that get him to sit and play quietly. It's been a huge help when I'm homeschooling his older sisters or trying to make dinner, to have him sitting on the floor reassembling his diggers instead of bouncing off the couch or finding other, less constructive ways to amuse himself.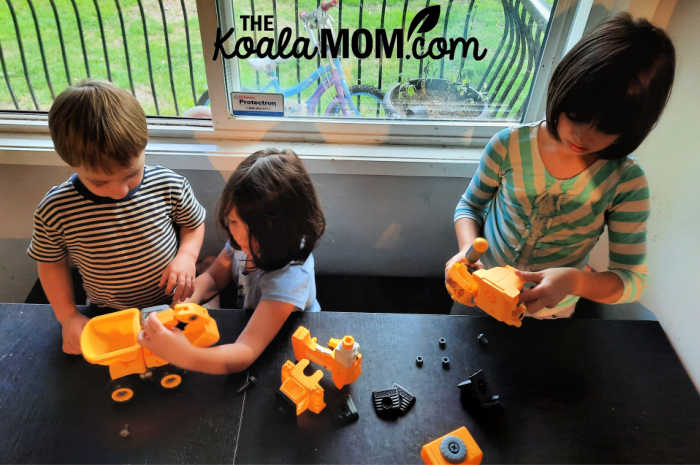 As a mom, I love seeing him have fun with these toys. I also love the learning opportunities built into these construction toys. Even in the few months that we've had this set, I've seen his fine motor skills improve. He no longer asks his sisters to take the toys apart or put them together; now he can do it on his own. He's learning how things go together and how to use screw drivers and screws.
Girls Like Diggers Too
If your daughters would be just as interested in playing with these toys as Pearl and Jade are, I recommend also checking out Phoebe and Digger. This adorable picture book is about a girl who gets a digger when her mom gets a new digger. Aside from being a well-told story about a girl who likes diggers, it also has some great lessons about bullying and emotions. We all really like it (and it goes along well with playing with your own diggers and construction toys!).
If you have a budding mechanic in your home, I highly recommend checking out the Construction Truck Take Apart Toy from Landzo Quincy. They are available on Amazon.
You may also want to check out Quincy the Robot, another awesome creative toy for kids from Landzo Quincy.