A woman's voice with an English accent says precisely, "Let's finish the head by adding some hair to our squirrel." In the silence that follows, I hear Pearl's pencil sliding across her page. Then she drops her pencil, presses a button, and with a beep the English voice resumes its instruction. Quincy the Robot Artist is busy giving art lessons, and my four-year-old is loving it.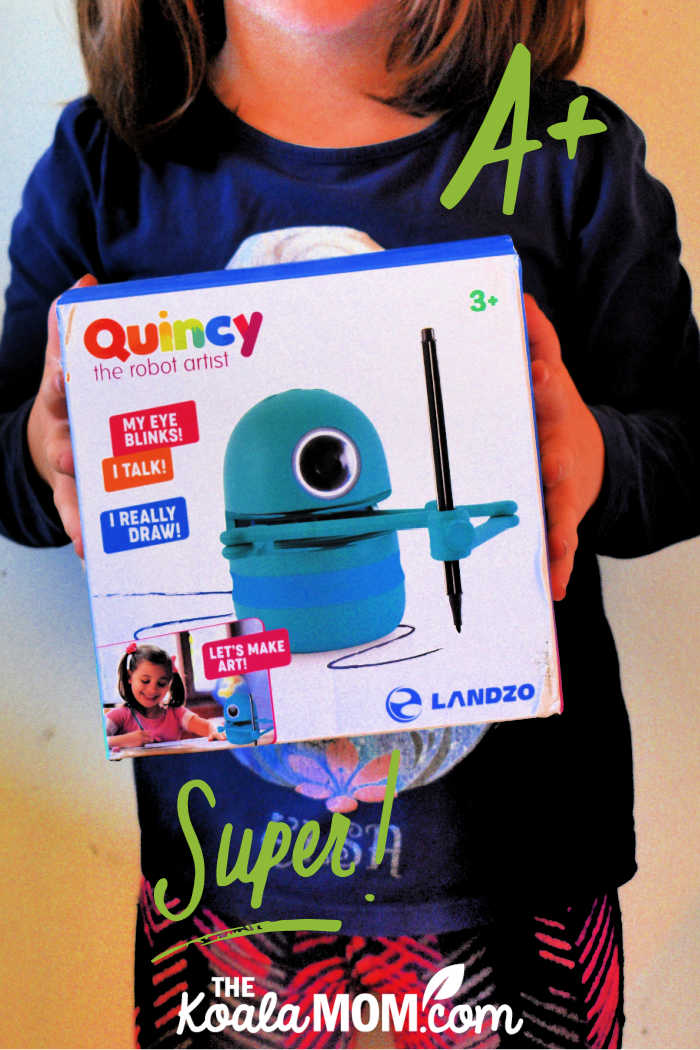 I received this product for review; all opinions expressed remain my own. This post contains affiliate links; as an Amazon associate, I earn from qualifying purchases.
Meet Quincy the Robot Artist
Quincy the Robot Artist is an adorable 6-inch-tall blue robot with one eye to read QR codes and two arms to hold a pen. She (in our house, the girls refer to Quincy as a "she" but your kids might prefer "him") comes with 64 cards with pictures, letters, numbers and games. Kids simply hold the card to Quincy's eye and then begin drawing—or adding or spelling.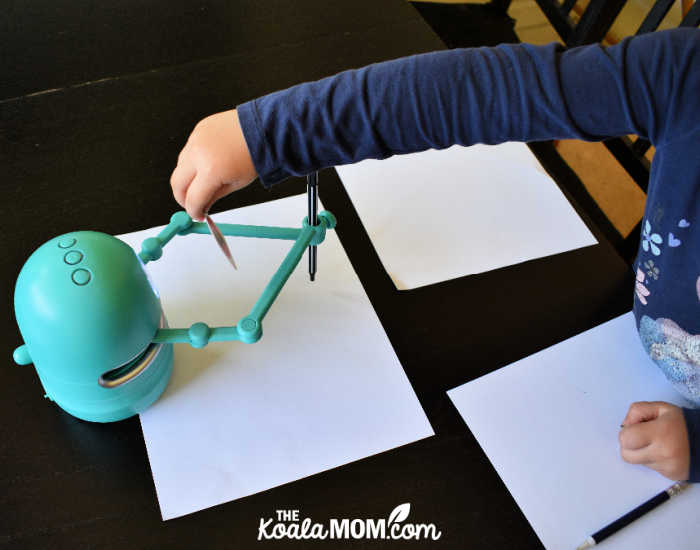 This week, four-year-old Pearl has spent hours drawing pictures with Quincy. We've discovered this is a good activity for Joey's naptime, as he tends to lose Quincy's cards or try to interfere with the drawing. He does get really excited about watching the robot draw (he loves anything with buttons and moving parts), but he's too young to appreciate Quincy's art lessons.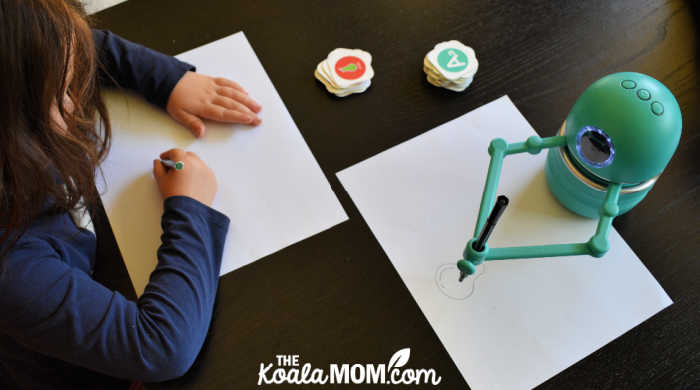 Lily, Jade and Pearl all really enjoy drawing and cover multiple pages a day with their doodles, sketches, and notes. Pearl has fun following along with Quincy's instructions. Jade (age 7) is a bit more of a perfectionist who has gotten frustrated when she can't do it exactly the way Quincy does it. Quincy the Robot Artist does have a "redo" button on top so if a child misses a step (or gets frustrated by not doing it right), Quincy will repeat the last step.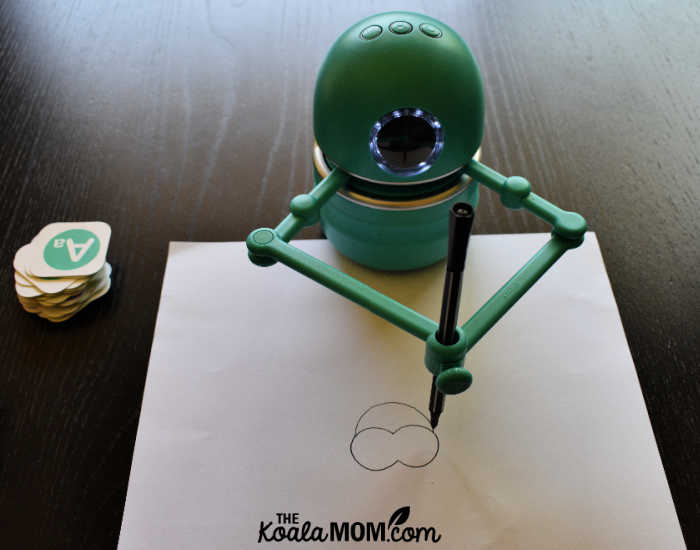 Learning with Quincy
Quincy the Robot Artist makes drawing a picture simple for children with easy-to-follow steps from start to finish. Whether they're drawing a cherry or a fox, Quincy both describes and demonstrates the steps to take. Quincy might say, "Let's start with two half circles" or "Now we'll make two J shapes for the arms." After each step, Quincy pauses to let Pearl follow along. Then Pearl presses the button on the top of the robot to go on to the next step.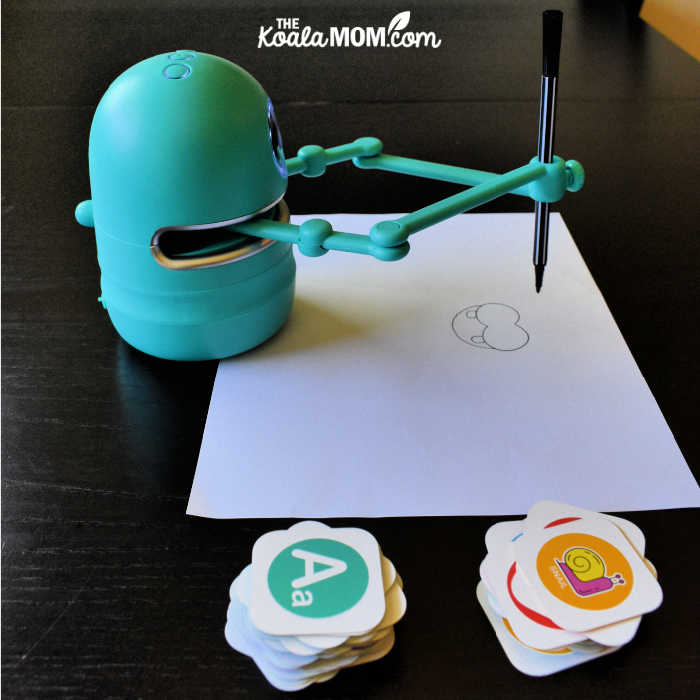 Once kids have finished their drawing, Quincy asks if they can spell the word. Even Pearl has gotten good at this, because she can see the word on the bottom of the picture card and then find the alphabet cards to match. Pearl has been learning the alphabet over the last year, so this is a great way to extend her alphabet activities and have her start putting letters together into words—even big words like "squirrel!"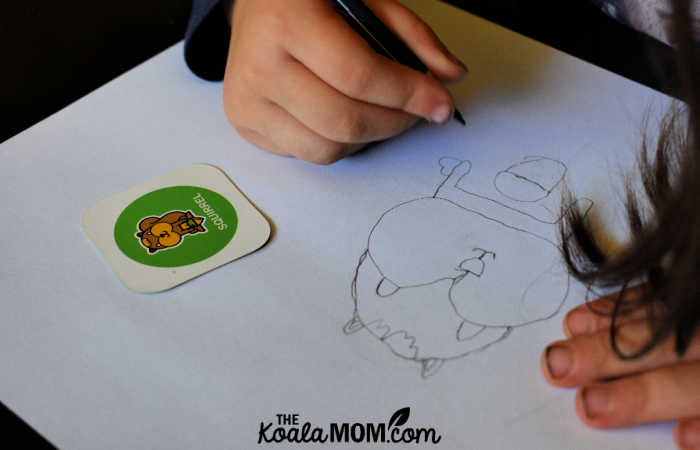 Quincy the Robot Artist comes with four booklets that help kids turn their pictures into stories. Kids can choose between "In the Yard," "In the Orchard," "In the Room" and "In the Zoo." The booklets range from Level 1 to 4, so you may want to start a younger child with the Level 1 drawings and then work your way through the booklets to the harder pictures.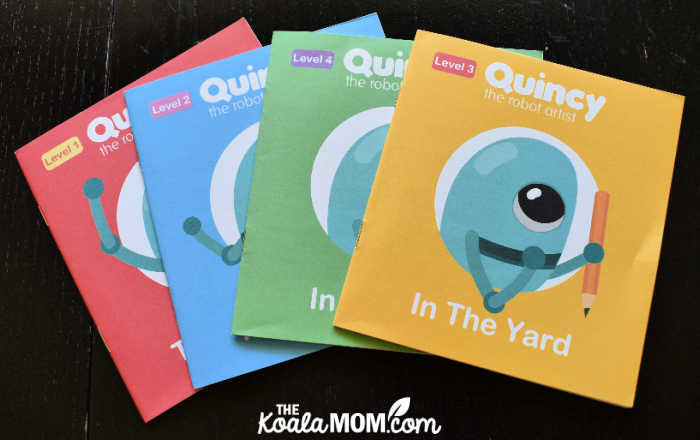 For each booklet, there are several accompanying cards, such as a snail, flower, bee, butterfly, cat and dog for "In the Yard." The booklet then has a large, full-colour photo of each picture, with space for the child to write the word below and draw their own pictures on the next page.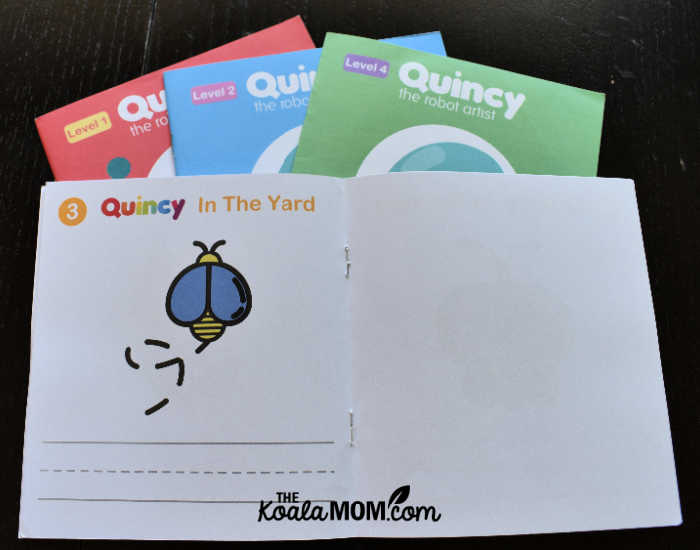 Drawing is a great educational activity for preschoolers. It encourages fine motor skills, hand-eye coordination, creativity, and more. Thanks to Quincy the Robot Artist, Pearl has been spending a lot of time working on all of these lately! I've been impressed that she's even holding her pencil properly while drawing, and asking for an eraser if she needs to fix her picture because she made her line wrong. She's learning about trying her best and fixing mistakes too.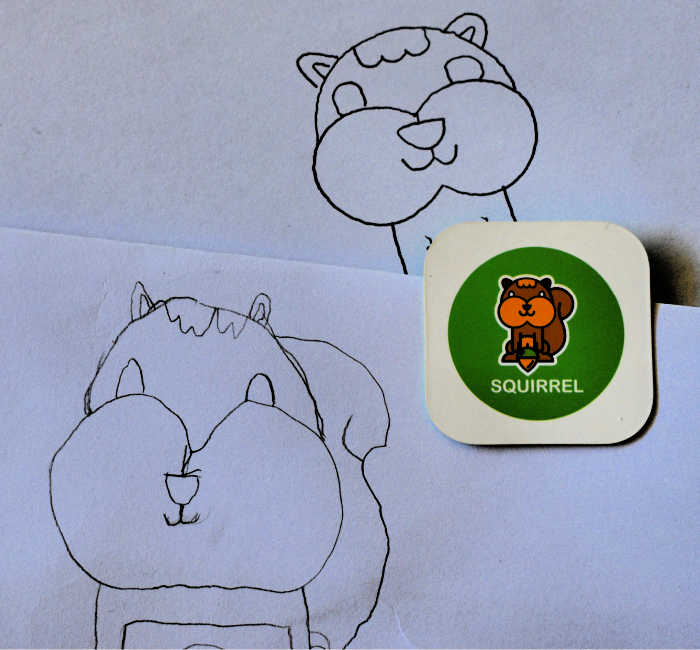 Setting up Quincy
Quincy the Robot Artist and all her pieces come in a small box. It includes a USB charging cord for recharging her. I really appreciate the fact that she's rechargeable and doesn't require batteries! Quincy will draw for quite a while with Pearl—at least a good hour. When her pictures seem a bit wonky, we know it's time to give Quincy a break and plug her in again.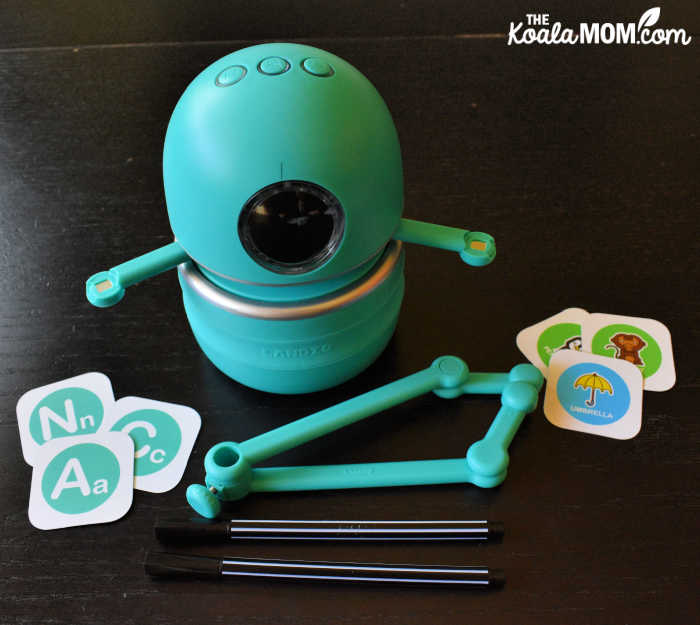 Quincy comes with two markers / pens with felt tips, but we've had a similar set of markers in the past so I'm sure I could get more for her to use. Her arms attach via magnets and the pen has a small screw to hold it in place. We've had issues a couple times with getting the pen in the right place, but with a bit of fiddling, I think we've gotten it figured out.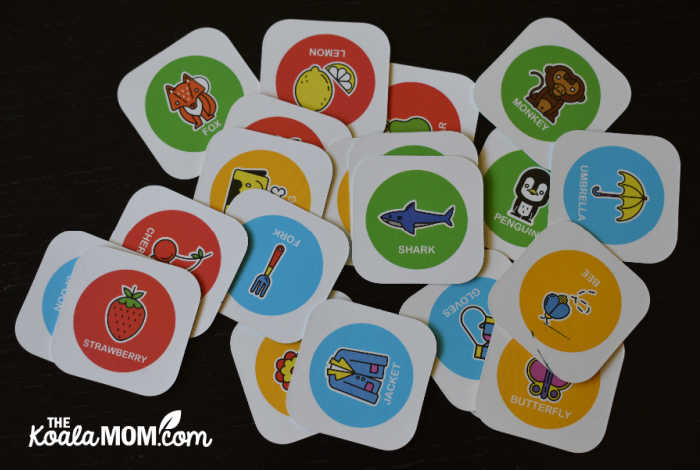 With over 60 pictures to draw, Quincy the Robot Artist is sure to keep your child busy for a while!
Quincy the Robot Artist is available to purchase at Amazon, Walmart, AliExpress and your favourite toy store. It would be a perfect birthday present for a child or a great way to keep preschoolers busy this fall while you're doing schoolwork with your older kids.