The old saying goes "don't judge a book by its cover," and sometimes you can't judge a book by its title either. Family Law by Gin Phillips caught my eye was we walked into our library, because the title made me think of a law school textbook. The cover featured artsy pink flowers on a brown door, making me think it was a novel. I flipped it over and read the back cover and was intrigued by the blurb about a female lawyer in a time what that was rare.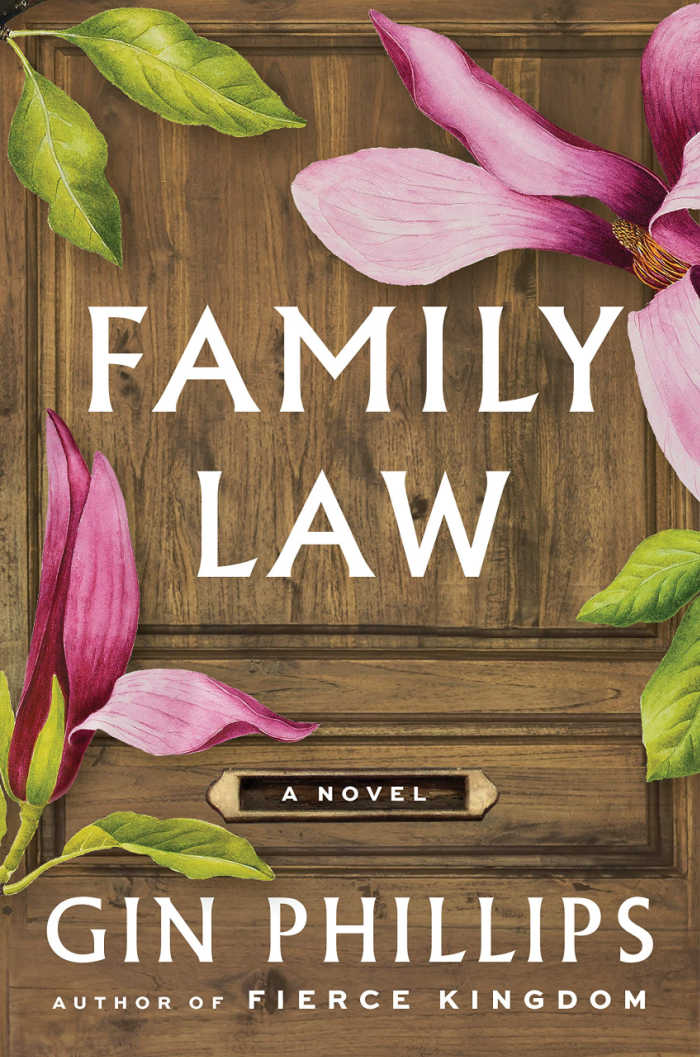 Family Law plot summary
Lucia Gilbert is one of few women practicing family law in Alabama in the 1980s. She's made a name for herself as a women's rights activist, but her work in helping women escape from difficult marriages has also made her the target of harassment. Although she's used to receiving anonymous threats in the mail, the smashed windshield of her car leaves her shaken.
When Rachel's mother goes to Lucia for advice about her divorce, Rachel is drawn to this woman who is so different from the women in her own family. She begins dropping by Lucia's place, bringing little gifts she knows Lucia will like. While Rachel's mother doesn't hire Lucia as her lawyer, she does encourage Rachel's relationship with the young lawyer—until a drive-by shooting at Lucia's place endangers Rachel too.
In the aftermath of the shooting, Lucia's relationships are left teetering. Rachel's mother forbids her to see Lucia. Her parents suggest she carry a gun with her at all times. Her husband worries about her safety, demanding that they move to a new home and that Lucia leave her private practice and join a law firm with a security guard. When Lucia resists, tension rises in her formerly perfect, happy marriage.
As Lucia struggles with balancing her career and her marriage, Rachel is navigating her teenage years with a controlling, mentally unstable mother. She's learned to read her mother's moods, to be home at a certain time, to lie about certain activities. Her personality is bigger than life, and yet her mother's rules constrain her. Lucia embodies a freedom that Rachel desires, and she's left uncertain, unsure when their relationship is ended by her mother.
My thoughts on Family Law
The centre of this novel is the relationships—Lucia's relationship with Rachel, with Evan, with her parents, with her neighbour, and with her clients, and Rachel's relationship with her mother and her neighbour. Gin Phillips paints these relationships in a few sentences, beautiful sentences that bring alive the complexities of each person and how they interact with each other.
For example, Lucia's relationship with her parents is strained, as they fail to understand her current career and her interest in women's rights. In one scene, where Lucia and Evan have gone for their usual Sunday dinner at her parents' place, the men retreat to talk football while the women move into the kitchen. Gin captures the small talk often present in such situations, little comments about the food and Lucia's grandma, but the small talk also shows the distance between the two women:
There was a reason that they talked in the kitchen—dumplings and Jell-O salads filled the empty spaces. The past could do that, too. It was as if the two of them were standing far apart, separated by a huge bedsheet, a wide flat expanse. One old story would fold up the distance, bring them close, corner against corner.
While Lucia is a family lawyer, this is not a legal thriller like a John Grisham novel. Lucia's work is shown in little snippets—a meeting with one client here, a court room scene there. Her love of conflict causes her to dive into a fight in the courtroom, yet her deep perception of people lets her see through what they tell her to the root facts of their cases and whether or not she'd be the best lawyer for them. Some cases are mentioned in a passing sentence, others in a more detailed paragraph.
I'm sorry. Those were the first words Beverly Leles had spoken to Lucia. Marissa had waved her into Lucia's office, and Beverly had apologized for walking into the room. The husband had stripped her of every bit of value, like a thief coming back to the same empty house night after night, ripping out the copper and marble and hardware, bit by bit, until the place was gutted. The husband… had told her that she was too heavy and that her laugh was too loud and her vegetables too soggy. Bit by bit. Eventually her daughter and son started telling her the same thing. At times Lucia grew furious with clients who seemed eager for court, but the truth was that some landed here through no fault of their own: they happened to be married to a narcissist or a sadist or what have you.
In Rachel's relationship with Lucia, I was reminded of the many women who mentored me as a teen. Unlike Rachel and Lucia, I had a good relationship with my mother, but these other women still played a pivotal role in my growth as a young woman, and I'm grateful to them. Family Law not only shows how much Lucia can offer to Rachel, but also the ways in which Rachel touches Lucia.
An incisive, warmhearted exploration of women's roles in shaping society, the future, and each other. ~ KIRKUS REVIEWS
Overall, Family Law is a beautiful story of two young captivating young women, navigating a difficult time in their lives. You'll be drawn into their stories and struggles, and be left considering your own relationships as you do.
More about Gin Phillips
Gin Phillips is the author of six novels, including the bestselling Fierce Kingdom. She has a degree in political journalism and has lived in Ireland, New York, and Washington, D.C. She currently lives with her family, including a schnoodle and a mini golden mountain doodle, in Birmingham. To learn more about Gin and her novels, drop by her website or follow her on Goodreads, Instagram or Twitter.