Do your kids whine and dilly dally like mine when you remind them to go brush their teeth? My younger ones used to "lose" their toothbrushes or just brush their hair and "forget" their teeth or tell me they didn't like the taste of the toothpaste. I've finally eliminated the last excuse, with Green Beaver® fluoride-free, 100% natural toothpastes. These toothpastes meet the kids' requirements for taste and my requirements for natural, effective ingredients.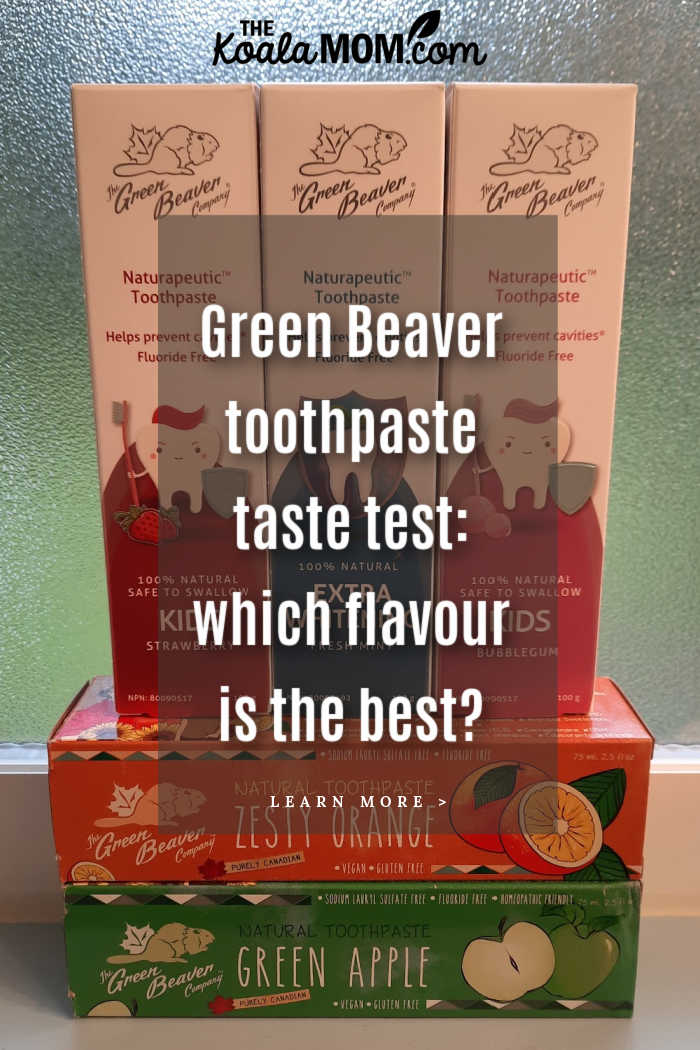 I received this product for free from Moms Meet (momsmeet.com) to use and post my honest opinions. Compensation for this post was provided and this page may contain affiliate links.
As a mom with five kids, it's hard to find toothpaste that everyone likes. I've tried different natural brands and flavours, trying to keep everyone happy and cleaning their teeth. With older kids and younger kids, I worried about who was spitting out their toothpaste and who was swallowing it. And then we'd visit the dentist, who'd remind them to brush their teeth (which was always great for reinforcing what Mommy says), but also recommend fluoride toothpaste and I'd wonder if my kids' natural toothpaste was good enough.
Natural, Fluoride-Free Toothpaste for the Whole Family
That's why I jumped at the chance to try the Green Beaver® 100% natural, fluoride-free Naturapeutic & Flavour Collection Toothpastes. We've been testing five toothpaste flavours over the last month: green apple, zesty orange, strawberry, bubblegum, and ultra-whitening fresh mint.
I was really excited to try the green apple and zesty orange. I gotta say, I've pretty much always used mint toothpaste because that's what most toothpaste is and I don't mind mint. It was fun to try a new toothpaste flavour and I really liked the green apply and zesty orange. Both have a great fruit taste as well as calcium and Vitamin C to help protect your teeth. And while I usually keep my toothpaste where the kids can't reach it, I now put all the toothpaste in the same drawer because these toothpastes are perfectly safe to swallow.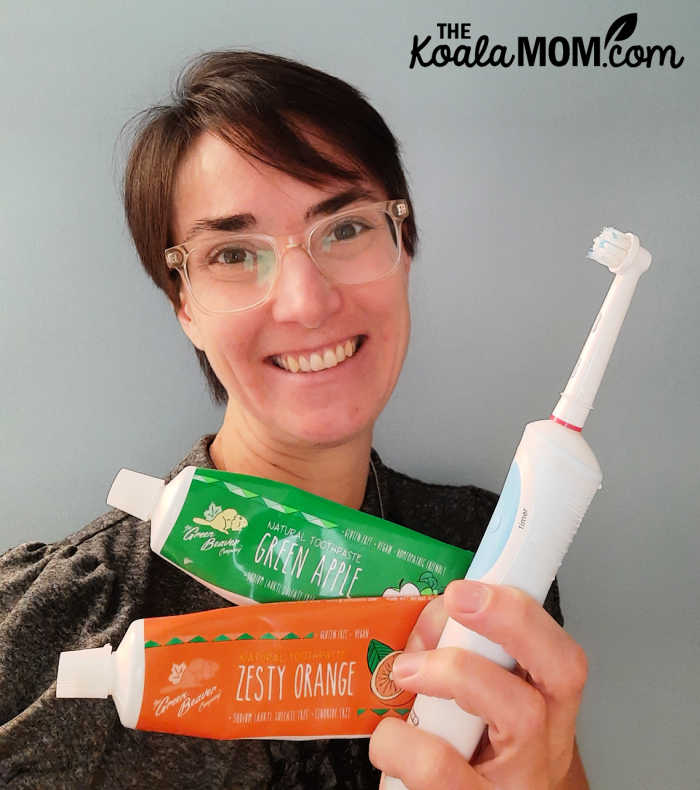 Sunshine (my teen) tried all five toothpastes and decided that the kids' bubblegum was her favourite because "the flavour lasted the longest." She and I are the only ones in the family who like mint, but she's still not a fan of mint toothpaste. As a teen, she usually doesn't like the "kids flavours" that I buy for her younger siblings, so I was happy to find a toothpaste that nearly all the kids liked.
Anti-Cavity, Safe-to-Swallow Kids' Toothpaste
The younger girls gravitated towards the strawberry and bubblegum toothpastes. Like mint, these are pretty popular toothpaste flavours. Unlike other toothpastes, the Green Beaver kids' toothpastes are made with xylitol, which comes from birch extract. A natural sweetener, xylitol helps in the absorption of calcium and the strengthening of your child's teeth. It prevents the production of acid (which weakens tooth enamel) and reduces bacteria (which cause cavities). This safe, natural substance thus has many benefits and is the main ingredient in Green Beaver kids' toothpastes.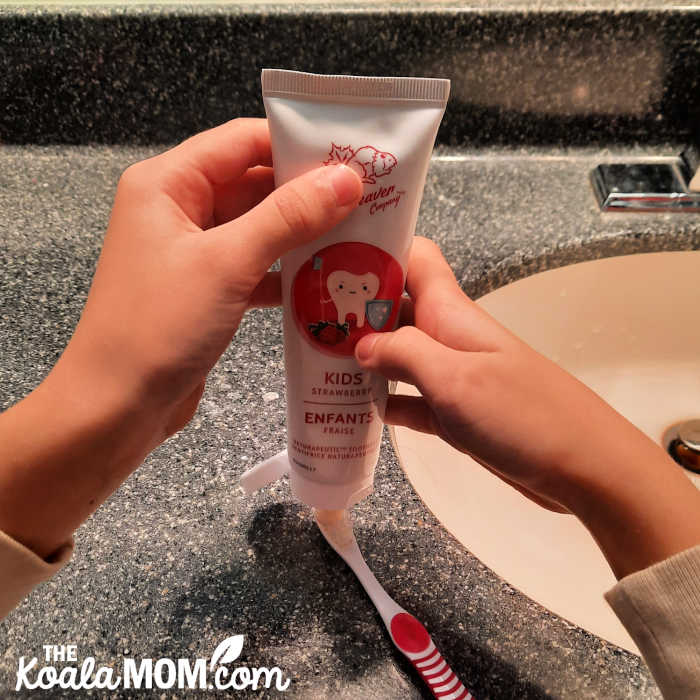 While the kids were happy with the taste of their new toothpastes, I was happy with the assurance that it will fight cavities (because we've dealt with a few of those). Green Beaver toothpastes are also approved by Health Canada. Their Naturapeutic toothpastes are the only toothpastes that can claim to prevent cavities without fluoride and the only anticavity kids' toothpastes that are safe to swallow. The strawberry toothpaste is made with real strawberries and the bubblegum toothpaste with real cherries.
Overall, all of us were happy with the Green Beaver natural toothpastes. If you're worried about the ingredients' in your kids' toothpaste, or trying to encourage your kids to brush their teeth more often, I recommend checking out Green Beaver and buying several flavours. I've found that having multiple choices around tooth brushing helps the kids be more willing to do it (just as long as they don't take toooo long deciding whether they want strawberry or zesty orange tonight).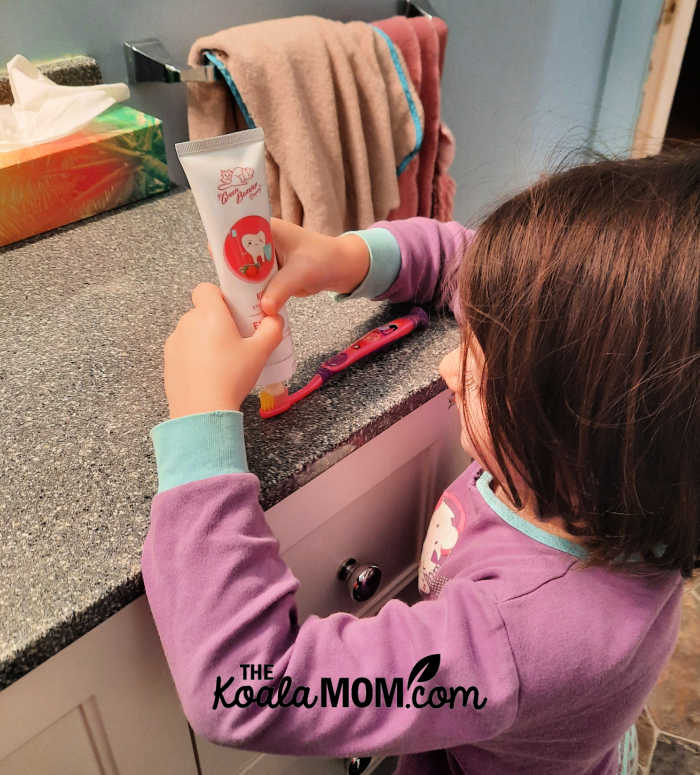 Green Beaver also has toothpaste for sensitive teeth or enamel protection, if your dentist has recommended either. Other flouride free toothpaste flavours include cinnamon, star anise, spearmint, cilantro mint, and frosty mint. While they've got several variations on mint, I really like their outside-the-box toothpaste flavours and think I'll try cinnamon and star anise in my next order. I really like those sorts of spices.
More about Green Beaver
The Green Beaver Company was founded by husband-and-wife team Karen Clark and Alain Ménard in 2002. After Karen spent over a decade working as a biochemist in pesticides and Alain as a microbiologist in the pharmaceutical industry, they decided to quit their jobs and change their life's calling. They were appalled at the amount of chemicals found in personal care and household cleaning products. They combined their knowledge to make a difference in the world by providing natural personal care products that are safe for the whole family and for the environment.
Even if our ideals are (sometimes) larger than life, we know that we are doing it for the right reasons. Because we only have one healthy body, and because we also want to keep our planet clean. ~ Green Beaver
Green Beaver offers natural toothpastes, soaps, deodorants, skincare products, hair care productions, lotions and more for the whole family. All products are made here in Canada. Their products are also vegan, biodegradable, cruelty free, gluten free, fluoride free, and recycled. Green Beaver is your natural ally in personal care.
Green Beaver 100% natural, fluoride-free Naturapeutic & Flavour Collection Toothpastes are available to purchase online at greenbeaver.com or in-store at Loblaws, Jean-Coutu, Healthy Planet, Avril Supermarché Santé, Sobeys, IGA Rachelle-Berry, Shoppers Drug Mart, and London Drugs.
What do you look for when buying toothpaste? Have you tried any Green Beaver products?